To me, applesauce is the quintessential fall food.
One of my favorite autumn memories is of wandering an antique apple orchard outside my hometown of Portland, Oregon, bundled up in scarves and layers for the first time of season, picking up windfall apples with my mom and sister. We'd bring our dog with us, and she'd run between the trees, tossing apples up in the air with her nose and then chasing after them.
Once our bags were full to the top, we'd head home to preserve our gathered fruit. My mom would cover counter tops with newspaper and we'd begin to peel. When the apples were ready, they'd go into her biggest soup pot with a splash of orange juice, cinnamon and grated nutmeg until they'd cooked down into a homey sauce (the peels and the newspaper would go to the compost bin).
Though I live on the other side of the country now, it still doesn't feel like autumn until I've spent an afternoon tramping around an orchard, picking apples and then taking them home to the canning pot.
I make my sauce much like we did when I was young, with plenty of spices and without any added sweetener. The one difference is that instead of cooking my apples down on the stovetop, I peel, core, chop, and roast.
I find that when you roast the apples, they caramelize on the edges, which enhances the natural sweetness and brings extra depth to the sauce.
Once the fruit is soft, I add a generous sprinkle of cinnamon and freshly grated nutmeg and use a fork or potato masher to work the tender apples into sauce (I like a nice, chunky applesauce). On those occasions when I want something smoother, a few zaps with an immersion blender does the trick.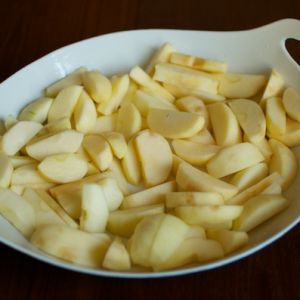 Ingredients
3

pounds

apples

1

teaspoon

cinnamon

1/2

teaspoon

freshly grated nutmeg
Instructions
Preheat oven to 350 degrees F.

Peel, core and chop apples. Lay them out in a single layer in an heatproof baking dish.

Place the baking dish in the oven and roast the apples for 25 to 30 minutes, until the apple segments are fork tender and have begun to caramelize on the edges.

When the fruit is soft, remove the pan from the oven. Evenly sprinkle the spices over the warm fruit.

Using a fork or potato masher, work the apples into a chunky sauce. For a smoother sauce, scrape the fruit into a tall container and puree with an immersion blender.

This sauce will keep for 7 to 10 days in the refrigerator. For longer storage, it can either be frozen or canned in a

boiling water bath canner

.
Notes
Recipe can be doubled or tripled. Sugar or honey can be added if a sweeter sauce is desired. Makes approximately 4 cups.
Nutrition
Calories:
717
kcal
|
Carbohydrates:
190
g
|
Protein:
3
g
|
Fat:
2
g
|
Sodium:
13
mg
|
Potassium:
1456
mg
|
Fiber:
33
g
|
Sugar:
141
g
|
Vitamin A:
735
IU
|
Vitamin C:
62.6
mg
|
Calcium:
102
mg
|
Iron:
1.6
mg
How are you preserving apples this year?