Roasted Vegetable Skillet Lasagne is a one-pan, weeknight dinner that the whole family will love.
And just like that we've transitioned into a new season after six months of home life.
Our three kiddos started school this week and we're just holding on tight as we ride the roller coaster of emotions.
Relief. Sadness. Joy. Cautious hope. They are all mixed up together and no feeling is right or wrong.
Comfort food has never been more essential. It sounds trite, but I mean it. After an emotional first day there were definitely signs of stress and an evening routine was much needed.
So we gathered around the family table for a home cooked meal of skillet lasagne. We talked about our concerns. Someone busted out a card game after the plates were cleared. We made hot cocoa before bed.
One day at a time, we will navigate this new world of masked students, pool noodle tag, socially distanced classrooms and all the rest of it.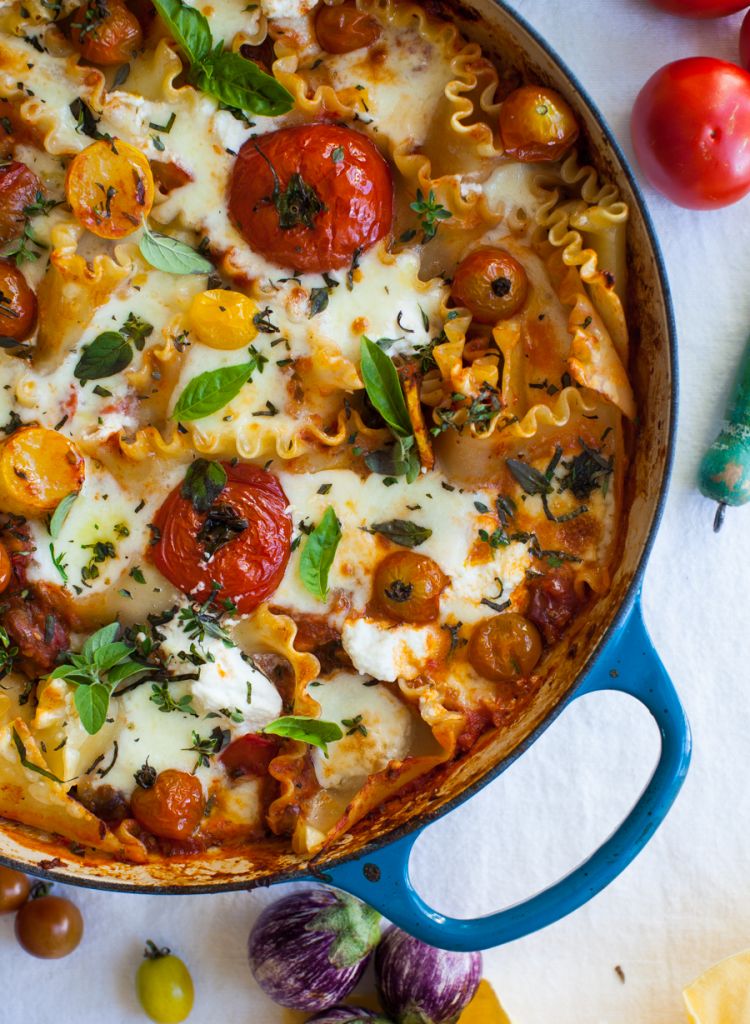 Roasted Vegetable Skillet Lasagne
Featuring a heap of seasonal vegetables and durum wheat pasta, this nourishing meal is essential autumn comfort food. My teenager is somewhat selective about vegetables, and he went absolutely crazy for this lasagne.
The dish comes together quickly, thanks to a few smart shortcuts. It's a perfect dish for busy weeknight suppers with the family.
Aim to use the freshest, locally grown vegetables for this roasted vegetable skillet lasagne. It really makes a difference in the overall flavour.
Vegetable sauce for Lasagne: smooth or more rustic?
Essentially, a heap of seasonal veg – tomato, eggplant, sweet pepper and zucchini – are turned into a quick sauce under the broiler.
So I tested this recipe several times. My kids preferred the vegetables in more of a 'sauce' form, thanks to a quick puree with an immersion blender.
Danny and I loved it as is, no puree, with identifiable pieces of vegetables tucked into the lasagne. You can decide what is best for your family. The extra step to puree the sauce is super simple.
Roasted Vegetable Skillet Lasagne
A one-pan, weeknight dinner that the whole family will love. Featuring a heap of seasonal vegetables, this nourishing meal is essential autumn comfort food.
Print
Pin
Rate
Ingredients
1/2

box

lasagne noodles

(about 8)

2

Tablespoons

olive oil

1

small

zucchini

roughly chopped

2

cups

eggplant

peeled, roughly chopped

1

sweet bell pepper

any colour

2

lbs

ripe tomatoes

about 8 medium

2

cloves

garlic

peeled

1/4

cup

red wine

2

Tablespoons

tomato paste

1

teaspoon

fine sea salt

1/2

teaspoon

freshly ground black pepper

1/4

cup

chopped fresh herbs

parsley, oregano, basil, thyme

1/2

cup

ricotta

150

g

torn mozzarella

OR fresh/buffalo mozzarella (about 1 cup)
Instructions
Fill a large, oven-to-table skillet three-quarters high with salted water. Bring to a simmer and add the lasagna noodles. Cook according to the package directions, then drain, and cool. (This step may be done a day or two in advance.)

Preheat the oven to Broil and move an oven rack to the top shelf. Place the skillet over medium heat and add the olive oil. Tumble in the chopped zucchini, eggplant and bell pepper. Saute for 5 minutes.

Meanwhile, slice the garlic into slivers and give the tomatoes a rough chop. Add both to the skillet, along with any juices, and stir all the vegetables together.

Place the whole skillet under the broiler. Broil for a full 20 minutes, stirring once or twice. The vegetables will soften, cook down and show the beginnings of a sauce.

Carefully remove the pan from under the broiler. Turn off the broiler and set the oven temperature to 425°F for the final lasagne bake.

To the vegetable sauce in the skillet, add the red wine, tomato paste, seasoning and herbs. Stir well to combine.

If you like a chunkier sauce, you can proceed to the next step. If you want to make the vegetables 'disappear', use an immersion blender to puree the sauce somewhat.

Tuck the cooked lasagna noodles into the sauce, stacking them up almost like sliced bread in a bag. Use a spoon to spoon sauce up and around them. It doesn't have to be perfect. We're going for rustic!

Using a teaspoon, dollop the ricotta all around the lasagne. Then scatter the mozzarella on top. Place the skillet in the oven and bake for 12-15 minutes until it is bubbling in the center and the cheese has melted. Remove and let stand for at least 10 minutes and up to 30. Slice and serve.
Nutrition
Calories:
349
kcal
|
Carbohydrates:
40
g
|
Protein:
15
g
|
Fat:
14
g
|
Saturated Fat:
6
g
|
Cholesterol:
30
mg
|
Sodium:
617
mg
|
Potassium:
705
mg
|
Fiber:
5
g
|
Sugar:
8
g
|
Vitamin A:
2261
IU
|
Vitamin C:
52
mg
|
Calcium:
201
mg
|
Iron:
2
mg
BONUS Lasagne recipes:
Red Lentil Lasagna (vegetarian)
Baked Lasagna Casserole (ground turkey)
Butternut Squash Lasagna (vegetarian)
Back to the whole school thing…
It's been the longest spring break ever; truly the best of times and the worst of times. Our family has bonded SO much and the past 6 months have been a gift of time.
This school year we're going to take things as they come. There's only 3-4 cases of the virus in all of Nova Scotia — and a mandatory quarantine still in place for anyone entering the province.
But we're always going to asses afresh what we think is best for our kiddos. We've had some lengthy talks with them about how to identify anxiety, as well as the importance of constant communication.
Finally, a huge, massive, heartfelt thank you to our teachers and school staff who are getting back out there during these crazy times. You rock.
What does your fall look like? Sending support and solidarity to kids and parents navigating this new school year.
This post is created in partnership with Barilla Canada, in celebration of September Wheat Month. Supporting our wheat farmers and durum wheat breeders is an important mandate in Barilla's sustainability practices. For more information visit Barilla Canada.