An intensely flavoured berry sauce, Blueberry Lavender Preserves are simple to make and can be used in many ways as a topping or syrup.
I know I'm just getting this recipe in under the wire as berry season comes to a close. However, before we transition to apple crumbles and pumpkin pies, let's get a few jars of summer preserves on the pantry shelves.
My thriving lavender patch has inspired its own unique run of recipe testing this August. There were a few hits, plenty of misses, and a clear winner: today's Blueberry Lavender Preserves.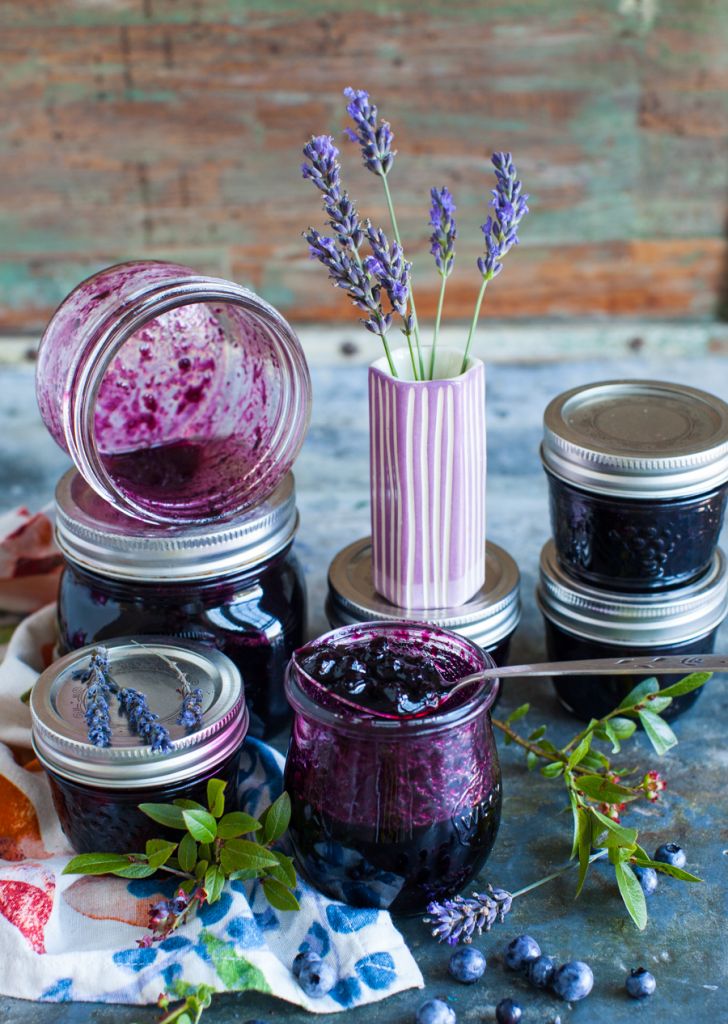 Jam verus Fruit Preserves
Nine times out of ten, I'll chose to make berry preserves over jam. What is the difference? Simply put, preserves are slightly soupier than jam, they have that fantastic drip factor.
While jam perches on toast, preserves can be swirled into cream or drizzled over pancakes. Fine Cooking defines the difference between jam, jelly and preserves, if you care to read more.
Delicious and sticky, preserves are highly versatile. I'll illustrate this below with eleven uses for blueberry lavender preserves.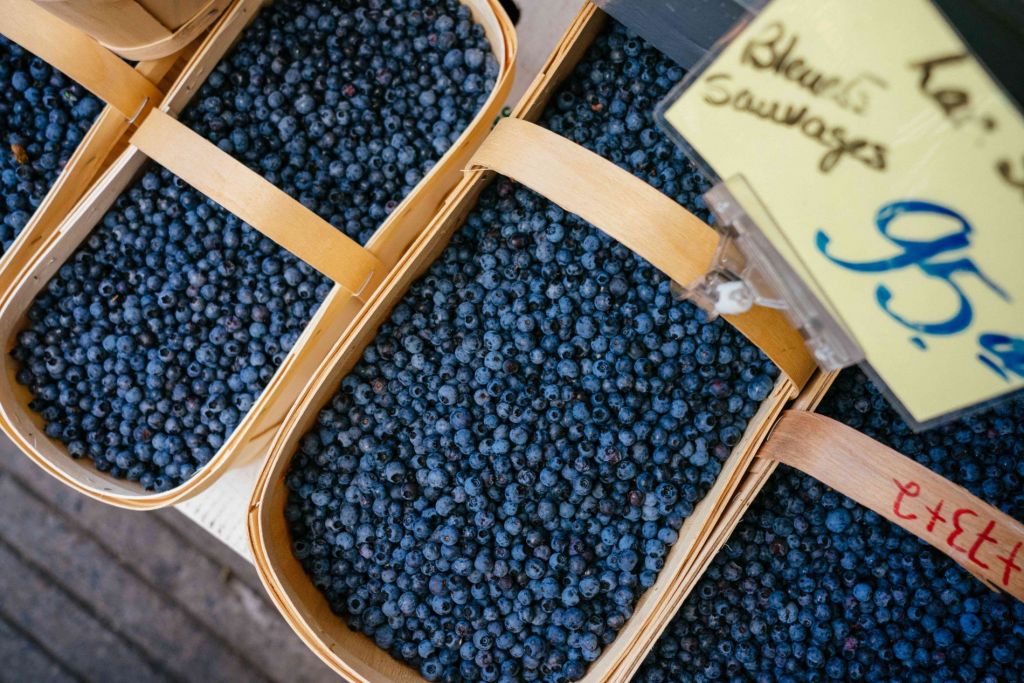 Blueberries Are Best
Blueberries are the best summer fruit to jump start your home canning projects because they are so easy to work with.
Think about it: no peeling, stemming, pitting or chopping! These fruit preparation steps can take up a lot of time.
If you're squeezing canning projects into your day, try a simple recipes like these Blueberry Lavender Preserves. My Blueberry Plum Butter is another easy recipe because it's made in the slow cooker.
KITCHEN TIP: These Blueberry Lavender Preserves can also be frozen if you don't want to go through with hot water canning.
Eleven uses for Blueberry Lavender Preserves
Swirled into slab cheesecake.
2. Layered into a Victoria Sponge cake.
3. Stirred into yogurt and topped with granola.
4. Spooned over crepes.
5. Swirled with whipped cream for a blueberry fool.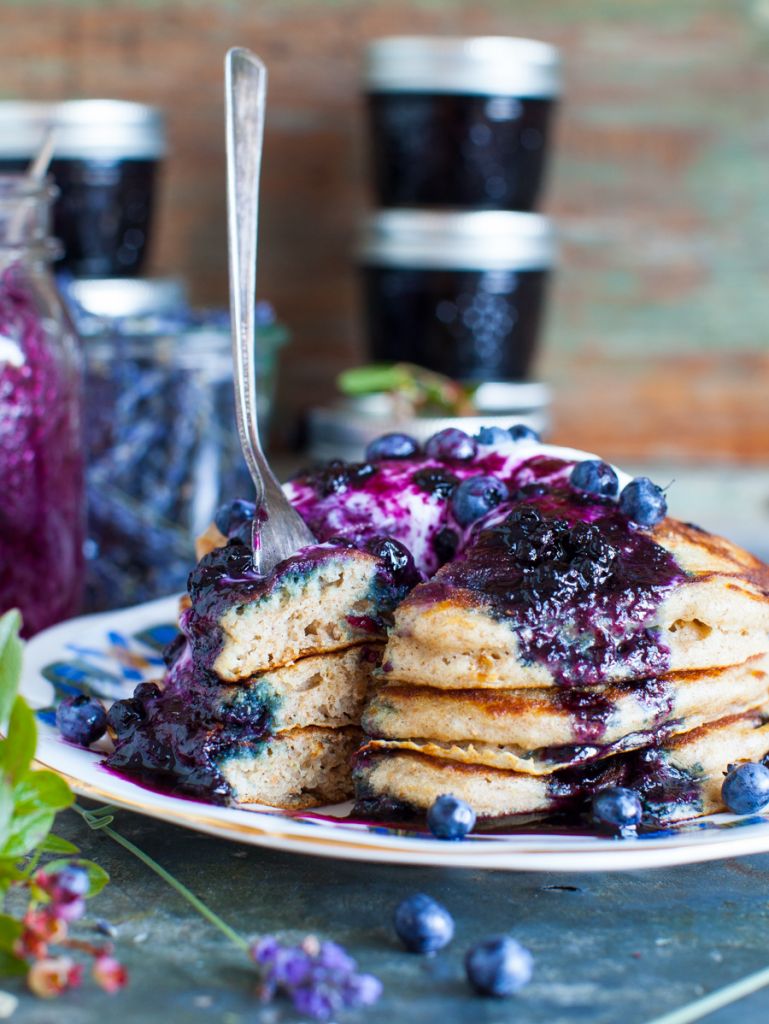 6. Drizzled over pancakes.
7. Slathered on ricotta toast.
8. Stirred into chia pudding.
9. Served with cream scones.
10. Topped on sour cream panna cotta.
11. Served up over steel-cut oatmeal.
As soon as I publish this post, I'm off to track down another crate of Nova Scotia wild blueberries. I've got more jars to fill and these Blueberry Lavender Preserves will make great homemade gifts for the holidays.
One more thing…if you don't have lavender, you can still pair a flavouring with your blueberries. Try the zest and juice of a lime or the seeds of a vanilla pod. I love a dusting of cardamom and ginger is amazing with blueberries, too.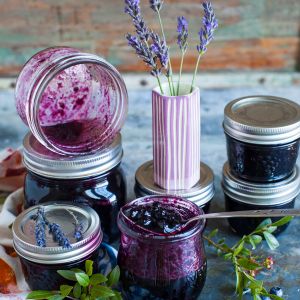 Blueberry Lavender Preserves
An intensely flavoured berry sauce that can be used in many ways as a topping, syrup or jam.
Print
Pin
Rate
Ingredients
2

teaspoons

culinary lavender

dried

2

cups

sugar

1 1/2

pounds

wild blueberries

or cultivated

1/2

cup

water

1

tablespoon

freshly-squeezed lemon juice
Instructions
Prepare pot, tools and four 125mL jars for hot-water canning. Review our basic Canning 101 article.

Crush the lavender in a mortar and pestle, then combine it with the sugar. Use your fingers to rub it together to make a lavender sugar (See notes). Alternately, blitz both ingredients in a food processor until sugar is perfumed.

Rinse the berries and pick them over to remove any debris. Tumble them into a large, heavy bottomed pot or sauce pan. Add the water.

Over medium heat, gently warm the berries until they are soft and begin to darken, about 3 minutes. Turn off the heat and remove the berries with a slotted spoon.

Add the lavender sugar to the juices in the pot and stir to dissolve. Bring juice to a boil over high heat, and cook for another 3 minutes, until the juice reduces into a thin syrup.

Return the berries (and any juices) to the pot and bring to a boil again. Cook over medium high heat for 3-4 minutes, stirring constantly. Remove the pot from the heat and stir in the lemon juice.

Ladle the blueberry preserves into sterilized jars within ¼ inch of rim. Wipe the rims with a warm cloth. Add the lids and the rings, tighten jut until finger-tip tight.

Process in a boiling water bath for 10 minutes Transfer the jars to a towel-lined surface and cool at room temperature for a full 24 hours. Preserves will keep for up to one year. Store in a cool, dry place.
Notes
1. You can make this recipe with cultivated blueberries, but the preserve with be slightly thinner than with wild. Wild blueberries have all sorts of natural pectin and that helps the preserve to gel somewhat,
2.Lavender sugar is a delicious specialty ingredient to keep around, so you may want to make a little extra and keep it in a jar. Sprinkle it on top of scones or oatmeal. Sweeten your lemonade with it or use in shortbread.
Nutrition
Calories:
1944
kcal
|
Carbohydrates:
501
g
|
Protein:
5
g
|
Fat:
2
g
|
Saturated Fat:
1
g
|
Sodium:
17
mg
|
Potassium:
524
mg
|
Fiber:
16
g
|
Sugar:
467
g
|
Vitamin A:
367
IU
|
Vitamin C:
73
mg
|
Calcium:
63
mg
|
Iron:
2
mg
More Blueberry Recipes