This airy-fairy chocolate pavlova will woo you with its balance of tart and sweet, creamy and crunchy.
November stormed in with a chip on her shoulder and brought a gale that toppled trees and ripped the roof of a business in the neighborhood.
We watched from the windows as gusts of wind effortlessly whipped neatly raked piles of leaves up in the air and tore branches off the trees in the back yard.
The storm caused power outages over a broad area which left us in the cold for thirty long hours.
It wasn't so bad, that first night without electricity. We brought our jack-o-lantern into the kitchen and I prepared ham and cheese sandwiches by its flickering light, which we grilled on the barbecue at dusk. We lit candles, sipped wine, and then turned in early for the night.
But the next 12 hours brought numb fingers, a shortage of morning coffee, and worry about the stash of summer produce in the deep freezer. In the end we made an investment in our homestead – a shiny orange Subaru generator – which sustained our fridge and freezer for the duration of the outage.
We got invited out for a lasagna feast on Saturday night, and I took care of dessert, thanks to a chocolate meringue I had baked off the day before. Turns out one can have a decadent dessert when absolutely nothing is functioning in the kitchen.
I whipped my cream by hand, raided the fruit bowl for citrus and pomegranates and assembled a dessert in a few minutes, despite my cold fingers!  Finally, I snapped a few photos, after realizing that although I am coming up on four years of blogging, I have yet to share a pavlova recipe on this space.
Adapted from the lovely new cookbook, Wintersweet: Seasonal Desserts to Warm the Home
, this airy-fairy dessert will woo you with its combination of tart and sweet, creamy and crunchy. The chocolate meringue is completely decadent and provided the perfect 'bowl' for the fruit and cream.
To balance the sweetness of the meringue, I folded a little yogurt into the whipped cream – a simple trick to both cut the fat and give a hint of tang. Try it!
I probably don't have to point out that this would make a stunning dessert for any holiday table, be it the upcoming US Thanksgiving, or Christmas. Feel free to experiment with any winter fruits you have on hand – persimmons, poached quince, kiwi or roasted apples would all be suitable.
And I can't help but wonder how it would taste filled with Orange Cardamom Curd and then topped with whipped cream. I think that needs to be the next combination on the recipe testing list.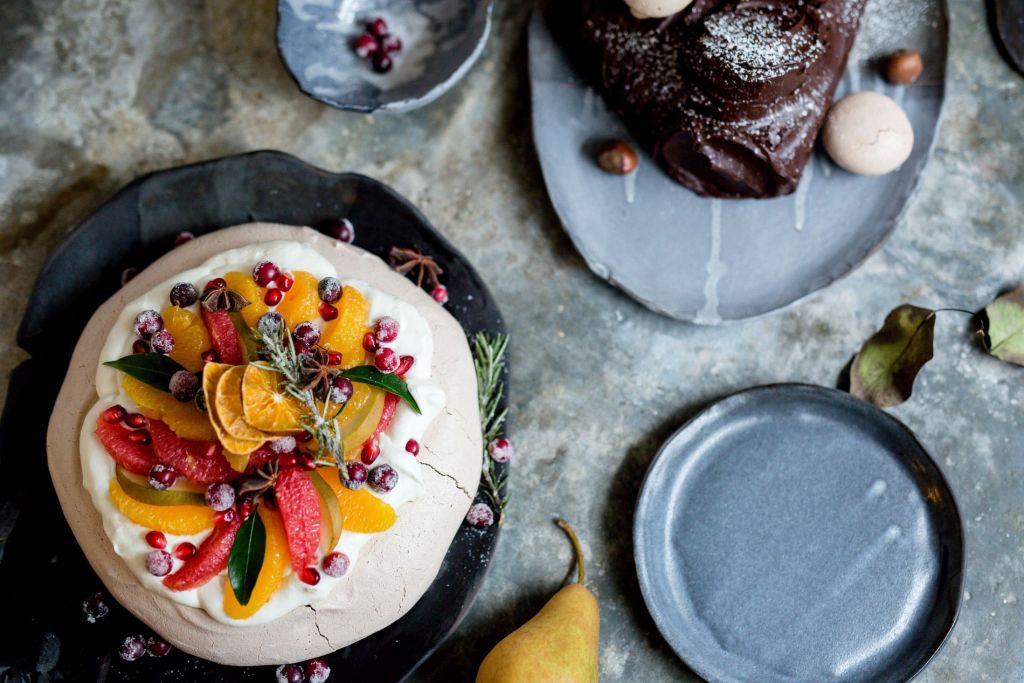 Chocolate Pavlova with Winter Fruits
Adapted from the lovely new cookbook,
Wintersweet
, this airy-fairy dessert will woo you with its balance of tart and sweet, creamy and crunchy.
Print
Pin
Rate
Ingredients
4

large egg whites

room temperature

1

cup

raw cane sugar

2

Tablespoon

cocoa powder

1

teaspoon

cornstarch

1

teaspoon

balsamic vinegar

2

cups

whipping cream

1/4

cup

full fat plain yogurt

2

tsp

honey

2

oranges

broken into segments

2

clementines

broken into segments

1

cup

pomegranate arils
Instructions
Preheat oven to 350F. Prepare a baking pan with parchment paper.

Beat egg whites in the bowl of a stand mixer on medium speed until they form stiff peaks, about 4-6 minutes. Meanwhile, pulse the sugar in a food processor, blender or coffee grinder until is is finely ground.

With the mixer still running, add the sugar to the egg whites, a few tablespoons at a time until it is all incorporated. Beat the meringue for another 4-6 minutes until it is shiny and dense.

Remove the beater from the bowl and sift the cocoa and cornstarch on top. Add the vinegar and fold everything together with a spatula until the cocoa is completely incorporated.

Transfer the meringue to the parchment paper and spread it around to make an 8-inch circle. Place in the oven and lower the temperature to 300F. Bake meringue for 1 hour and 15 minutes, then turn off oven and allow the meringue to cool completely in the oven with the door propped open.

Store in an airtight container for up to 24 hours in advance.

To serve: Whip the cream to soft peaks and fold in the yogurt and the honey. Mound the cream in the center of the meringue and arrange fruit around and on the cream. Serve immediately.
Nutrition
Calories:
351
kcal
|
Carbohydrates:
39
g
|
Protein:
4
g
|
Fat:
22
g
|
Saturated Fat:
13
g
|
Cholesterol:
82
mg
|
Sodium:
52
mg
|
Potassium:
248
mg
|
Fiber:
2
g
|
Sugar:
34
g
|
Vitamin A:
955
IU
|
Vitamin C:
28.9
mg
|
Calcium:
70
mg
|
Iron:
0.3
mg
Wintersweet
 author Tammy Donroe is really onto something and I'm smitten with her cookbook.  While this first recipe didn't quite 'warm the home' as the title promises, I doubt a power outage is fair conditions for testing that theory!
This truly is the best time to be baking in the kitchen and I've bookmarked her applesauce cake and squash pie to make soon. November, you can blow as much as you like.