We're a little over three weeks into the new year which is long enough to put your food resolutions to the test – if you made any. In this January edition of our Eat Well, Spend Less series, we're taking a look at those goals and how we're measuring up.
I recently shared my intentional food goals for 2012 (and loved reading yours in the comments!), and the one that I have to address daily is eating well for baby.
Diet in the third trimester is requires a bit more thought than usual for one obvious reason: I'm always hungry. Snacking takes on a whole new meaning, shifting from a casual appeasing of the munches to a full on survival tactic.
Thanks to an ever-growing uterus pressing on my stomach, I can't comfortably eat a regular sized meal. Often my plate holds the same amount of food as my preschooler – and I'm feeling stuffed after the meal; hence, I eat small meals, but more frequently.
Eating Well, For Baby
While I am pregnant, I rely on regular snacks to keep my energy levels up during the day, instead of caffeine or other stimulants.  This is why smart snacking is so essential. These are not merely cravings I'm trying to pacify, I'm counting on these small meals to nourish baby and mama for the best possible outcome.
Four months ago I shared a snapshot of my pregnancy diet, however, a healthy diet rich in fruits and vegetables is easy enough in September. Now that we're in the cold January months, things are a little different.
Instead of sliced tomato sandwiches, leafy salads and zucchini bread, I'm relying more on winter vegetables, grains, and frozen berries for smoothies. Here's a sample of some of my favorite snacks.
Smart Snacking Suggestions
Brown Rice: A wholesome snack or mini-meal alternative
So why is a big pot of rice featured in a post about snacking? Because I've found brown rice 'bowls' to be my latest affordable, healthy, and energy-boosting snack. I'm kind of addicted, actually!
I try to have a stash of cooked brown rice on hand nearly all the time (it keeps for several days in the refrigerator) and it makes the base for my small meals of rice bowls. I top the rice with something green – chopped celery leaves, shaved fennel, scallions – add a fried or poached egg, and tuck in. Add-ins can include whatever I have on hand – cooked vegetables, diced ham, shrimp, or shredded chicken. It's a fast, nourishing meal.
If I've cooked the rice without spices, I'll often turn the rice bowl into a quick pudding by adding dried fruit, cinnamon, milk and a drizzle of honey.  2-3 minutes on a medium power in the microwave, and I've got a bowl of comfort food.
Want more variety? Roll the rice in a wrap with beans and sliced avocado, and there's another simple lunch for mom.
Baked Rice: My preferred method
Below is a simple side dish you'll want to add to your weeknight repertoire, pregnant or not! I've been baking my brown rice ever since my restaurant days, where we baked huge vats of it for staff meal and it came out perfect every time.
Something about the slow, constant heat of the oven does wonders for the brown rice, which has a tendency to be either mushy or crunchy when cooked on the stove top. In the oven, each grain is perfectly fluffed and the much-loved nutty flavor shines through. Some sauteed onion and a dash of spices turns an ordinary side dish into a comforting and fragrant pilaf that you are sure to love.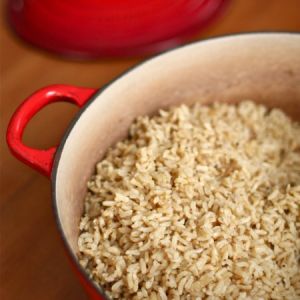 Basic Baked Brown Rice Pilaf
A reliable method for fluffy rice with great texture.
Print
Pin
Rate
Ingredients
1

Tablespoon

butter

1

teaspoon

olive oil

1/2

onion

diced

1

teaspoon

salt

1

teaspoon

spices of your choice

1

bay leaf

2

cups

long grain brown rice

3-1/2

cups

water
Instructions
Preheat oven to 375F

Rinse rice in a fine-meshed sieve and drain well.

In the bottom of a French Oven, melt butter and oil together over medium heat.

Add onion and cook for 1 minute.

Add salt, spices and bay leaf to the onion and cook for an additional minute.

Add rice, stir well to combine, and toast together for 2 minutes.

Add the water, and bring to a boil. Stir the rice once, then cover and place in the middle of the oven.

Bake for 40 minutes, then remove from oven, and let sit, covered, for an additional 10 minutes.

Fluff rice with a fork and serve
Notes
Favourite flavour combinations to add to the rice prior to cooking:
1 Tablespoon Garam Masala with 1/4 cup chopped apricots.
1 teaspoon dried thyme, 1/2 teaspoon celery seed, 1 cup chopped celery.
1 teaspoon cumin, 1 cup canned black beans.
Nutrition
Calories:
192
kcal
|
Carbohydrates:
37
g
|
Protein:
4
g
|
Fat:
3
g
|
Saturated Fat:
1
g
|
Cholesterol:
4
mg
|
Sodium:
309
mg
|
Potassium:
113
mg
|
Fiber:
2
g
|
Sugar:
1
g
|
Vitamin A:
45
IU
|
Vitamin C:
0.5
mg
|
Calcium:
15
mg
|
Iron:
0.7
mg
What is one intentional healthy food goal for 2012 that you are working on?