This week I wholeheartedly embraced the slow-cooker challenge along with dozens of other bloggers. I stewed beans all day, simmered a vegetable stock, and combined ginger, coconut and chicken into a fragrant dinner.
I even used my slow-cooker for breakfast, something I'm going to be doing a whole lot more of, thanks to an ingenious technique discovered via Food 52 for overnight steel-cut oats.
As you've read, oatmeal in all its forms is one of my pantry essentials. We use rolled oats in our Overnight Apple Cinnamon Baked Oatmeal, stir steel-cut oats for Brown Butter-Toasted Oatmeal with Roasted Pears, and often cook a pot of quick oats on those hurried Monday mornings.
Of all the varieties of oatmeal, my affections lie with steel-cut oats. However, I am less fond of the 30 or so minutes of cooking time that they require in the morning to reach the perfect creamy, yet toothsome texture. I had tried a few overnight versions, but found that, although convenient, they left the oats with a gummy consistency.
Fortunately, I have come across a completely new method that has – yes, I dare to say it – revolutionized our breakfasts.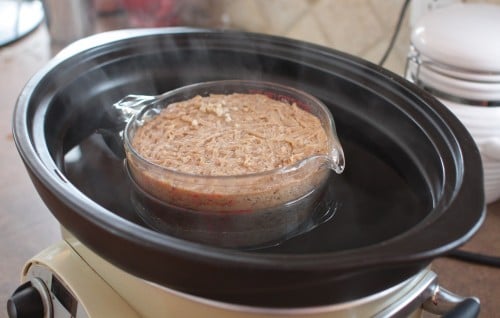 How to Cook Steel-Cut Oats in a Slow-Cooker
What you see above is a 4-cup Pyrex measuring cup containing our piping hot and perfectly cooked breakfast of "Apple Pie" Steel-Cut Oats. Surrounded by water and covered with a lid, they have steamed overnight in the slow-cooker, resulting in creamy oats that still retain a bit of bite and taste exactly as if they were just made by hand.
Another oatmeal enthusiast named Ying must be credited for the overnight bain-marie method of cooking the oats. Her almond-butter and honey version of steel-cut oats over on Food 52 looks very tempting and is definitely bookmarked for another morning.
I'm absolutely flipped over this method, and happy that it works so well for our family. We love a hot, stick-to-your-ribs breakfast, and this one is fuss-free. There's not even a sticky, crusty slow-cooker to wash, just a measuring cup to rinse after you have served the cereal.
For me, the apple pie flavor puts this breakfast over the top. Why apple pie? It's a fun way to incorporate fruit into the breakfast. The combination of brown sugar, spices and double apple (both sauced and grated fresh) creates a flavor profile that is surprisingly close to apple pie.
Feel free to go as heavy or as light on the spices and sugar as you like, but don't leave out the apple sauce. It really helps to carry the apple flavor through in a mellow way, without too much tang.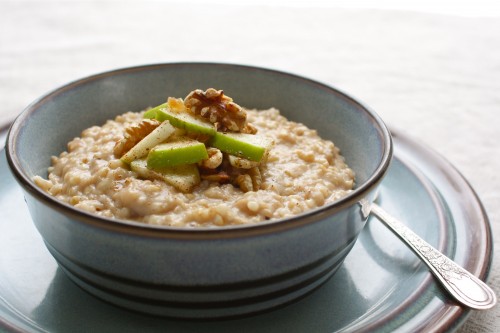 Note: My nights are short, and six hours is all the time I've given this recipe in the slow-cooker. However, I'm confident that you could leave the oats in for up to nine hours and still get good results. Let me know in the comments how you experiment with the recipe for your perfect breakfast!
Tip: Don't have a large Pyrex measuring cup? Try a Pyrex loaf pan or serving dish instead. I'm willing to bet even a stainless bowl or couple of wide-mouth jars would work too.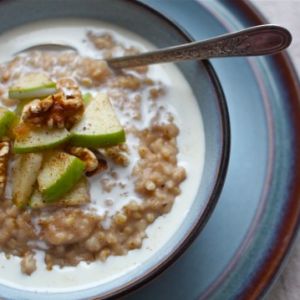 Ingredients
3/4

cup

steel-cut oats

1/2

cup

coffee cream

half and half (10%)

2

Tablespoons

raw cane sugar

brown sugar, or maple syrup

1

medium

apple

washed and grated

1/2

cup

apple sauce

or apple butter

1

teaspoon

cinnamon

1/4

teaspoon

nutmeg

1/4

teaspoon

salt

2

cups

water
Instructions
In a 4-cup Pyrex measuring cup, mix together all the ingredients except the water, and combine well. Add the water and slowly mix to combine.

Place the measuring cup in the bottom of a slow-cooker and nearly fill it with room temperature water. It should come up the edges of the Pyrex cup to the same level as the oatmeal.

Cover slow-cooker and place on Low. Cook for 6 hours.

In the morning, remove lid carefully and take out the Pyrex cup. Give the oatmeal a good stir, then portion into four bowls. Serve with cream, fresh chopped apples and toasted walnuts.
Nutrition
Calories:
195
kcal
|
Carbohydrates:
38
g
|
Protein:
5
g
|
Fat:
2
g
|
Saturated Fat:
1
g
|
Sodium:
153
mg
|
Potassium:
71
mg
|
Fiber:
5
g
|
Sugar:
16
g
|
Vitamin A:
25
IU
|
Vitamin C:
2.4
mg
|
Calcium:
26
mg
|
Iron:
1.4
mg
Have you ever used your slow-cooker for breakfast?