Written by Megan of Stetted.
Valentine's Day has passed us by again, and now it's time to do our best to ignore that flashy 50% off sign dangling just above aisles of chocolate-filled hearts. February is American Heart Month, so instead of those shiny boxes, let's focus on another heart: the one that really does keep us alive.
There is no simple pill that we can take to keep us healthy, but luckily many of the foods that are abundant in the world are full of nutrients that can help nurture a healthier body. When it comes to eating for health, simple, unprocessed foods are the best answer.
While science and medicine cannot directly link certain foods to the prevention of heart disease, these foods contribute to a healthy system overall.
What Nutrients Do We Need?
If you already eat a diet based on whole foods and "eat the rainbow", you're likely already getting the key nutrients you need for your body to run smoothly.
Omega-3s
The prevalence of processed oils in the Standard American Diet has resulted in an overabundance of omega-6 fatty acids in our bodies, but in order for our metabolisms to work effectively, we need to have omega-3s as well. These natural fatty acids are found in oily fish such as salmon and sardines, and in chia seeds, flax, and walnuts.
Magnesium
This mineral, found in leafy greens, spices, grains, and tofu, is essential to human development, helping with the transport of energy between cells. Magnesium is also thought to help with calcium absorption.
Vitamin E
Vitamin E can help against free radical damage and the oxidation of cells. It has also been shown to improve skin, nails, and hair. Vitamin E can be found in leafy greens, avocados, broccoli, and sweet potatoes.
Fiber
Fiber can reduce blood cholesterol levels, improve mineral absorption, and of course, help keep the excretory system running smoothly. Fermented soluble fibers have additional benefits, as the fermentation produces short-chain fatty acids that can aid in stabilizing blood glucose and reduce the synthesis of cholesterol by the liver. Natural fibers are found in a variety of foods, including legumes, oats, berries, and sweet potatoes.
Great Recipes for a Great Heart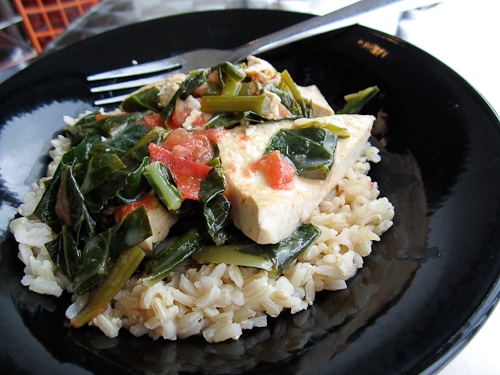 Photos by Megan Myers
This easy and gluten-free Coconut-Lime Tofu & Rice packs a nutritional punch, but you won't even notice. Feel free to add chiles to spice up the meal, but the simple sweetness of the broth helps to make it a hit with kids and other wary eaters.
Coconut-Lime Tofu
This gluten-free dish is reminiscent of tom kha soup, though much simpler in flavour. Feel free to add chiles, though the sweetness of the dish makes it a hit with kids.
Print
Pin
Rate
Ingredients
1

cup

brown rice

15

ounces

firm tofu

drained

1

Tablespoon

brown sugar

1

Tablespoon

gluten-free soy sauce

1

Juice of 1 lime

1

can

light coconut milk

2

medium

tomatoes

seeded and diced

3-4

green onions

diced

1

bunch

greens

(such as kale, spinach, or collards) chopped
Instructions
Prepare brown rice according to package directions.

While rice is cooking, heat a large flat-bottomed saucepan over medium heat.

Slice tofu into chunks (I like to do triangles) and arrange in saucepan. Gently press on tofu to release excess water.

Whisk together brown sugar, soy sauce, and lime juice until sugar has dissolved. Mix into coconut milk, then add liquid to tofu.

Bring to a boil and let simmer about 10 minutes.

Add tomatoes, green onion, and greens. Cover and let simmer another 5-10 minutes, until greens have wilted and are bright in colour.

Serve with rice.
Nutrition
Calories:
375
kcal
|
Carbohydrates:
50
g
|
Protein:
15
g
|
Fat:
12
g
|
Saturated Fat:
7
g
|
Sodium:
350
mg
|
Potassium:
357
mg
|
Fiber:
3
g
|
Sugar:
5
g
|
Vitamin A:
930
IU
|
Vitamin C:
19.1
mg
|
Calcium:
165
mg
|
Iron:
2.7
mg
Do you think about the health benefits when preparing your food? What's your favorite "heart healthy" dish?