A quick look around food blogs, Pinterest, and bakery window displays might lead one to believe that dark chocolate and marshmallows were in high season right now, and in a way, they are, peaking tomorrow in a blaze of sweetness. But what about the rest of the month? What is good eating in February?
In her book, Animal, Vegetable, Miracle, Barbara Kingsolver called February 'The Hungry Month', and if you are living off the land, indeed it is. Most of us, however, have access to markets that carry a selection of good winter fruits and vegetables if you know what to look for.
Embracing cool-weather eating can take some adjustment, but it is better for the budget and for the environment, as you are buying what is local and in season. Of course, what is in season in February will vary with your location. For example, I'm in Eastern Canada and my sister is in South Texas. Produce that is cheap for me is often far pricier for her and vice versa.
Listed below is a broad range of beautiful vegetables that are available right now, as well as tips on how to prepare them. Hopefully you'll be inspired to skip the peas and corn in the frozen section of the grocery store and pick up one of these seasonal vegetables instead.
Vegetables In Season: February
Brussels Sprouts
My kids have yet to see the light, but Danny and I adore these small, nutty members of the cabbage family. Brussels sprouts are wonderful roasted, shaved, or on their own as a filling, flavorful side dish.
For plenty of inspiration on how to prepare this cruciferous vegetable as well as glean some tips on buying and storing them, visit my spotlight post on the subject.
Cabbage
Last fall I argued that cabbage might be the best bargain out there and it still is extremely easy to come by. It also tastes just as great as it did in October, making it a prime candidate for winter eating.
Head over to my spotlight on cabbage for four easy tips on how to prepare this vegetable.
Winter Greens
Kale, Collards, Radicchio, Endive, and Chard are some of the greens that shine during the winter months. Take advantage of their amazingly unique flavors and textures by enjoying them raw or cooked.
Beets
In a recent Spotlight Ingredient post I professed my love of beets, and while you didn't quite jump up and down with excitement, many of you vowed to try beets for the first time. Or at least prepared another way than pickled. I hope you did and that beets are making their way into your kitchen more frequently.
For cooking how-to and a round-up of beet recipes, head over to my spotlight on beets.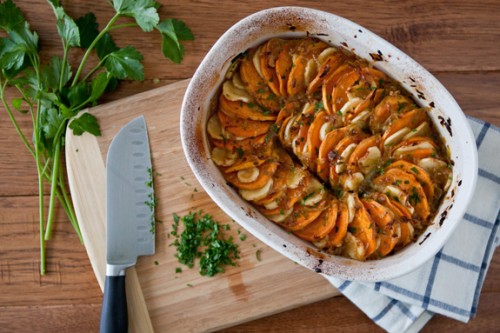 Photo by Shaina
Leeks
My refrigerator crisper is hardly ever without this docile member of the onion family. I add them to risotto, soups, vegetarian main dishes, and tarts, loving the mild, earthy flavor they contribute to dishes.
In another Spotlight Ingredient, you can find out how to store, clean, and serve the beautiful leek.
Winter Squash
Winter squash makes seasonal eating easy, thanks to their versatility and long-term storage benefits. Curious about how to select, store and serve winter squash? Here's a complete guide, including a reference to the many varieties available.
Potatoes, Sweet Potatoes, Parsnip, Carrots, & Turnip
Okay, so perhaps it is unfair to lump these starchy root vegetables together, however, they are all readily available and affordable right now, and are a cinch to prepare. Roast them as home fries, bake them with maple, make soup, or mash them up with butter and salt. Now that's February comfort food…
Keep these and other seasonal ingredients in mind when making your weekly menu plan. Don't base your meals entirely on what sounds good, but consider what produce you know to be local and available.
Here are some more helpful posts on eating seasonally in winter:
What is in season right now in your area?