My lazy summer mornings are about to come to an end. Oh, how I have enjoyed not having to hustle my kindergartner out the door with a lunch and a school bag during these summer months.
I've been pregnant for the entire summer and mornings have not been my forte. The kids come and jump on me and we snuggle and read in bed until their tummies start rumbling. Yes, summer has been sweet.
However, as I slowly move out of the first trimester (can I get a high five?!) I feel my strength returning, just in time for fall, school, and those action-packed school-day mornings.
Energetic or not, pregnant or not, I need to have a morning plan. In this post I'll show you my strategy for providing nourishing breakfasts this fall and throughout the winter. It's simple, organized, and cost effective, perfect for the next installment of our Eat Well, Spend Less series.
Back-to-School Breakfasts
Here's the honest truth: we eat a hot breakfast every day. Cold cereal only shows up on the occasional camping trip or when Mama is out of town (as I have frequently been this year).We eat hot cereal because we genuinely prefer it over cold. Hot cereal is also far more nourishing, keeps us feeling fuller longer, and is much more affordable!
My boys eat a large breakfast, usually a bowl of oatmeal, polenta with maple syrup, or Red River/ 7-Grain cereal. A jar collection on the table holds our favorite toppings:
wheat germ
ground flax
coconut flakes, unsweetened
dried cranberries
raisins
chopped nuts
honey
granola
One or twice a week, I'll alternate hot cereal with one of the following quick meals:
Granola & Yogurt. Sometime the yogurt is homemade and sometimes it isn't, but the granola is always from scratch. We love our chai-spiced granola, but have also been playing around with Mark Bittman's Crunchy Granola.
Muffins, made ahead and frozen. Why use any recipe other than my Best Ever Muffins, with their many variations? As these muffins freeze well, I'll often make a batch on the weekend and freeze eight or so for a weekday morning.
Pancakes, made from my mix. If I'm lucky I'll have a jar of our favorite Buckwheat Pancake Mix in the freezer. It's perfect for turning out pancakes on Friday morning for a special someone.
Quick Egg Sandwich, with ham and cheese. Also known as a 'non-supper', this fast eggy sandwich keeps you going until lunch. Add bacon strips and a sliced tomato to round out the breakfast.
Fruit & Yogurt Parfaits, with or without cottage cheese. Cheri's got a healthy breakfast wrapped up with this idea for breakfast parfaits. Add in any fruit you like, as well as chopped nuts and seeds.
Smoothies, usually with a handful or two of quick oats blended in for fiber. They're a fast way to get dairy, fruit and fiber in the morning.
Baked Oatmeal (recipe below), a favorite of my children, this hearty breakfast can be mixed up the evening before and baked off fresh and warm in the morning. Drizzle with cream and top with fresh fruit for the perfect start to the day.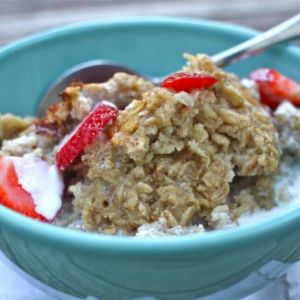 Overnight Apple Cinnamon Baked Oatmeal
Adding a grated apple to the mix provided both sweetness and tang - and my boys can't pick out the lumps of fruit! Quebec apples are plentiful and fresh all winter long and are my fruit of choice for breakfast.

Applesauce cuts down on the fat in the recipe and also adds more flavour. If maple syrup is scarce, substitute honey or agave syrup in its place.
Print
Pin
Rate
Ingredients
2

large

eggs

1/4

cup

maple syrup

1

teaspoon

baking powder

1

teaspoon

vanilla

1

teaspoon

cinnamon

1/4

cup

salted butter

melted

1/2

cup

applesauce

1

small

apple

grated

1 1/4

cups

organic milk

3

cups

old-fashioned oats
Instructions
Butter a 2 quart baking dish.

In a large bowl, whisk together all ingredients, except the oats.

Fold in oats and combine well.

Transfer mixture into the buttered baking dish and spread evenly around. Cover tightly with plastic wrap, pressing the plastic directly on top of the oat mixture. Refrigerate overnight.

In the morning, preheat oven to 375°F (I have Danny do this when he gets up to shower). Unwrap oatmeal and place in oven. Bake for about 30 minutes until oatmeal is set and browned on top.

Serve hot with more milk or cream.
Nutrition
Calories:
340
kcal
|
Carbohydrates:
45
g
|
Protein:
9
g
|
Fat:
14
g
|
Saturated Fat:
7
g
|
Cholesterol:
96
mg
|
Sodium:
121
mg
|
Potassium:
379
mg
|
Fiber:
5
g
|
Sugar:
16
g
|
Vitamin A:
435
IU
|
Vitamin C:
1.3
mg
|
Calcium:
138
mg
|
Iron:
2.2
mg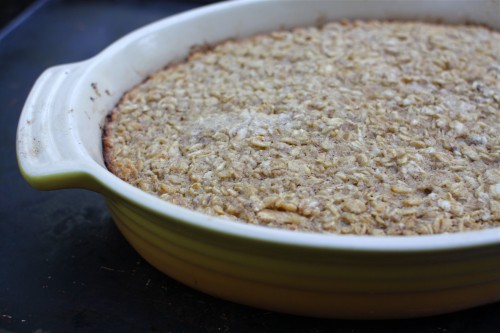 How do you start your school mornings?