June is the month when we air out our camping gear and study the calendar for the perfect weekend to pack up and spend a few days in nature.
Whether you are pitching a tent in the backyard or camping on a pebbly lake shore, cooking over an open fire is such a fun family experience. We generally stick to real food camping meals, but once in a while it's fun to roast a sausage on a stick and wrap it in a soft bun. For our (mostly) whole foods family, this takes a bit of planning, but here's how I prep for a cook-out.
We'll go to a nearby farm we know of that sells lamb sausage, or we'll pick up organic, all-beef hot dogs at our local market for the excursion, so finding whole-food sausage is fairly easily done. But then there is the problem of the buns, as I refuse to buy pasty, all-white buns that are filled with sugar and who knows what else. I'll consume these at the occasional hockey game, but I sure am not stocking up on them for a camping trip.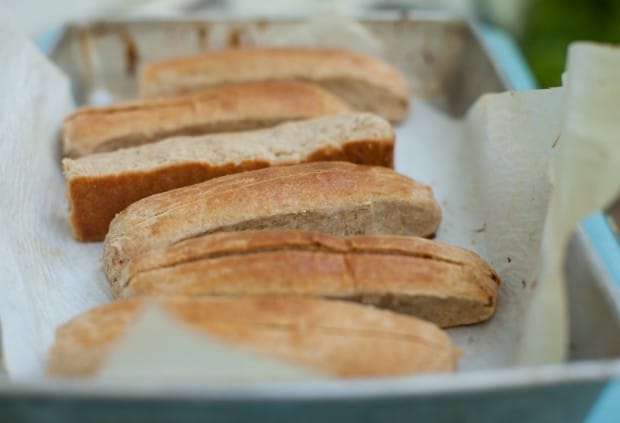 Our local health food store sells some decent unprocessed hot dog buns, but they cost a pretty penny, and around here we're all about eating well and spending less. In fact, it's my theme for this post, along with summer food to go.
So, for the past two summers I've been making my hot-dog buns and they are so, so great. A bit of butter and an egg in the dough keeps them soft, buttermilk gives the buns a nice tangy flavor,  and the whole wheat flour makes for a substantial roll that can hold up to the heftiest sausage.
Read on for the recipe and more suggestions for the best camping foods EVER!
This recipe was a riff off of my whole wheat buttermilk rolls (baked in a jar). Remember those? I wanted them to be filling, hence the whole wheat, but still have the look and feel of a traditional hot dog bun.
Well, they don't look perfect, but they sure pair nicely with a smoky Merguez sausage and a forkful of homemade zucchini relish. June, you are tasting mighty fine!
Tips to working with whole wheat flour
Whole wheat flour can not be swapped interchangeably with white; however, with the right care, it yields a much more flavorful -and healthy- result.
Here are my tips for successful baking with whole wheat flour.
Add more liquid to the dough. White flour can be swapped with whole wheat if at least 1/4 cup of extra liquid is added per cup of liquid that the recipe calls for.
Don't rush the process. Allow dough to rest for at least ten minutes immediately after the flour is incorporated, and give it a double rising if possible.
Allow dough to be sticky and resist the temptation to add more flour. It will all work out in the end.
If you must add a sprinkling of flour for rolling or shaping dough, use a bit of white flour.
Soft Whole Wheat Hot Dog Buns
Soft and buttery, yet one hundred percent whole wheat, these buns will not only stand up to a hefty sausage, they will elevate your whole campfire meal.
Print
Pin
Rate
Ingredients
1

Tablespoon

active dry yeast

1

Tablespoon

whole cane sugar

3

Tablespoons

warm water

1

cup

buttermilk

room temperature

1

large egg

beaten

2 1/2

cups

organic whole wheat bread flour

1/2

cup

all-purpose flour

for shaping

1

teaspoon

sea salt

4

Tablespoons

unsalted butter

room temperature, plus 1 Tablespoon, melted
Instructions
In a small bowl, stir together yeast, cane sugar, and warm water; let mixture stand in a warm place until yeast begins to foam, about five minutes.

Meanwhile, combine whole wheat flour and salt in the bowl of a stand mixer fitted with the dough hook. Make a well in the center and add buttermilk and stir in egg.

Whisk yeast mixture with a fork until dissolved and pour into the flour well.

With the mixer on low, combine flour and liquid until just combined. Turn off mixer and allow to sit for 10 minutes for the wheat to absorb the liquid.

Scrape down the sides of the mixer. With the mixer on low, add butter, one tablespoon at a time, until it is all absorbed.

Knead dough on low for 5 minutes, scraping down the mixer as needed. Dough will come together to be a smooth, elastic mass. It will be sticky, but do not add more flour.

Cover dough loosely with plastic wrap or a tea towel and allow to rise in a warm place for 1 hour.
To shape
Butter a 9 x 13 baking pan. Generously flour dough and turn onto a floured work surface. Divide into 12 pieces and roll into 3-inch logs.

Place shaped dough in two rows of six in the pan. Don't worry if they are touching each other. Cover and let rise for 45 minutes; meanwhile, preheat oven to 400F. Brush the melted butter over the tops of the risen rolls and place in the middle rack of the oven.

Bake for 25 minutes or until the tops bottoms are golden. Cool on a wire rack.
Notes
I always freeze half of the buns (6) for spontaneous camping excursions. You're probably going to want to do the same!
Nutrition
Calories:
160
kcal
|
Carbohydrates:
24
g
|
Protein:
5
g
|
Fat:
5
g
|
Saturated Fat:
3
g
|
Cholesterol:
25
mg
|
Sodium:
221
mg
|
Potassium:
131
mg
|
Fiber:
2
g
|
Sugar:
2
g
|
Vitamin A:
170
IU
|
Calcium:
35
mg
|
Iron:
1.2
mg
More camping recipes and resources:
Are you camping or cooking around a fire pit this summer?