So far, the seemingly endless rains of June have kept us from packing the car, heading to a lake and pitching a tent; but we haven't given up hope.
Weather permitting, we'll have our summer solstice camp out again, perhaps just in the back yard, with dinner over the open fire. Then later in the summer we'll camp for real: fish for our dinner and sleep deep in the forest. It's our favourite family activity in summer for nine years and counting.
The weather generally dictates how much food we consume during a 2-day camping trip. If it is gloriously sunny and we are busy hiking trails or swimming, food takes a backseat until about six in the evening, when we regroup around the campfire and devour a hearty dinner. On the other hand, if we are cold and damp, much time is spent stoking the fire and eating our way through provisions. Either way, it is safe to say that food is an important part of a camping trip.
Breakfast
Camping breakfast starts with homemade instant oatmeal and local, seasonal berries. Later there will likely be bacon, eggs and sour cream & onion potatoes, but at six-thirty in the morning, boiling water for cereal and coffee is the best I can do.
Fortunately, boiling water is all you need to do to enjoy a bowl of my children's favourite camping food: their morning oats. This homemade instant maple oatmeal with ground chia seed is one of the best items you can pack for a simple, yet satisfying breakfast. The chia helps to thicken the oatmeal as well as contributes an energy boost for the morning on the trail.
And if it's bacon and eggs you crave, do them over an open fire for maximum smoky flavour and serve with a side of Smoky Sour Cream and Onion Potato Packets. I prefer potatoes to bread for an accompaniment to eggs. They don't go stale, for one thing, and you'll never find them squished under the camping gear. Oops!
Lunch
My policy for camping lunches has always been 'fend for yourself'. Cold pancakes, vegetable sticks, crackers and peanut butter, fruit, cheese… Maybe we'll simmer a package of soup or pasta if we're just sitting around the fire, but more often than not we're hiking, fishing and generally on the go.
Homemade granola bars or energy snacks are a must. Paired with a bottle of water, they power us through until dinnertime. These are our go-to healthy snacks:
Dinner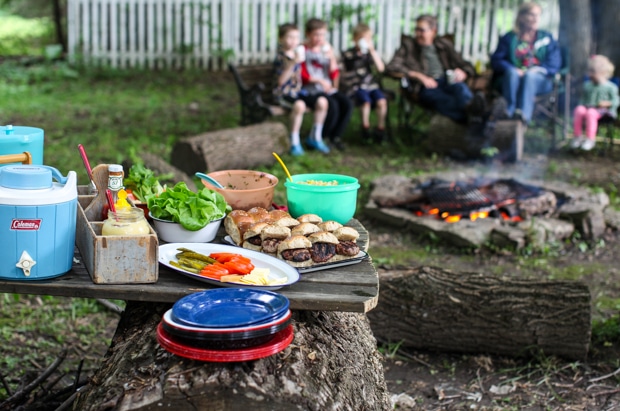 Dinnertime is when we regroup with friends and cook a big meal together around the campsite picnic table.
Our whole family is pretty crazy about Campfire Toasted Burritos, but simple hamburgers or sliders are a favourite, too. Everything has to be done over an open fire, which gets easier as you practice. Knowing the keys to successful campfire cooking helps, too.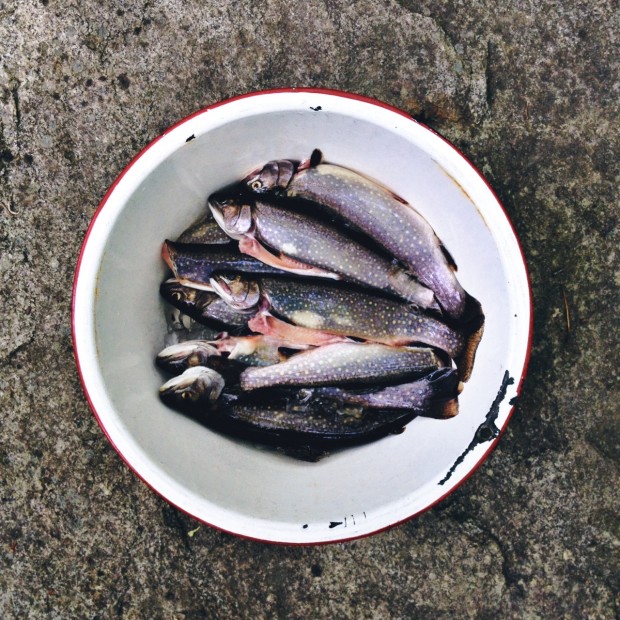 Fresh trout makes a splendid camping dinner and cooked over an open fire is camping food at its finest. Forget hot dogs, this is what supper in the great outdoors should look like.
I always stop by a farm stand on the way out to the country and pick up ingredients for a huuuuuge summer salad. They vary from year to year, depending on what I find, but here's all the salad inspiration you need to compose your own.
When you are camping, it's fun to roast a sausage on a stick and wrap it in a tasty bun. My soft whole wheat hot dog buns sure pair nicely with a smoky Merguez and a forkful of homemade zucchini relish.
Last but not least, the Sausage & Vegetable Foil Dinner is an ideal dinner if you don't want to spend much time cooking, yet want to serve a meal that's wholesome and satisfying. Get the kids involved with collecting firewood and adding the ingredients to the foil packages, then play a game of Frisbee while dinner bakes on the coals.
Clean-up
I happen to like washing camp dishes. Give me a pretty view, dapple sunlight on the table and tune in the happy voices of children playing among the trees, and I am perfectly willing to clean up.
I also have a method which I shared last summer: how to clean camping dishes the easy way.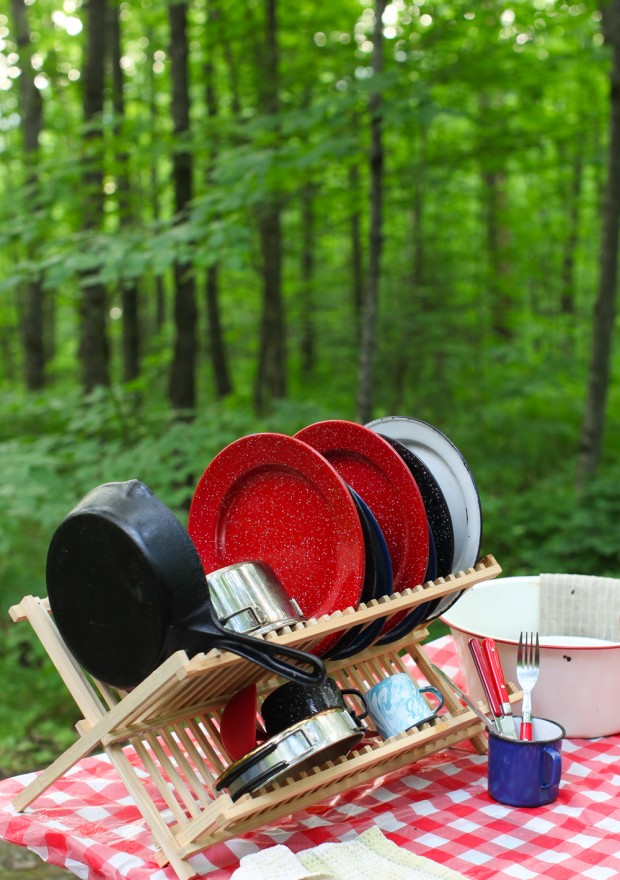 Dessert
They say food tastes better when you are camping. Perhaps it's the smoke from the open fire, perhaps the fresh air that stimulates the appetite, at any rate, I don't know anyone who turns down dessert at the end of a day.
The ultimate camping dessert has got to be S'mores, a simple treat that has inspired hundreds of spinoffs and variations. We keep them pretty simple:
Image by Tim Chin.
My cookbook has my go-to marshmallow recipe, a fluffy maple variation that is made from scratch many times over the summer. Paired with graham crackers and dark chocolate, it's the perfect sweet finish to the day.
We also love baking fruit in the campfire coals. It might be maple baked apples, chocolate banana boats or caramel roasted peaches, slowly roasted to perfection.
Happy Camping, friends!
Image by Tim Chin.
Share a camping tip, recipe or story in the comments below!