The first camping trip of the year was somewhat of a revelation: my kids have finally grown up enough to stay out of trouble while we're out in the woods.
At ages 5, 9 and 11 they are tearing around the trails, making new friends, climbing stuff, inventing games and working up a ferocious appetite. After a decade of keeping them from falling in the fire or falling off a cliff, I can actually relax and putter around camp – a complete novelty.
Cooking outdoors is how I hygge in summer. I love it all. The camp kitchen set up. The campfire foil dinners. Cooking an early breakfast on the camp stove. Yes, even washing the dishes. It's a good thing I enjoy the food prep aspect of camping because every few hours my crew was famished.
I probably could do a whole series from our weekend trip (that incredible no-roux one-pot macaroni & cheese…..a new and improved pancake mix…) but I am going to share an amazing Dutch oven breakfast full of fresh vegetables. It's perfect for spring, whether you are camping or not.
This dish is buzzworthy for many reasons. It's a one-pot, no-chop campfire power breakfast that is veggie-laden and contains bacon. Winning? Yes indeed. Camping food tends to be carb-heavy – which isn't necessarily a bad thing considering I was doubling my step count goal every day – but one has to be intentional about including vegetables too.
This dish packs in enough vegetables for the day, which means you can graze on trail mix all afternoon and roast fat sausages for dinner.
Since the dish required mostly perishable ingredients, I planned this breakfast for our first morning, and saved the pancake mix for the second. Produce was washed and dried at home before packing in the cooler, and the cheese grated in advance, of course.
I trimmed the ends off the green onions and snapped the asparagus while the bacon was frying, but other than that, this dish doesn't require a bunch of chopping.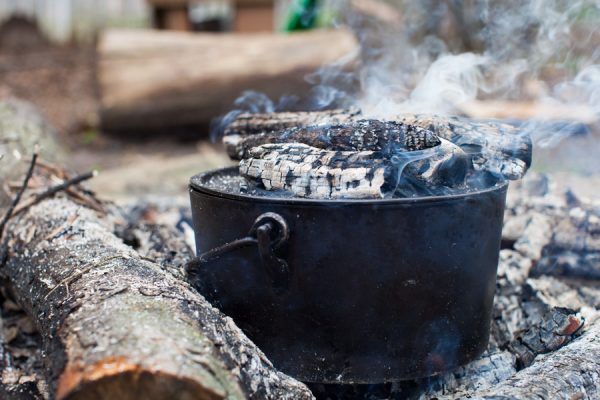 A cast iron Dutch oven is essential for this dish. It holds the heat well and has a tight fitting lid, so we can pile coals on to the top to create 360° heat. You can cook the dish on low heat on a camp stove or in the hot coals of a campfire. I have done both and can tell you that the camp stove cooks it a little faster, but the fire adds a certain smokiness that is highly desirable.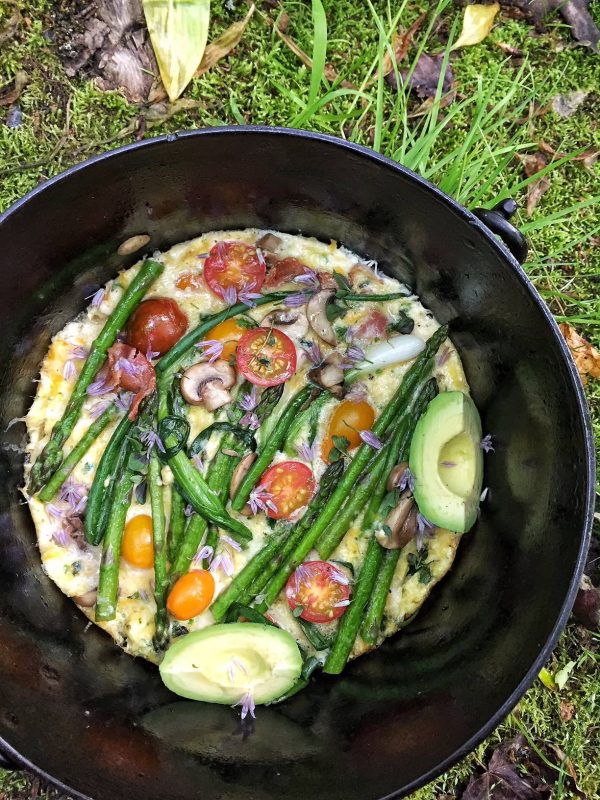 The frittata does take a while to cook, however, so make sure you have a pot of coffee brewed and a good book on hand while you wait by the fire. Don't rush the cooking or you'll burn it on the bottom and the eggs on top will still be raw.
The amount of energy we burn while camping with kids requires a hearty breakfast just to get us going, so we start the day with plenty of protein, loads of veggies and big flavors. I served my spring greens campfire frittata with avocado, campfire hash browns, and a dash of Tabasco. We drank two full pots of camp coffee as well, and we were all set for our day of hiking, canoeing and swimming.
Spring Green Campfire Frittata
Whether you are fueling up for a hike, wrangling small children or just tossing a Frisbee on the beach, this hearty breakfast will keep you fed up well through the morning.
Print
Pin
Rate
Ingredients
8

slices

bacon

6

small green onions

ends trimmed

1

small bundle

asparagus

ends snapped off

1

cup

sliced mushrooms

– any kind

10

large eggs

fresh mild herbs

such as parsley or basil

1/4

teaspoon

fine sea salt

1/4

teaspoon

freshly ground black pepper

1

cup

grated cheddar cheese

1

handful

fresh cherry tomatoes

Tabasco

for serving

1

avocado

for serving

chive blossoms

optional
Instructions
Heat a cast iron Dutch oven over a camp stove or campfire. Add the bacon and cook over medium high heat until nearly crispy. Remove from the pot and reserve. Drain off the fat into a small jar, leaving a little in the pot and reserving the rest.

Toss the green onion and the asparagus into the pot. Cook together, turning occasionally, until the green onion wilts and the asparagus turns bright green. Throw in the mushrooms and cook for a minute or two. Remove everything from the pot and keep warm in tin foil.

Crack the eggs into a bowl and beat gently with a fork just to break the yolks. Tear the herbs up and add to the eggs; season with salt and pepper.

Add a teaspoon of bacon fat to the pot and swirl to coat the bottom and sides. Pour in half the egg; then arrange the asparagus, green onions and mushrooms over the egg (do not include any juices that may have acuminated under the vegetables). Sprinkle 3/4 of the cheese over the vegetables. Pour over the remainder of the beaten egg. Return the bacon to the pot. Sprinkle the cherry tomatoes and the remaining cheese over the top. Add a few herbs if you have any leftover.

Cover the pot and place over low heat (low coals, rather than full flame). Carefully, with a pair of sturdy tongs, pile a few embers on the lid. Cook, covered, for about half an hour or until the egg is nearly cooked through. Time will vary with campfire heat, so just keep checking under the lid to see how the eggs are cooking. Remove from heat and let sit, covered, for about 10 minutes. The eggs will continue cooking during this resting period.

Divide the frittata into four quarters and serve hot with Tabasco and sliced avocado. Finish with fresh herbs or chive blossoms if desired.
Notes
Note that cooking times will vary as not all campfires are created equal. Just try for an even medium heat and it should turn out fine.