June turned out to be our big camping month. We planned it that way because the days are cooler and there are fewer bugs than later in the season. This year, the weather was particularly gorgeous, and we happened to luck out on some pretty great sunshine, too.
Now if you're not into camping, please know that this is probably the last post on the subject for the summer and we'll soon be moving onto gardening and putting up food. If you are all about the great outdoors, though, then you'll find this post handy for your next adventure.
We pack all reusable dishes when we go camping. Years ago we were gifted a Coleman Enamelware Dining Kit
and it saves us having to buy paper and plastic each summer. I love how durable enamelware is and I've been building my collection now that it's proven to be so useful both at home and away.
Using camping gear year round makes the investment more 'green'; if you only camp once a year, I believe paper dishes would be a better environmental choice.
How to clean camping dishes the easy way
I happen to like washing camp dishes. Give me a pretty view, dapple sunlight on the table and tune in the happy voices of children playing among the trees, and I am perfectly willing to clean up. Somehow it seems less of a chore then at home.
To pack:
Here's what I bring for washing up on our campsite.
1 large pot for hauling and boiling water
1 large basin or plastic tub
Biodegradable camp soap
Sponge with a scratch pad or an old dishrag
Collapsable drying rack
Sometimes I'll pack a dish towel, but I find I don't use it enough to warrant the space. I like to keep my kitchen equipment pretty tight.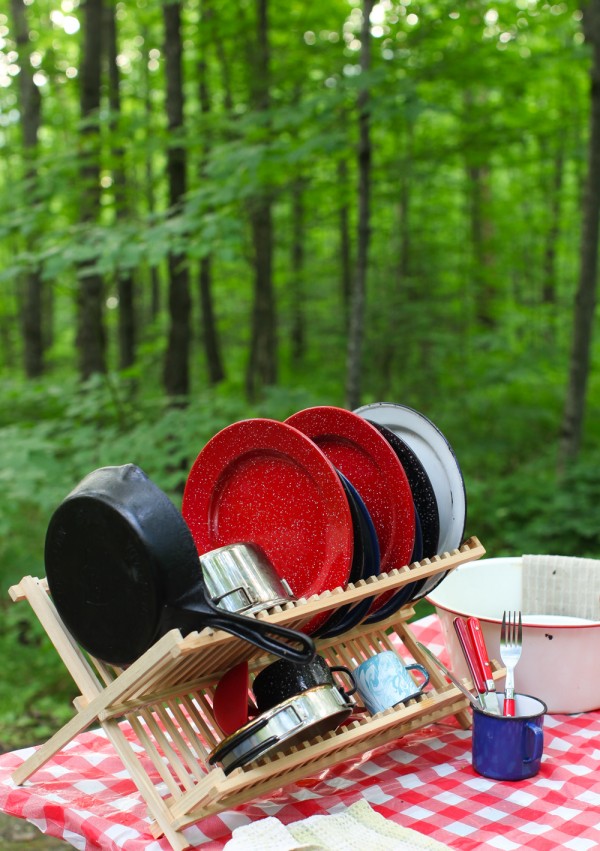 The method:
Scrape. We encourage everyone to finish their meals, but there are always scraps like fish bones to dispose of responsibly. Scrape all excess food into a small garbage, which you should dispose of properly later. You don't want to attract animals to your camp.
Soak. Unless you are cooking in foil, camping food often incurs really messy pots; food burns on the open fire or things bubble over and a good soak is needed. Rather than waste my time scrubbing, I leave the pots behind in a cold water soak while we hit the beach or the trail. When I get back, the food has had a chance to soften and the clean up goes much faster.
Hot Water Wash. Boil water in your largest pot and pour it into your wash basin together with plenty of biodegradable soap. Add enough cold water to make it cool enough to stand, then attack your dishes.
Drip-Dry. Dishes can air dry in mere minutes out in the breeze, so let them drain on the collapsable drying rack. A large mesh bag also works well (you can hang it from a tree limb) but I happened to have an old wooden rack from Ikea that needed a use.
And it's as easy as that!
Now, who's ready to go camping?