Simple strategies on how to plan a picnic, including tips for what to bring and why.
Nova Scotia summers are a continuous invitation to bring dinner outdoors and I'm happy to accept. The beach beckons to us on sunny days and I've always got a basket at the ready.
It occurs to me that with all my writings on dining al fresco, I've never specifically divulged on how to plan a picnic. Today's post summarizes the best of my knowledge with practical tips on what to bring and why it matters.
Get ready for a memorable outing – here's how to plan a picnic!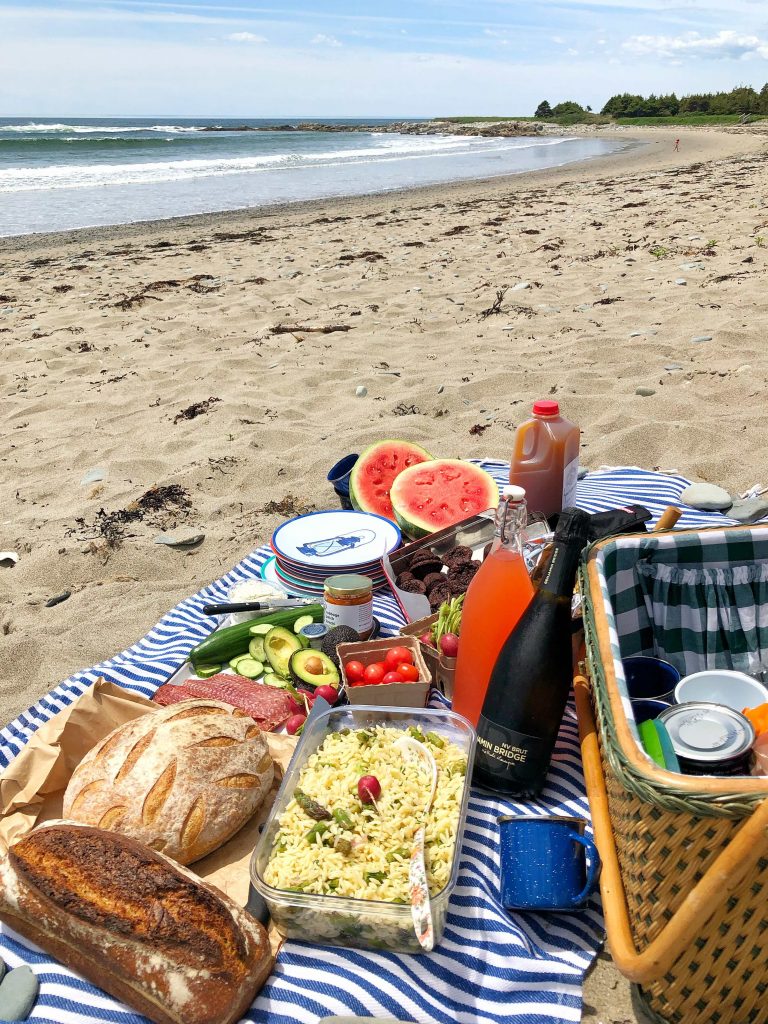 Start with a Food Plan
Like your weekday meals, the art of the picnic starts with a menu plan and a bit of meal prep. It might only be a post-it on the fridge, and a quick wash of veggies the night before, but every bit of planning helps you get out the door faster.
Ranch salad dressing, hard boiled eggs, Two-Bite Brownies, sliced melon, grilled vegetables, washed greens, iced tea, potato salad, cooked pasta, peach slab pie…all are stellar examples of picnic preparations.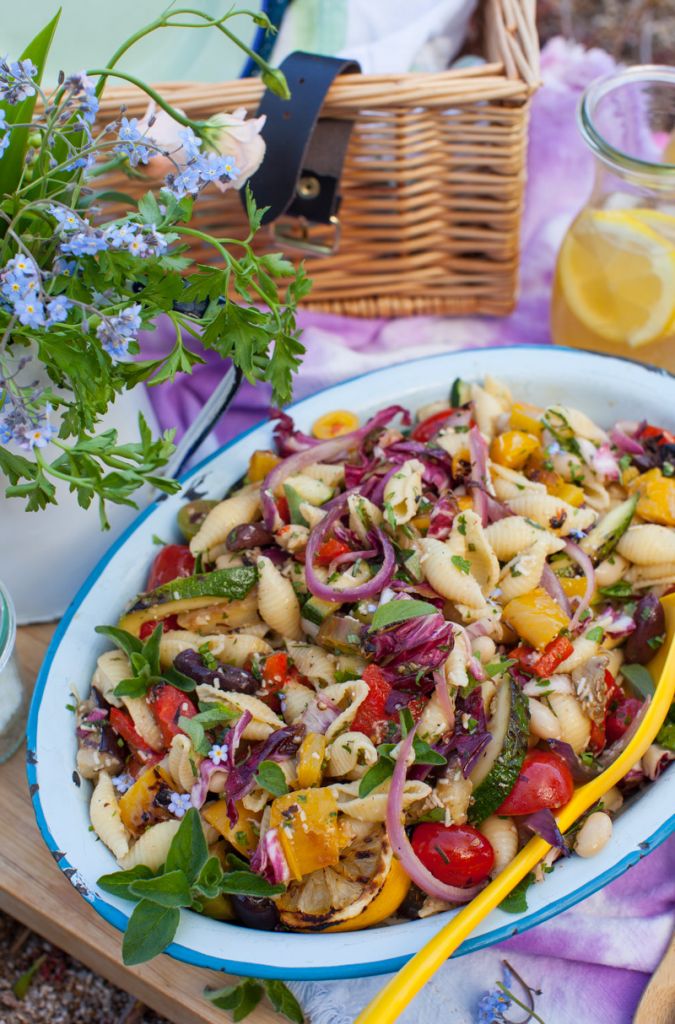 Keep it simple
Picnic food doesn't have to be overly complicated. It could really be one perfectly fabulous dish – like my make-ahead Antipasto Pasta Salad – and a bottle of bubbly or sparkling water. That's it.
Take on what you can easily manage in your current phase of life. I always enlist my kids as helpers and they take care of filling water bottles, gathering snacks and building sandwiches. When they were little, I did almost everything in advance. It's enough work just getting kiddos out the door with sunscreen!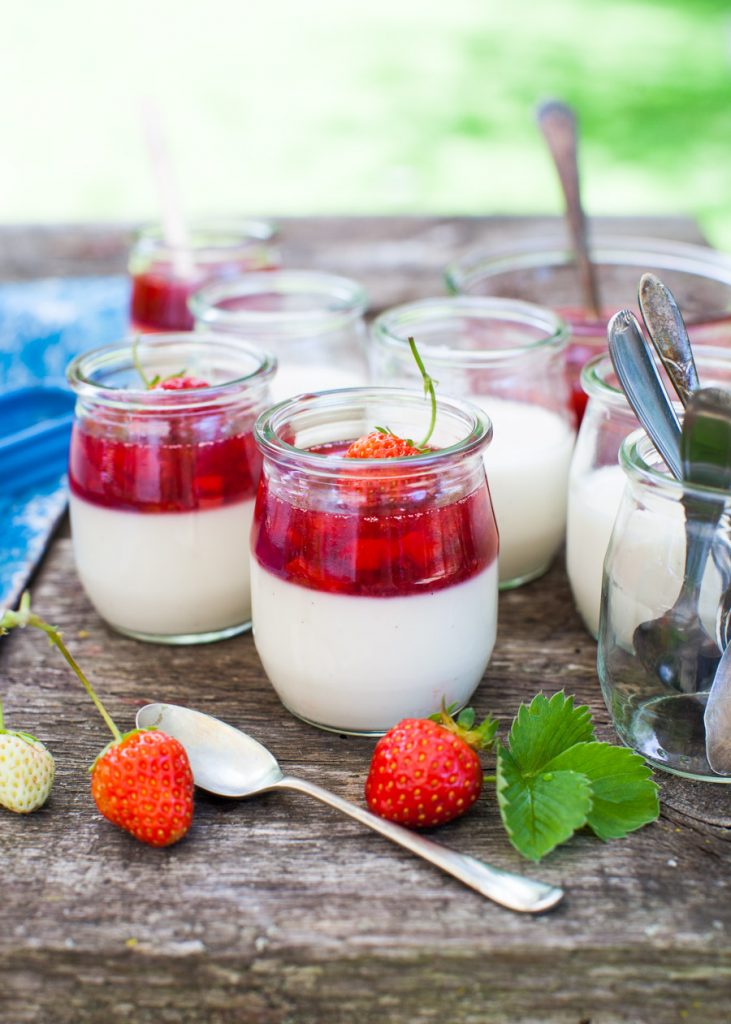 Of course you may enjoy complicated! In that case, impress your picnic guests with gastronomical delights such as Herb Butter with Edible Flowers or the adorable do-ahead Sour Cream Panna Cotta with Strawberry Compote. (Yes they travel well, with a proper lid, of course)
Keep it plentiful
There's something about eating in nature that stimulates the appetite. It's important that the contents of the picnic basket be substantial, nourishing and most of all, plentiful.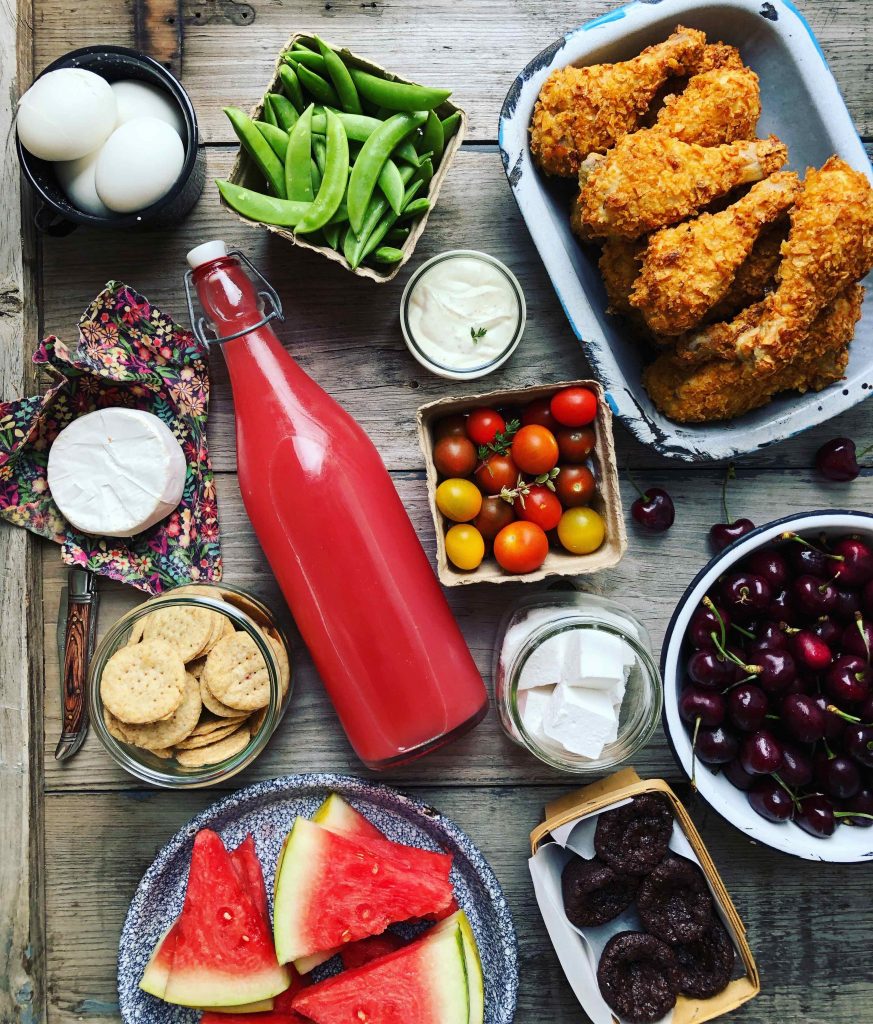 Perhaps this comes to mind because I am always packing for teenagers, but nevertheless, it's better to have leftovers than run out of food.
The Best Picnic Foods – and my BBQ Chicken recipe – is a good place to start for recipes. You'll find everything from main dishes and salads, to snacks and desserts.
Keep it fresh
My biggest beef with picnic fare is has always been this: too much bread. Plan a menu that focuses on bright flavours, a little protein, and a lot of fresh vegetables. Since picnic season coincides with peak summer produce, there's no excuse not to eat the rainbow.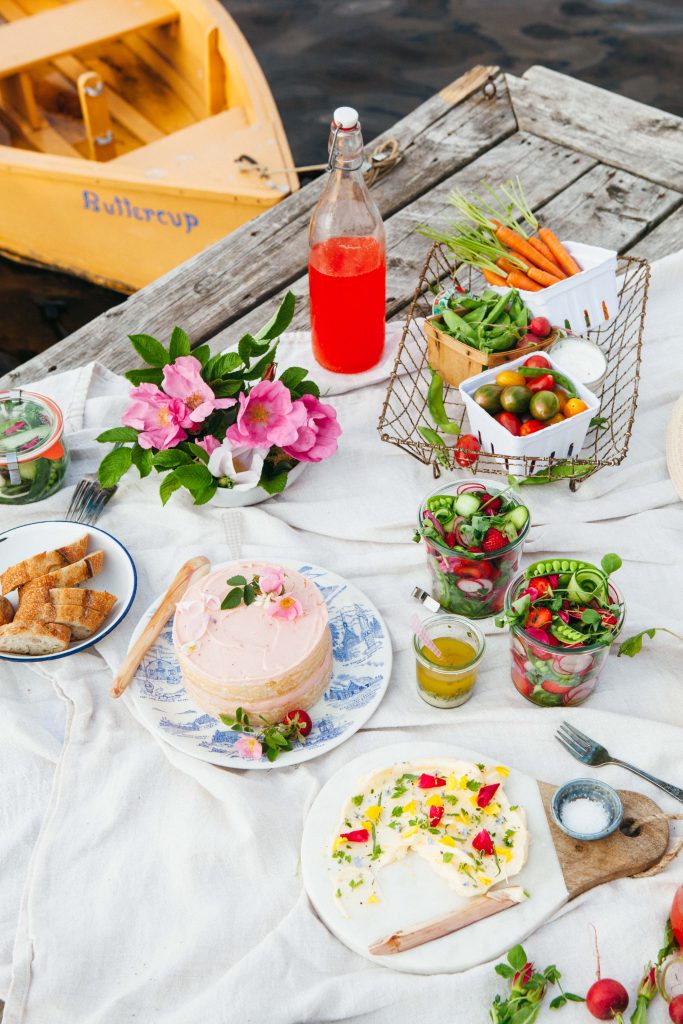 This springtime picnic with 5 do-ahead recipes is a perfect example. And this romantic summer sunset picnic for two celebrates the bounty of the farmers market.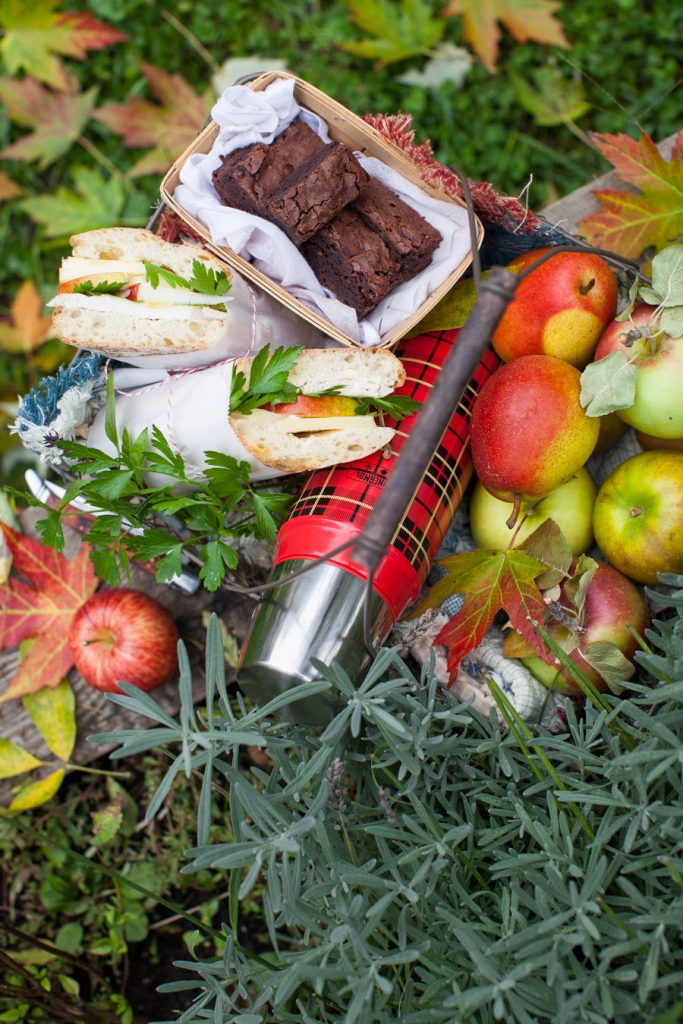 Practical Picnic Gear
A soft cooler bag and a basket with a sold handle are two picnic essentials that work well together. All of my baskets have been thrifted, so keep your eye out at garage sales and vintage shops.
The picnic basket holds non-food items (listed below) and perhaps a baguette or bag of chips. I keep mine packed and ready to go all summer long.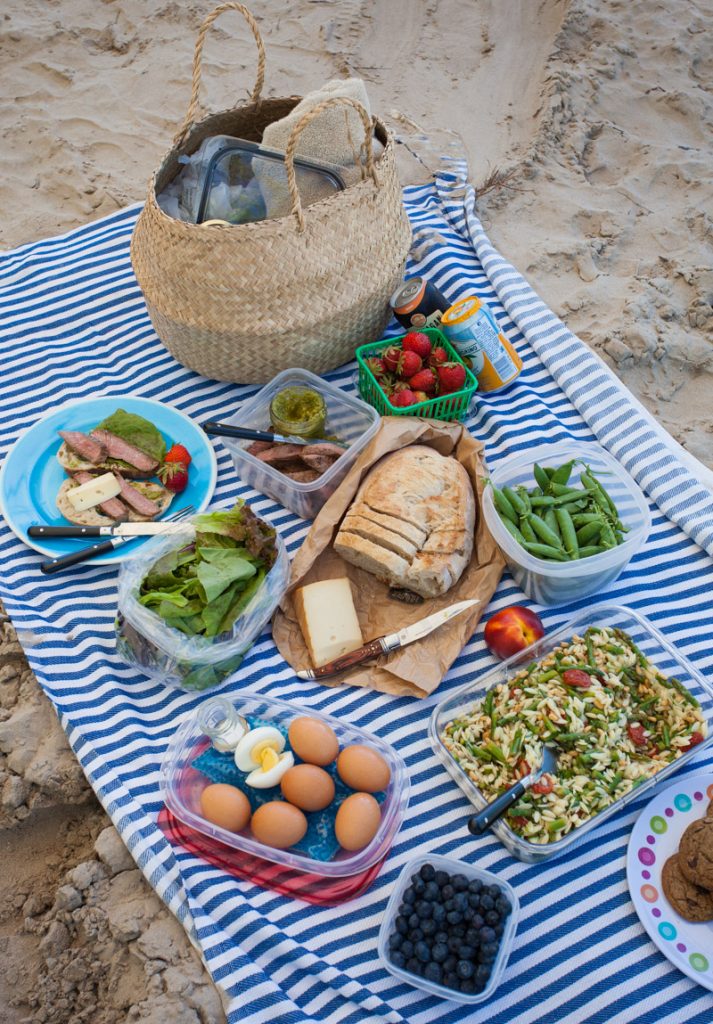 The soft cooler bag holds the food and ice packs. After a decade of picnics, I'm due for an upgrade and have my eye on this cooler bag with a special compartment for wine.
If you don't want to invest in a cooler bag, just use a few of your largest insulated lunchboxes with ice packs! Fill them up, toss them in a backpack or canvas bag and you're good to go.
Master the art of packing a cooler
To have a successful beach outing for a large group, one needs a well-stocked camper-style cooler – ideally with wheels. I've done the research and given you the cooler hacks to ensure that all goes to plan (and nothing goes to rot).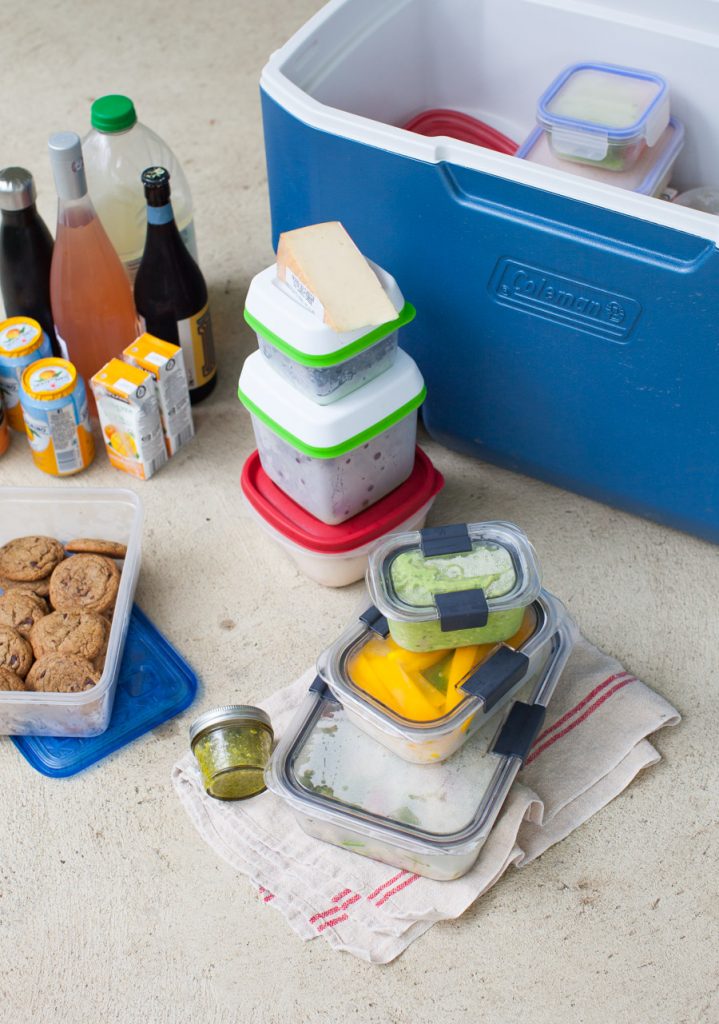 Read the post: The Best Cooler Hacks for a Picnic at the Beach
When we're oceanside, it's a full day affair, and we're always with friends. I try to pack enough for two full meals for 8 people, plus snacks. This is when i upgrade from a soft insulated bag to a camping-style cooler.
Basic Picnic Set for 2
Here's what goes in my mini picnic basket. I like to keep it eco-friendly with as much bamboo, wood, melamine or enamelware in the mix. These are packed all summer long for lending as part of my Community Zero Waste Picnic Baskets.
2 plates
2 utensil sets
2 cloth napkins
2 mugs or cups
mini wooden cutting board/platter
Small thermos
berry baskets
small jam jars
pocketknife
Deluxe Picnic set for a group
8 plates
4 bowls
6-8 cups/mugs
6 cloth napkins
1 tablecloth (optional)
utensils
berry baskets
pie/cake server
serving spoon
corkscrew
compost bag
silicone cutting board
large hot/cold thermos
few small jam jars
1 pop-top glass bottle
salt and pepper shaker
pocketknife
Troubleshooting the Pet Peeves
Weather: Fight or Flight?
Don't fight the elements. You'll never win against the wind, rain or rising tide (especially not the tide!). I'll be the first to admit I've eaten my sandwich in the car, with the windshield wipers frantically waving.
You have to know and understand your location, then make an informed decision. In the Maritimes, the weather changes every five minutes and we've learned to wait out the storm. We are almost always rewarded with clearing skies and reduced wind.
Critters: Fight or Flight?
Fight those bugs! A small Thermacell works wonders against mosquitos and black flies. Wasps are aggressive, so keep all sweets tucked away until the last minute. Don't leave any food sitting out.
As much as you can, try to make peace with nature. Remember, you're going out into their space!
Clean Up
Here's method for quick and smart clean up. I bring a small disposable compost bag, and kitchen garbage bag. We do a quick sort at the site, as plates are scraped and garbage is rounded up. I wrap used utensils in used cloth napkins and stack up the plates. Everything goes in the now-empty cooler (not the basket!) which can be properly sanitized at home.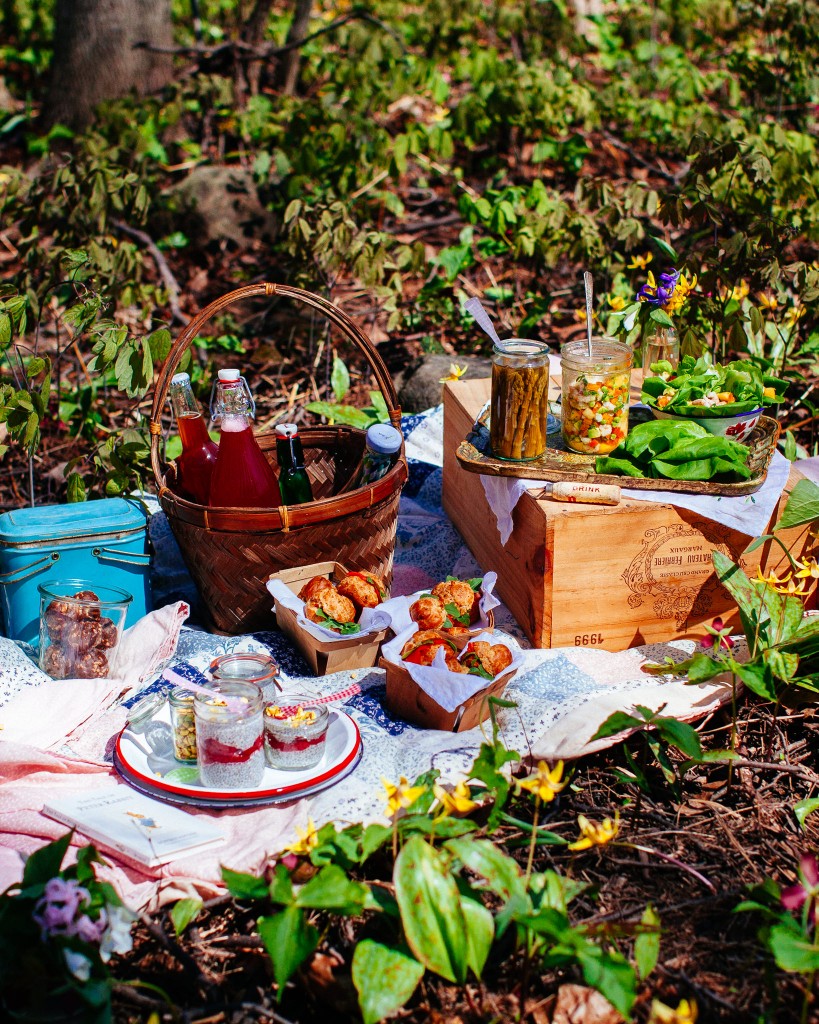 Plan to relax
Even a simple picnic will benefit from a little forethought. Each picnic you plan gets easier than the last and with time, you'll be dashing out the door at the drop of a hat.
One last tip: remember to relax! Kick off your shoes and let your feet feel the grass or sand. It's your summer; enjoy it to the maximum.
Drop your picnic wisdom in the comments!