Simple tips for grilling vegetables – and a round-up of delicious summer recipes for transforming seasonal produce over an open flame.
June in Nova Scotia is when the lilacs bloom at the tips of the trees and the edges of the lakes warm up enough for wading. The air is still crisp, yet inviting, and we're gathering around the patio table a little more often.
For the next three months, my trusty charcoal grill becomes a handy extension to my tiny kitchen. It's not all about meat, though. Every summer there is a bounty of produce just waiting to be transformed over an open flame.
Grilled vegetables like cherry tomato skewers, baby summer squash, and charred sweet peppers bring both intense colour and flavour to the plate. In this post I'll share my best tips for grilling vegetables – paired with a round-up of recipes to get you inspired.
Grilling Vegetables and Zero Waste
When the summer produce hits local markets, I want a bundle or basket of everything. Occasionally I find myself with a drawer full of vegetables that are past their prime. Now what?
Like roasting in winter, grilling vegetables is a fantastic way to transform less than stellar produce. Wilting Romaine lettuce? Grill it and make a grilled Caesar salad. Zucchini a little soft? Slice it, grill it, and serve it in a warm salad with a yogurt-mint dressing.
The grill transforms the vegetables, giving you crispy edges and smoky soft interiors. By the time they are heaped up high on a platter and coated in spicy olive oil – those grilled vegetables become the best thing you've ever eaten.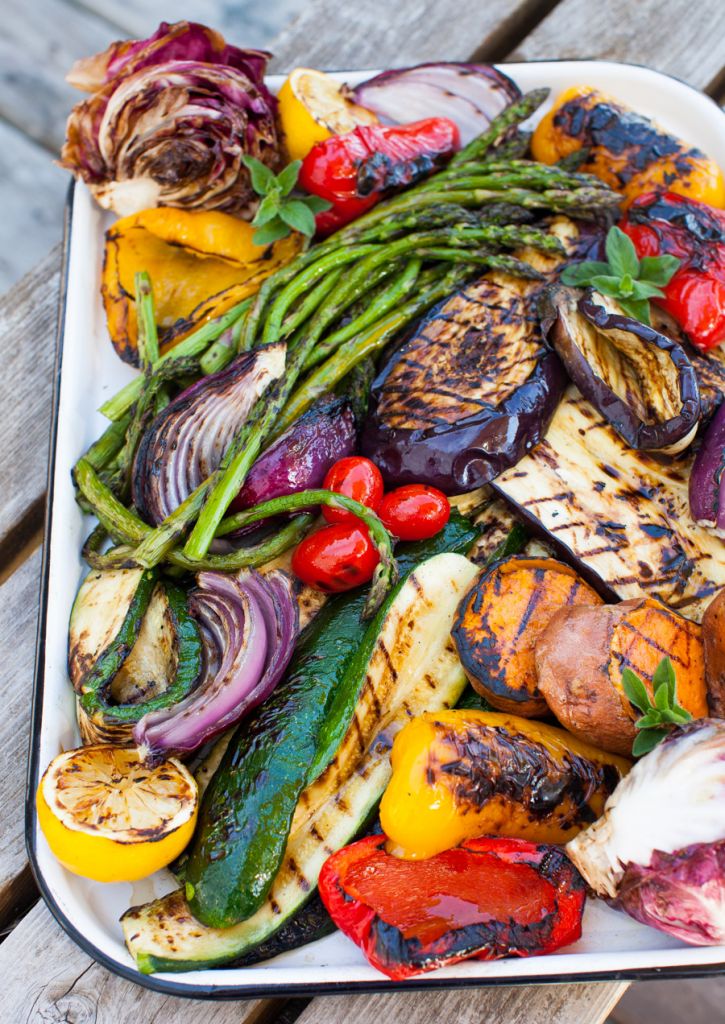 Tips for Grilling Vegetables
Friends, I'm going to keep it really simple:
Wash and dry.
Cut into slices or wedges, if necessary.
Brush with olive oil and season lightly.
Start on high, direct heat; finish on low, indirect heat.
Invest in a good pair of tongs.
Know your barbecue (here's my grilling set-up).
Buy the good olive oil. And finishing salt and seasonings.
If you love gadgets and tools, go ahead and equip yourself with a grill basket. They do work well for green beans and other small vegetables.
The Best Vegetables for Grilling
The best veggies to cook on the grill are the ones you have on hand, meaning, use what you've got; all are delicious. Nearly every vegetable can be grilled, from fennel to lettuce, snap peas to sweet potato.
'Grill until tender' is all you need to remember for most vegetables, but here's a loose guide for grilling times.
1-2 Minutes Grill Time:
Endive, Radicchio, Romain Lettuce, Cherry Tomatoes, Scallions, Ramps
5-10 Minutes Grill Time:
Asparagus, Broccoli, Cabbage, Eggplant, Green Beans, Garlic Scapes, Okra, Shishito peppers, Sugar Snap Peas, Sweet Peppers, Zucchini/Summer Squash.
10 minutes or longer Grill Time:
Brussels Sprouts, Carrots, Cauliflower, Corn on the cob, Fennel, Sweet Potato, Onions, Potato, Radishes, Baby Turnip, Beets.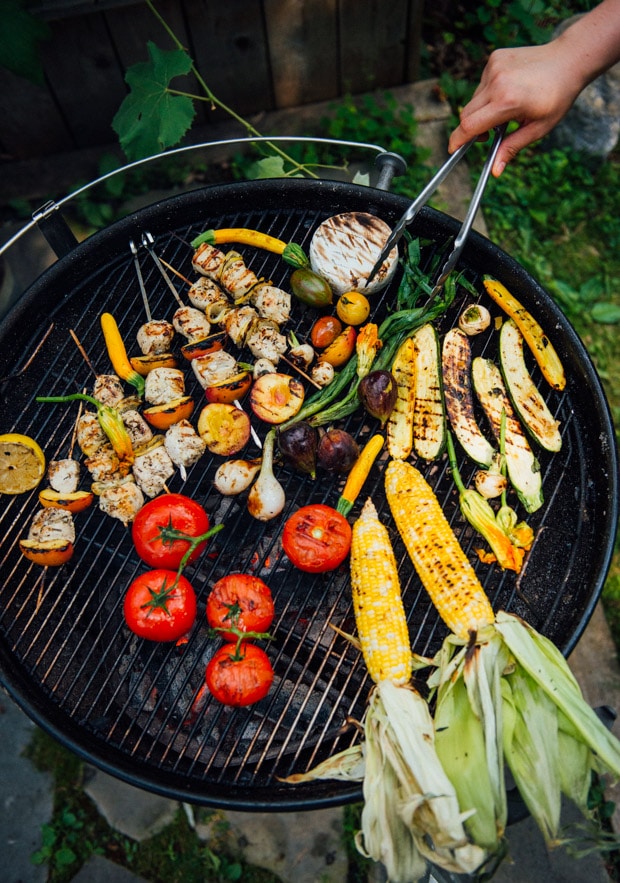 Grilled Vegetable Hacks
Anytime you heat up your grill, reach into your fridge and pull out something – anything – to experiment with on the grill.
Use vegetables of equal size (or cut as needed) to ensure equal cooking times.
Keep an eye on the grill if you're unsure of cooking times. Vegetables should be tender when pierced, but not fall apart.
If using bamboo skewers, be sure to soak them in water before using to prevent scorching.
To speed up cooking time, blanch vegetables before grilling.
Keeping the grill cover closed will help prevent charring.
Recipes
All a platter of gorgeous grilled vegetables needs is a jar of chimichurri but should you wish specific recipe inspiration, here you go:
Grilled Green Bean Salad with cherry tomatoes and shallots
Grilled Green Onion & Sweet Potato Salad with Warm Chèvre
Grilled Zucchini Salad with Hazelnuts, Feta and Yogurt-Mint Dressing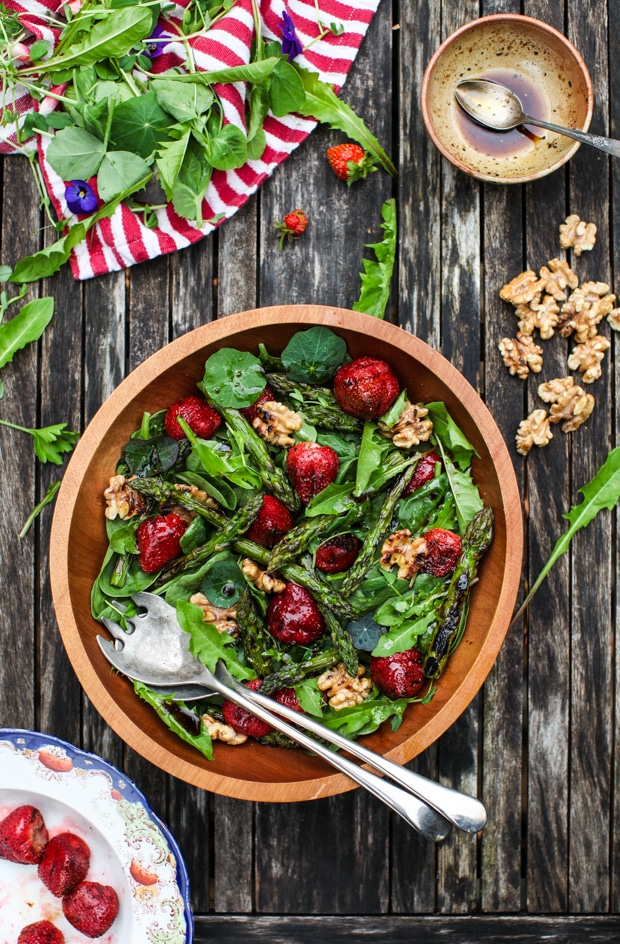 Spinach Salad with Grilled Strawberries, Asparagus and Walnuts
Side, salad or main: what's your favourite grilled vegetable dish?