This morning all three of my children left for school and I found myself with a quiet house for the first time since June.
Always the planner, I made myself a second cup of coffee, grabbed a note pad and began scribbling down my menu for the long weekend. Labour Day is just around the corner and we're getting together with friends for a vibrant end-of-summer feast.
I'm guessing you probably have similar plans: shop the local markets for the most beautiful produce, invite a few people over, and fire up the barbecue. Maybe you'll toast the start of a new school year or raise your glasses to the end of the heat wave – both are welcome changes.
In case you're looking for menu inspiration, today's post provides a few ideas – my absolute favourite recipes of the summer.

All photos by Alison Slattery
A vibrant end of summer feast
We've been in the middle of a heat wave here in Quebec, and it's unfathomable to think about turning on the oven at dinner time. My backyard grill has been the center of many, many meals over the past few months, so naturally most of these recipe play out over the coals.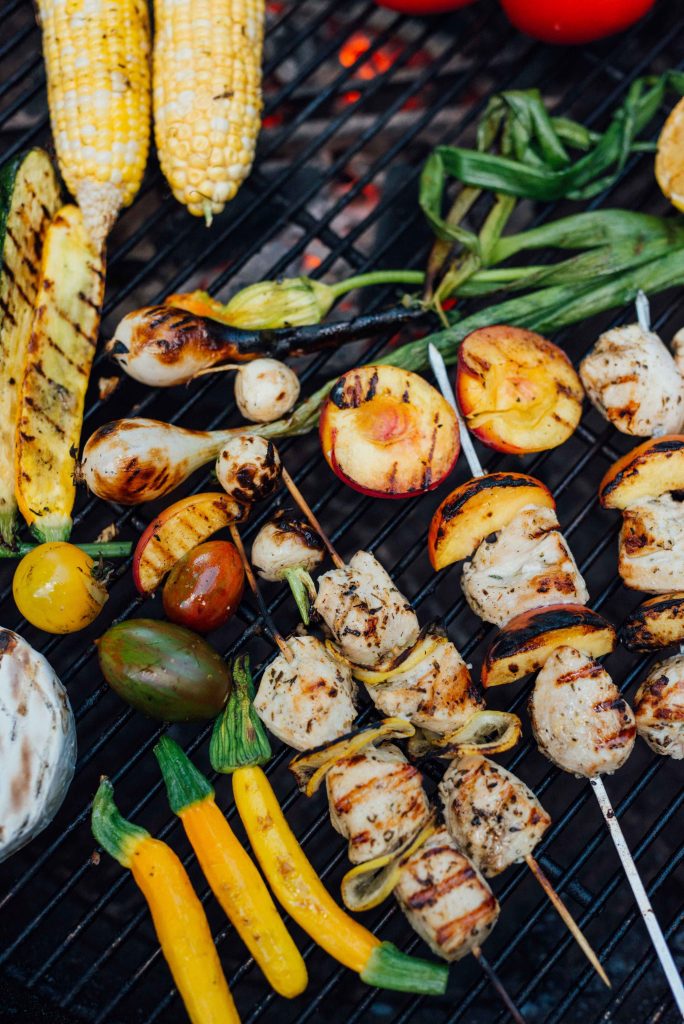 Peaches, berries, tomatoes, cucumber, melon, zucchini, corn – the recipes below include all the great fruits and vegetables of the season. And what a season it has been. I can't remember  a year when everything – corn, strawberries, melons – has been so sweet. I guess we have the unusual heat to thank for that.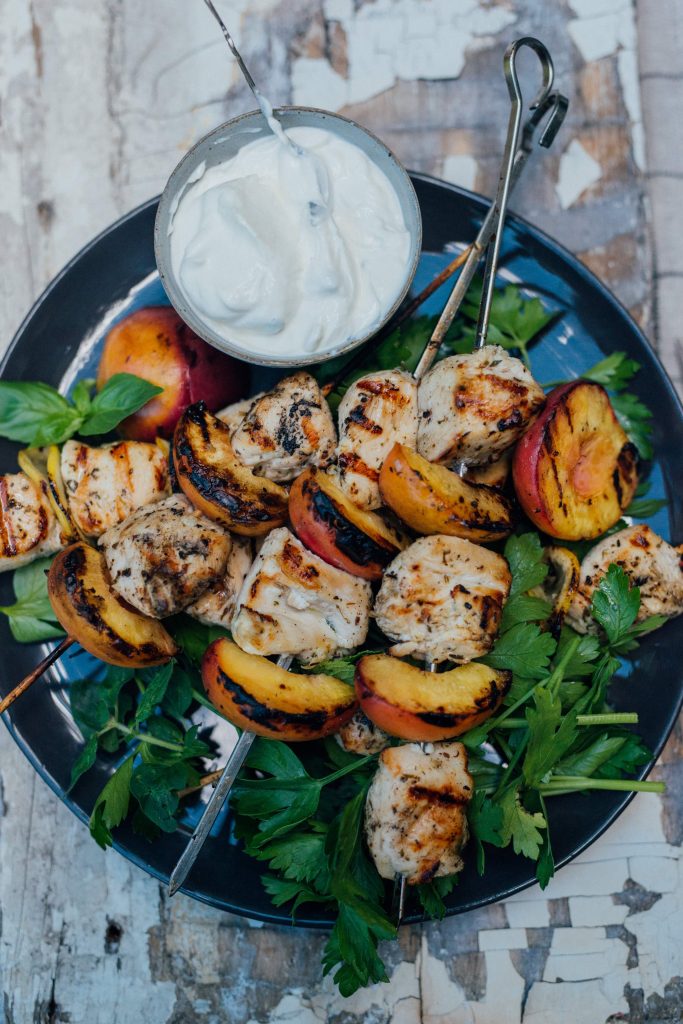 Herb-scented chicken, sweet charred peaches…now here's a main dish that everyone loves. Trust me on that; I've served it at nearly every barbecue this summer with a giant side of Tzatziki sauce.
You can cut and marinate the chicken a day in advance and the kebabs only take a few minutes on the grill. Win/Win.
If chicken isn't your thing, make my do-ahead Apple Cider Pork Ribs. Prefer beef? Grill these Cumin & Oregano Beef Kebabs.
This standby has been on repeat ever since I busted into my first watermelon back in June and the juices ran down the side of the counter and onto the floor. It's refreshing, filling and absolutely beautiful.
You can prep all of the ingredients a day in advance. The trick for keeping this them crisp is to store the vinaigrette and the salty feta separately from the cut fruits and vegetables. Toss just before serving.
If Greek salad isn't your thing, make this: Fresh tomato + peach Caprese salad with wild blueberries & thyme.
My friend Kerrie reminded me of the joys of elotes – or Mexican street corn – when she served them up at our pot-luck barbecue. I don't have a recipe for them on this blog, but this version from Serious Eats is about the closest I've found to the real deal.
Grilled Vegetable Platter
Since you've got the grill hot, why not throw on some vegetables for a side dish? Young zucchini, pattypan squash, new onions, and baby white turnips are some of my favourites. Simply brush them with a little olive oil, sprinkle with salt, cook them to al dente before heaping them high on a platter.
Serve them with a homemade chimichurri – it goes with everything and uses up those garden herbs.
Dinner is served: Kebabs with tzatziki, elotes, Greek salad and grilled vegetables. If you need a little carb fix, toss a few pitas on the grill like this recipe: Garlic-Oregano Grilled Pita.
I served up simple lemon balm iced tea with this feast, but obviously a classic Aperol Spritz would be a great choice as well.
Don't forget dessert! Now I know I said it has been too hot to turn on the oven, but you can bake up this easy sheet cake in the morning when it's a little cooler in the kitchen. It's a fabulous do-ahead dessert that the kids can help decorate. The best part? It feeds a crowd.
Happy cooking. Happy grilling!
Images provided by my fellow feasting friend, Alison Slattery of Two Food Photographers. Thanks, Ali!