Friends of mine are in Italy right now, and every so often I get a glimpse of their adventures on my socials- the ancient streets, the vibrant markets…the afternoon spritz…
I might have been jealous of their travels if my Italian friend, Margherita, hadn't invited me and a few friends over to her place for a little aperitivo of our own. We each brought a few appetizers to share, popped open a bottle of prosecco and toasted the beginning of summer with Aperol spritz.
'Lo spritz', afternoon happy hour in Italy, is designed to be social. It involves sharing plates, small bites and of course, the spritz cocktail. This effortless entertaining over seasonal, simple fare is my strategy for gathering with friends this summer and in a short blog series, I'm going to show you how to spritz like an Italian.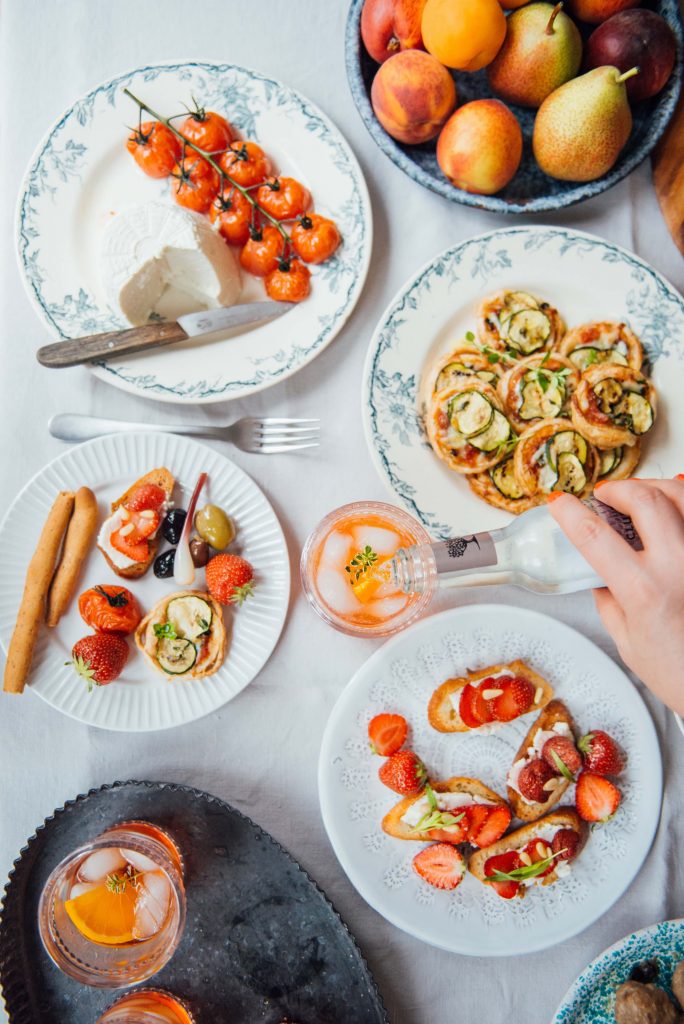 How to Spritz like an Italian
The answer to a blistering hot afternoon? Spritz. Hosting friends last minute? Spritz. Dockside at the cottage? Spritz. The Italians know how to live la dolce vita all summer long and we can learn from their laid-back approach.
While we spritzed the day away together, Margherita shared what an classic aperitivo looked like in Italy. It's about curating the best snacking spread possible with minimal effort; afternoons are sweltering hot, after all.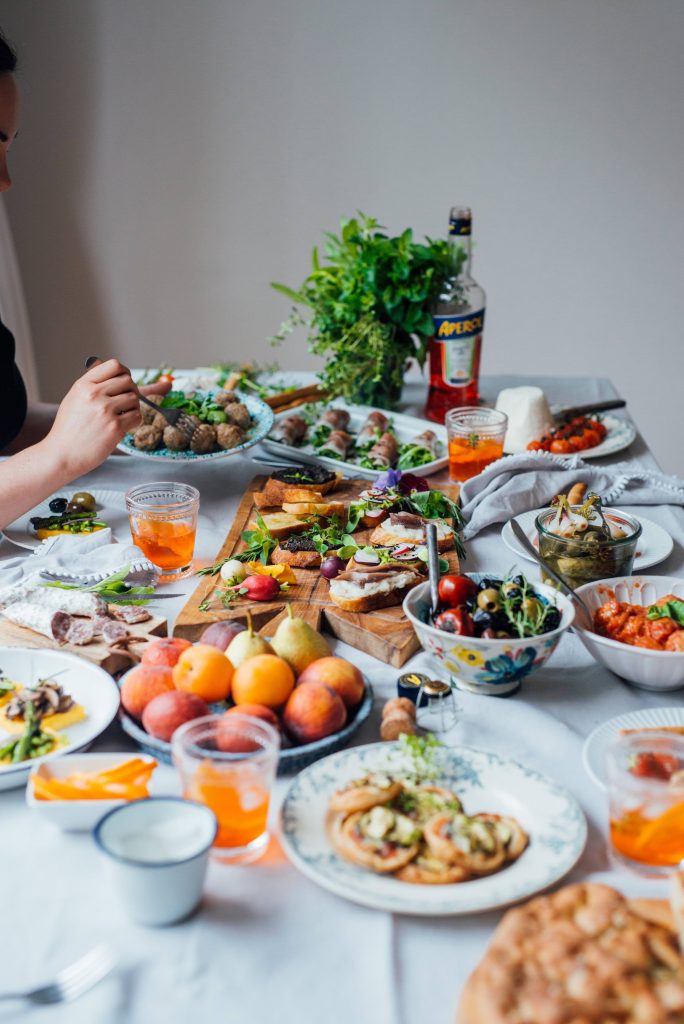 Olives are essential; a bowl of chips highly likely. There's almost always crostini with a smear of cheese and a seasonal fruit or vegetable . With a little planning, meatballs (small, cocktail size) are served, alongside warm focaccia or grissini (thin breadsticks).
Farmers market finds such as snap peas or cherry tomatoes are a given, as well as the ripest melon, sliced into wedges. A salad isn't too far fetched, as long as it is seasonal and simple, like this fresh tomato and peach Caprese salad with wild blueberries & thyme.
Refreshing cocktails, small bites and sharing plates – always with friends.
ALL images by Alison Slattery
A Table in Venice by Skye McAlpine was one of my spring/summer cookbook picks and the chapter on Lo Spritz completely captured my imagination. A recent Cherry Bomb podcast interview with Skye further fuelled my interest in spritz-o-clock. I listened, entranced, as she described this magical time in a Venetian's day, when they gather with friends over simple nibbles and that iconic summer sip.
She emphasized that the aperitivo was specifically for connecting with friends, as the Italian supper hour was traditionally about family. I loved this, as I've been obsessed with bringing people together. In the past it has been a pie social or a harvest dinner, but right now I am embracing lo spritz.
The Spritz
The spritz cocktail is an elegant but easy pre-dinner drink consisting of three main ingredients: bitter liqueur + prosecco + sparkling water. The garnish is just as effortless: a slice of orange and a green olive (Venetian-style). Ice is essential.
Many variations on this beverage exist, making it the ultimate DIY cocktail – which I love as I am all about using up what you have on hand – even for happy hour. For example, I prefer the more bitter Campari in place of the popular Aperol, and occasionally replace prosecco with white wine or rosé.
Variations on the spritz vary from region to region in Italy (and globally), with a common thread: a refreshing, low-alcohol sip.
Feel free to mix away to your hearts content, using the cocktails in the recipes below to get you started. You've got yourself a spritz as long as the drink contains that bittersweet aperitif such as Aperol or Campari, ice, and a splash of something sparking, be it soda water, prosecco, sparkling cider or kombucha.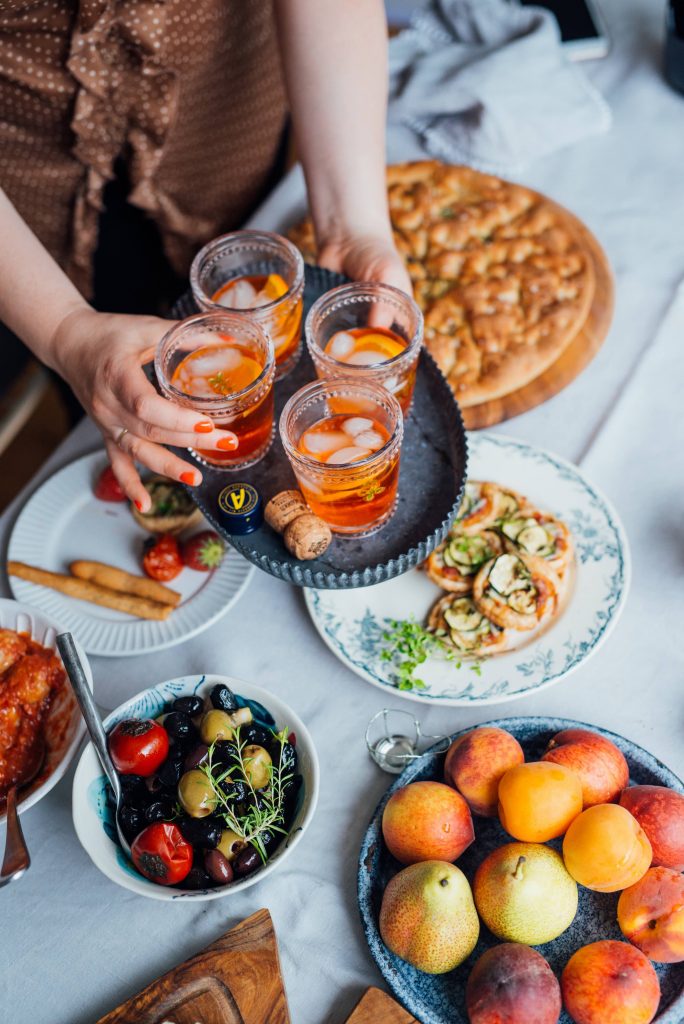 I won't give you a history lesson of the Aperol Spritz, even though it is fascinating, but I will share one fun fact about the ingredients. Most of us probably know that a bitter aperitif contains citrus, but I was surprised to discover that rhubarb is also another key ingredient. No wonder it's delicious.
If you want to take your spritzing to the next level, I have a recommendation. Spritz: Italy's Most Iconic Aperitivo Cocktail, with Recipes is handy little guidebook that I have been referencing aplenty. The lengthy list of cocktail recipes will keep you spritzing well into autumn, and then some.
How to plan a summer of spritz
Grab a case of sparkling water, and keep two bottles chilled at all times.
Stock Aperol or Campari on your bar cart
Look for a deal on prosecco and buy the best you can afford. Keep a bottle chilled at all times.
Dust of the long-stemmed wine glasses or a couple of rocks glasses
Visit your local Italian grocery and stock the pantry with a few staples such as olives, grissini, marcona almonds and potato chips.
Have on hand in the fridge: fresh mozzarella or ricotta, mortadella, dried sausage, and a block of parmesan.
Take advantage of seasonal produce like melons, tomatoes, radishes and herbs. Serve them in their simplest form, with a side of flaky salt.
Make time for people. Open your home. Be available.
More recipes are coming soon to this space, such as Honey-Drizzled Strawberry Ricotta Crostini and Zucchini and Thyme Pizzettes. (UPDATE: recipes are live!)
For now, though, here are two spritz cocktail recipes I've had on repeat.
Kombucha Campari Spritz
Here I've paired bitter Campari with sweeter kombucha and smoothed it out with club soda. It's a refreshing, low-alcohol sip.
Print
Pin
Rate
Ingredients
4

oz

Campari

4

oz

ginger or orange kombucha

6

oz

soda water

6-8 oz depending on taste.

2

orange slices
Instructions
Fill two rocks glass halfway up with ice. Pour 2 oz of Campari in each.

Divide the kombucha between glassed and top them up with soda water.

Garnish with an orange slice and serve at once.
Nutrition
Classic Venetian Spritz
A classic for a reason! So refreshing and simple to make.
Print
Pin
Rate
Ingredients
2

oz

bitter liqueur

such as Aperol or Campari

3

oz

prosecco

3 to 4 oz, to taste

2

oz

soda water

1

orange slice

1

green olive

1

ice
Instructions
Fill a rocks glass halfway up with ice. Pour the Aperol over the ice.

Add the procecco and top the glass up with soda water.

Garnish with an orange slice and a green olive. Enjoy.
Nutrition
Images provided by my fellow spritzing friend, Alison Slattery of Two Food Photographers. Thanks, Ali!