Just down the road from where we live, a family-run farm offers wagon rides and u-pick berries all summer long.
Last Saturday, Clara and I slipped away early, before the sun was too high over the strawberry fields, and picked ourselves two big baskets of the sweetest June fruits. The intense heat of this month to date has turned local berries a deep red all the way through and they are as sweet as sweet can be. Just how we like them.
Since I've declared this the summer of the spritz, I've developed this recipe to spotlight strawberries on the snack table. It's partly savoury – toast and ricotta – and part sweet – berries and honey – and it's a tantalizing bite you'll want to whip up soon and serve at your next aperitivo.
Honey-Drizzled Strawberry Ricotta Crostini

All photos by Alison Slattery
Simple and seasonal is my mantra when it comes to eating and entertaining and this little appetizer is both.
The habit of topping bread and cheese with whatever looks the best at the local market has long been my go-to summer snack. In spring I spread sliced radishes on crostini and top them with flaky salt. In late summer, it's tomatoes, slow-roasted or fresh, and usually with a fresh basil leaf or two.
Strawberries are my new favourite topping for ricotta toasts, especially when they are home grown or picked from a local farm. Speaking of the U-pick experience, here are my tips for making the most out of this excursion.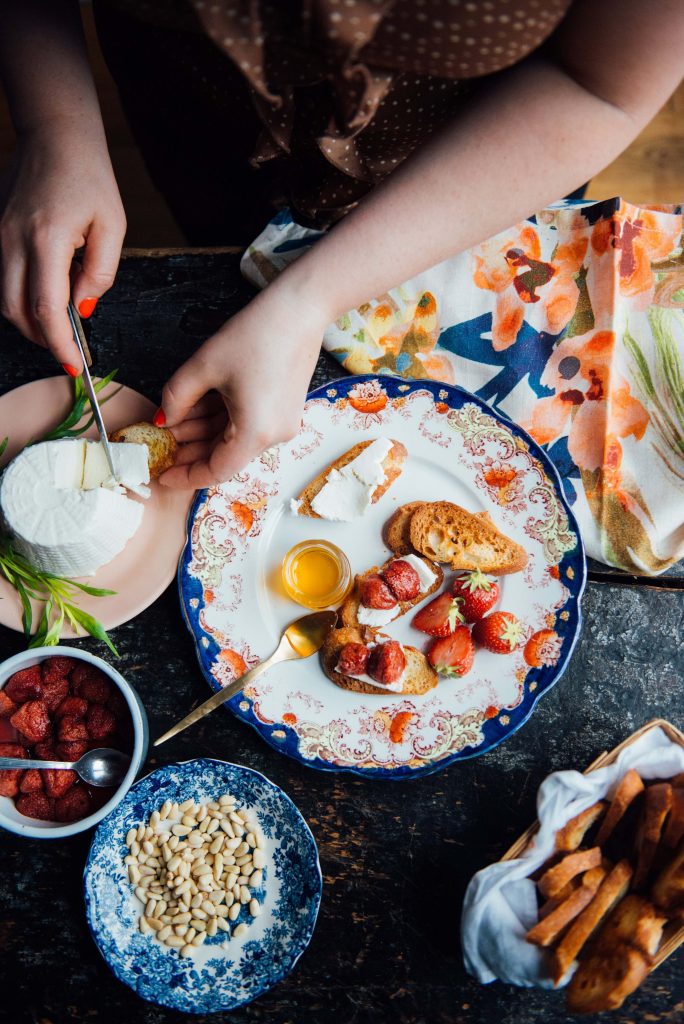 I used ricotta for this bite, homemade when I can, but purchased from an Italian grocer is perfectly fine, too. Also delicious would be fresh mozzarella, creamy goat cheese (amazing with strawberries) or mascarpone. Even a tangy slice of feta would pair well with these ingredients.
Definitely customize the crostini to suit your tastes, using the soft cheese that you have on hand or love to buy. And when strawberry season is over, thinly slice ripe peaches or nectarines and use those atop the crostini instead.
Now I know that June strawberries beg to be eaten straight from the basket, but save a few for roasting and you'll be rewarded with intensely concentrated jammy bites that sing with flavour.
The juice from the berries reduces in the oven to become a thick sauce, enhanced with a touch of honey or sugar and a sprinkling of pepper. It is dark and sweet, with a pungent perfume, and is delicious scooped with the strawberries atop the crostini.
A light drizzle of honey finishes off this plate of crostini. You can add pine nuts if you have them; chopped pistachios would be good too. I'll often tear a few fresh herbs from the garden and sprinkle those on top; tarragon and basil are my favourites.
This post is part of a blog series on How to Spritz like an Italian. For my spritz cocktail recipes as well as tips for laid-back summer entertaining, be sure to read the first post. And stay tuned, because the recipe for those Zucchini and Thyme Pizzettes (mini pizza bites) is coming soon.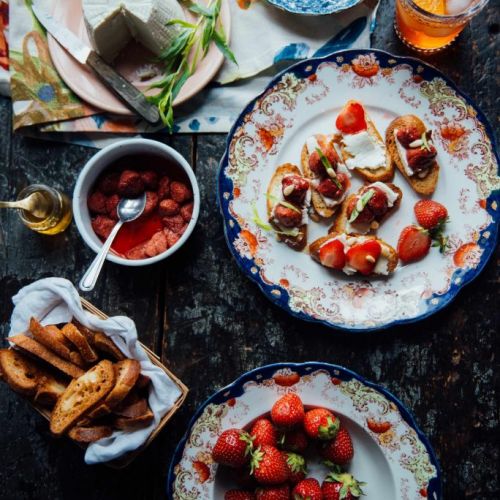 Honey-Drizzled Strawberry Ricotta Crostini
You can also use fresh strawberries in place of the roasted, just make sure they are ripe and sweet.
Print
Pin
Rate
Ingredients
1

baguette

3

Tablespoons

olive oil

1/2

pint

jar roasted strawberries

1

cup

homemade ricotta

or purchased

2.5

Tablespoons

liquid honey

(2-3 Tablespoons to taste)

2

Tablespoons

toasted pine nuts

optional

chopped fresh basil or tarragon

optional
Instructions
Preheat oven to 350F. Slice the baguette into ½ inch rounds and arrange on the same baking sheet. Brush generously with olive oil. Bake for 10 minutes or until the bread is light golden. Remove from oven and cool completely.

On a plate or a platter arange a dozen or so crostini toasts. Smear each with ricotta, using as much or as little as you like.

Spoon a few roasted strawberries, along with their juices, onto the ricotta toasts. Lightly drizzle with honey.

If desired, finish crostini with a few pine nuts and a sprinkling of chopped herbs. Serve at once. Repeat when the plate is empty.
Nutrition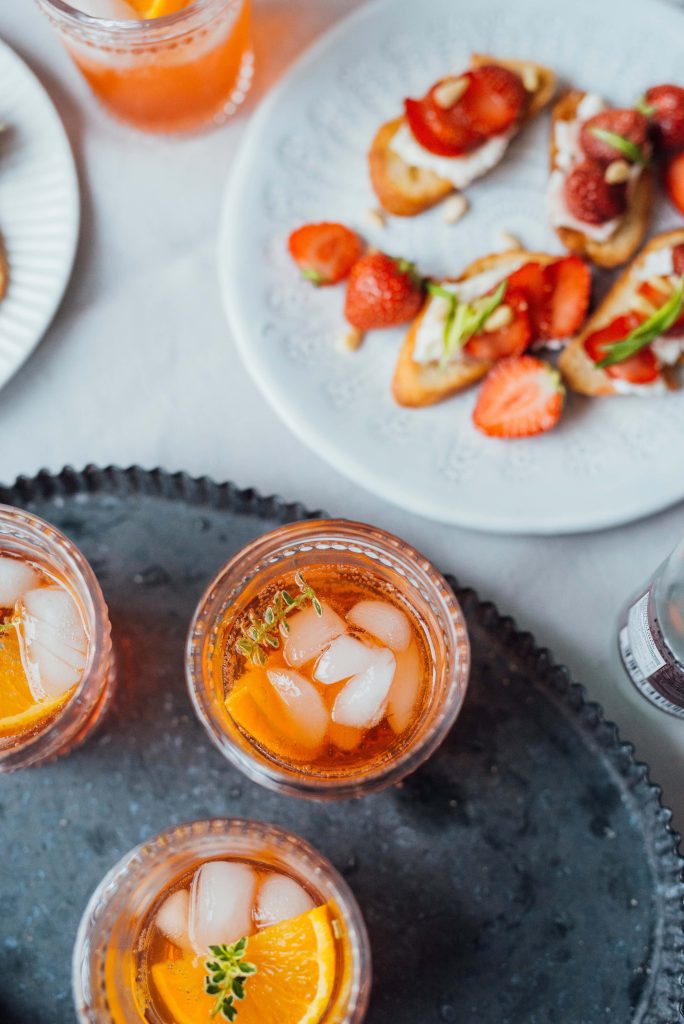 Images provided by my fellow spritzing friend, Alison Slattery of Two Food Photographers. Thanks, Ali!