Exploring Canada has long been one of my passions and traveling to the far corners of our beautiful country has allowed me to enjoy a myriad of culinary experiences from coast to coast.
No matter where you land on the map of Canada, you're sure to find a local dessert, as Canadians have a notorious sweet tooth. Here in Québec, I make my butter tarts with maple syrup and on the Prairies, they bake Flapper Pie from their grandmother's recipe.
On Vancouver Island, Nanaimo bars are stacked, irresistibly, on every café counter. Salty and sweet, oatcakes can be found at various stops along the Cabot Trail in Cape Breton, and in the Yukon, even the cinnamon buns are made with sourdough starter.
I still dream about the partridgeberry pie and hot toutons drizzled with molasses in Bonavista, NL and if you're ever in Ontario's Niagara region, cool off with peaches n' cream ice cream from Avondale Dairy Bar.
Without question, Canadians will be celebrating our upcoming national holiday with something sweet and so today I'm bringing you a handful of suggestions for a perfect Canada Day dessert.
The Best Canada Day Desserts from Coast to Coast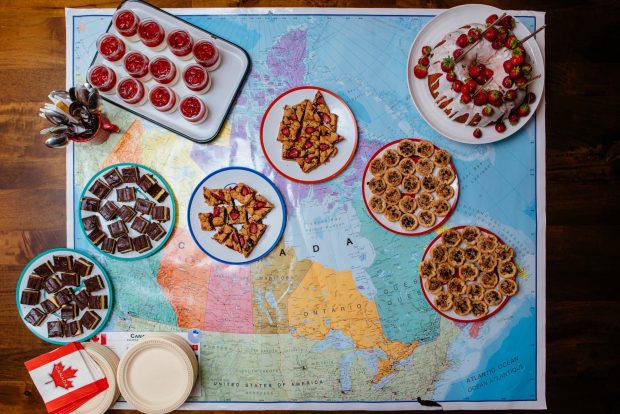 Photo by Tim Chin
Maybe you already have your Canada Day dessert traditions, a recipe passed down from your grandmother for Saskatoon berry pie or date squares. Those are gems to be treasured, for sure. But in case you are looking for something new, this round-up of recipes is sure to inspire.
Photo by Tim Chin
Maple Pecan Butter Tarts
I'm starting with my favourite – the classic butter tart, only I've taken the liberty of using maple syrup for an even stickier treat. They are a three-bite delight, encased in a flaky crust and delivering just the right amount of sweetness.
Get the recipe for Maple Pecan Butter Tarts in my book, Brown Eggs and Jam Jars.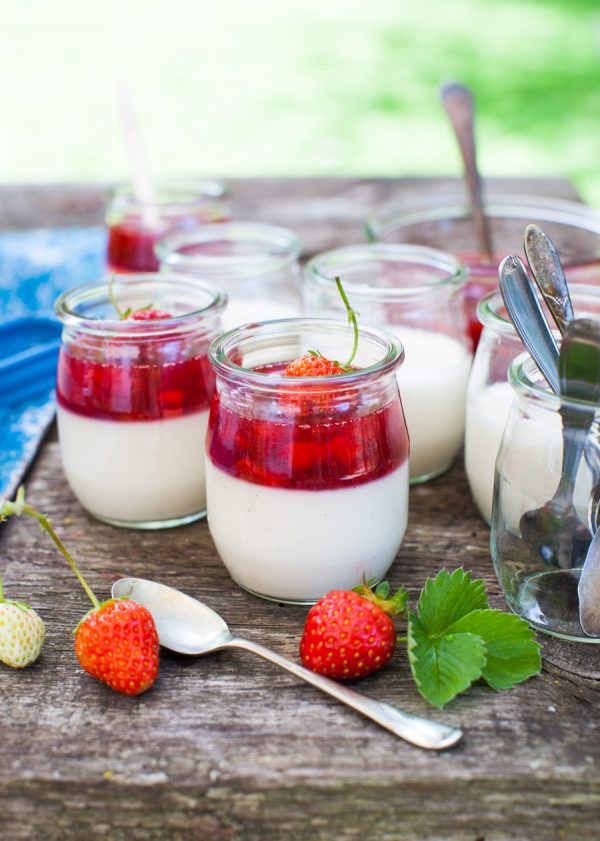 Sour Cream Panna Cotta with Strawberry Compote
On a scorching hot long weekend, it can be nice to cool off with a chilled dessert. Creamy, light-as-air-panna cotta is scrumptious on its own and even better when served with a seasonal fruit compote. Red and white, the panna cotta is keeping with the colour scheme, but best of all is the fact that it can be made well in advance.
Get the Recipe:: Sour Cream Panna Cotta with Strawberry Compote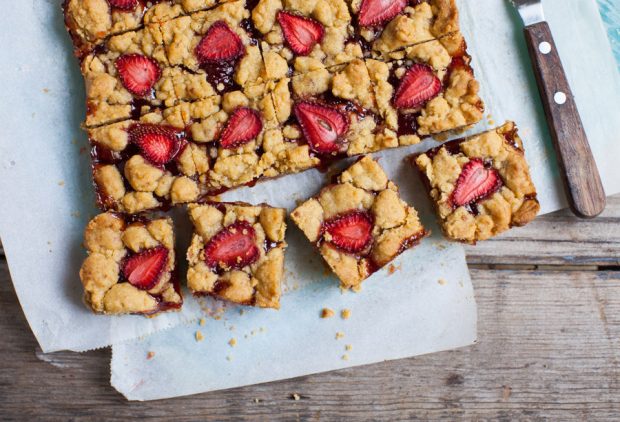 Strawberry Shortbread Jammy Bars
It's not summer without a crumble bar filled with seasonal berries, and few are as decadent as these jammy shortbread treats. They are reminiscent of traditional thumbprint cookies, but offer the perfect amount of jam in every bite.
Get the Recipe :: Strawberry Shortbread Jammy Bars my recipe via FNC.
Photo by Tim Chin
Glazed Lemon Bundt Cake with Fresh Strawberries
I love this lemon cake so much, I make it year round, even when it's too hot to bake. It slices up nicely to feed at least 20 people, especially when served with a scoop or two of ice cream.
For a summer spin, I leave off the sugared lemons and heap strawberries on top while the glaze is still sticky. A lemony glaze with the bright berries – there's your red and white Canada Day decoration.
Don't worry if you can't find Meyer lemons, it isn't the season. Just use regular lemons, organic if possible.
Get the Recipe :: Lemon Bundt Cake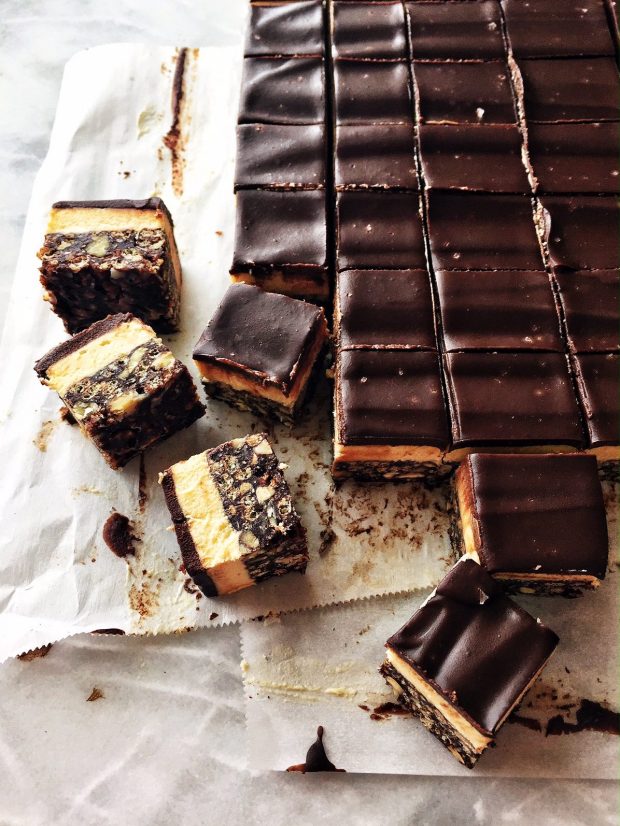 Nanaimo Bars
You'd think that I would have a recipe for Canada's most popular sweet in my back pocket, but I honestly don't make them often enough. My very favourite bar comes from the Feast cookbook, and is a gluten-free Nanaimo Bar recipe sourced from Mon Petit Choux in Nanaimo, B.C. They are a lot of work (compared to most bar desserts, which are reputably simple), but they are well worth the effort.
Get the recipe :: Nanaimo Bars from Mon Petit Choux via Feast: An Edible Road Trip
Honey-Sweetened Strawberry Shortcakes
Another simple do-ahead dessert, thanks to a freezer stash of whole wheat shortcakes. Use any local berries that are in season right now and dress them up with mounds of whipped cream.
Get the recipe :: Honey-Sweetened Strawberry Shortcakes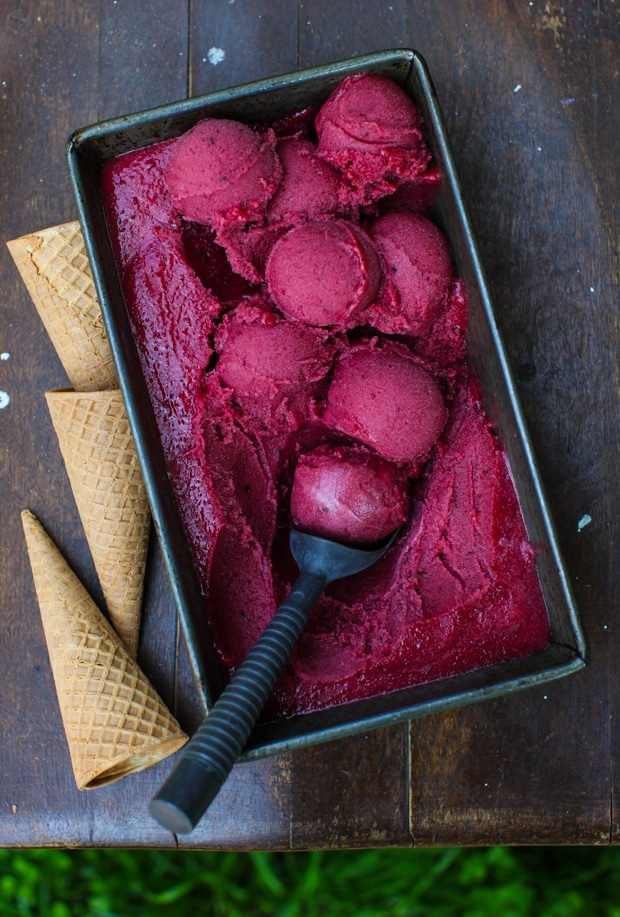 Muscavado Blueberry Plum Sorbet
Keep cool with a scoop or two of this vibrant summer fruit sorbet. I love the blueberry-plum flavour combination because it is a perfect balance of tart and sweet. Our local U-Pick is bursting with blueberries, but if huckleberries or saskatoon berries grow where you live, you can use those in the sorbet instead.
Get the recipe :: Muscavado Blueberry Plum Sorbet
Meringue-Topped, Layered Ice Cream Cake
It's going to be so hot over the long weekend here in Montreal, so you may want to build an ice cream cake and serve that up to your friends. This one is a crowd-pleaser for sure.
Get the recipe:: Meringue-Topped, Layered Ice Cream Cake
Canadian readers, how will you celebrate Canada Day?