Our home was a-buzz with birthday excitement last weekend, even if the party planning only started sometime Friday afternoon.
Mere moments after I had seen my parents out the door for their return trip home, I opened my trusty notebook, where I jot down ideas and details for every gathering we host. I wrote 'Noah's 11th Birthday' and drew a line underneath the words, pausing for a moment to take in that number.
Eleven. It's really teetering on the edge of childhood. There would be no robot cake this year, no pinata-thumping  or eating doughnuts off of string. Treasure hunts are a thing of the past for my 6th grader – and that is all okay; there will always be birthday cake.
Noah's not into frosting at all, in fact, he wants nothing to do with it. He's pretty keen on ice cream, however, and with this in mind, an idea for an epic (it must be epic) layered, ice cream cake began to take shape in my little book. A brownie layer would be good, and a chocolate cookie crumb base. He loves crisp meringues, why not work those into the topping.
After one shopping trip, lots of scooping and sculpting and melting and freezing, we had a birthday cake. An epic birthday cake.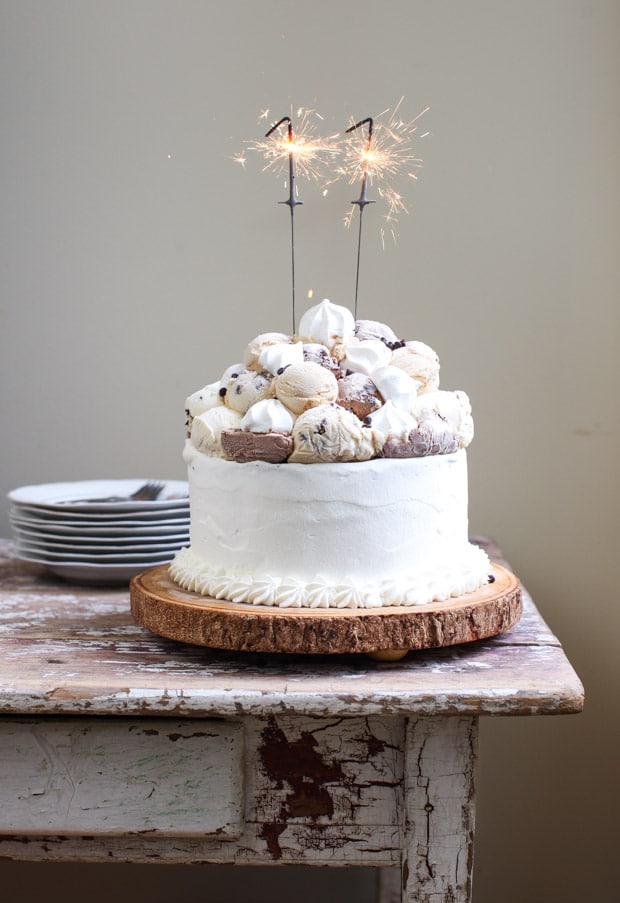 The base has five layers: a chocolate cookie crust, vanilla chip ice cream, dark chocolate ice cream, fudgy brownie, and birthday cake ice cream (the kids picked the flavours, obviously). The top is scoops of four Haagen Daaz flavours, packed in with mini meringues. The base is frosted with a stabilized whipped cream (using gelatine). A few mini chocolate chips adorn the top and an '11' in sparklers provides the finishing touch. Birthdays comes but once a year; let's celebrate them to the fullest.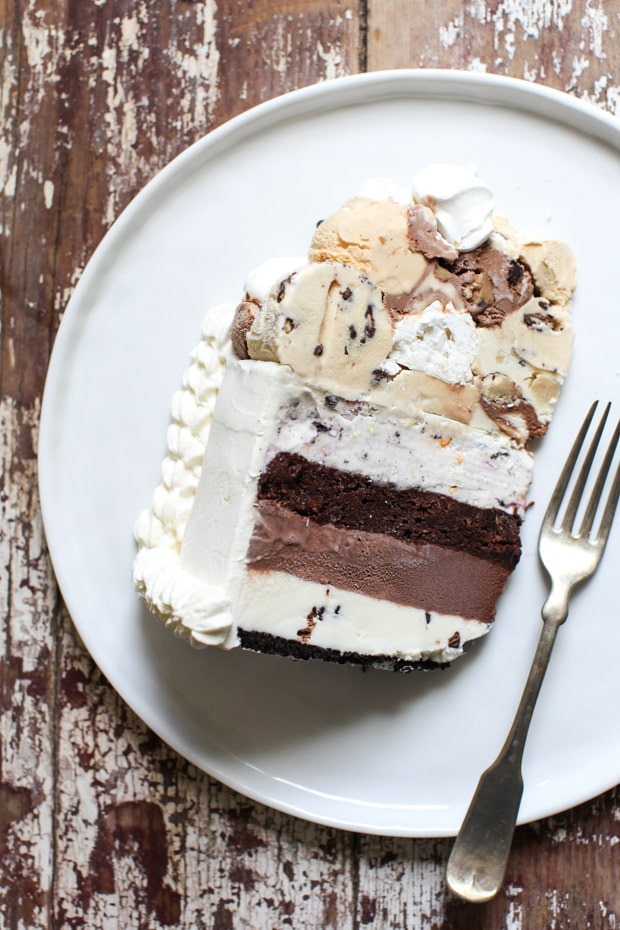 I should probably preface this tutorial by stating that this is a semi-homemade cake. As in, I didn't make any of the ice cream, nor the meringues, and, yep, even the fudgy brownie layer was from a box. That was all I had time for, as I also prepped a spaghetti & meatball and Caesar salad feast for a dozen of us that Saturday night.
So, I guess if you're looking for an ice cream cake that comes together fairly simply and feeds a big gang (with oh-so-essential leftovers for midnight snacking) this is the tutorial for you. And if you should choose to make your own cake entirely from scratch, start with my simple vanilla bean ice cream recipe and build from there. Whatever works!
I'll take you through my (first ever) ice cream cake with a series of iPhone photos that I won't apologize for because – ohmygosh – these cakes are so. very. melty. Pausing even to snap a photo with my phone made me nervous…but I got a few anyway.
I really built the cake on the fly, starting with the 'base' in the photo above. When the kids and I unloaded the groceries on Friday afternoon, three 1L cartons of ice cream were already quite soft. So I grabbed three, 8-inch round pans (it helps that I have a ton of them), lined them with cling wrap, and pressed the ice cream into them.
(Essentially, this is really all you need to do to prep your own ice cream cake. Soften ice cream. Press into desired mold. Freeze until sold. Unmold and decorate.)
Afterward, I baked a batch of brownies in yet another 8-inch round pan, letting them cool completely before pressing them into the pan on top of the chocolate ice cream layer.  I mixed chocolate cookie crumbs with melted butter and made a base for the cake, pressing the vanilla chocolate chip layer of ice cream on top so they could freeze together.
Once the individual layers had spent at least four hours in the freezer, I unmolded each one and stacked them on top of each other. I then froze that base overnight, well wrapped in plastic.
The topping for my cake came together easily, with a plastic-lined spring-form pan and two sizes of ice cream scoops. As you can see from my set up above, I worked with everything on ice.
Quickly, quickly, I scooped four flavours of Haagen Daaz into balls and pressed them into the pan, alternating with mini meringues. I heaped them up in the middle and then rushed the whole thing to the freezer.
About 4 hours later, I unmolded the topping, which was now a solid mass, and kept it in the freezer, ready for assembly.
On the morning of the party, I whipped up a batch of stabilized whipped cream frosting (easier than it sounds) and got ready to assemble the cake. I set myself up outside on my back deck, because it was a chilly fall morning – much cooler than my kitchen.
I frosted the top and sides of base with the whipped cream frosting, using a little extra to help it stick to my wooden cake stand. Then I simply set the Haagen Daaz topping like a crown on top of the base. Back into the freezer! Later I piped a bit of the frosting around the base.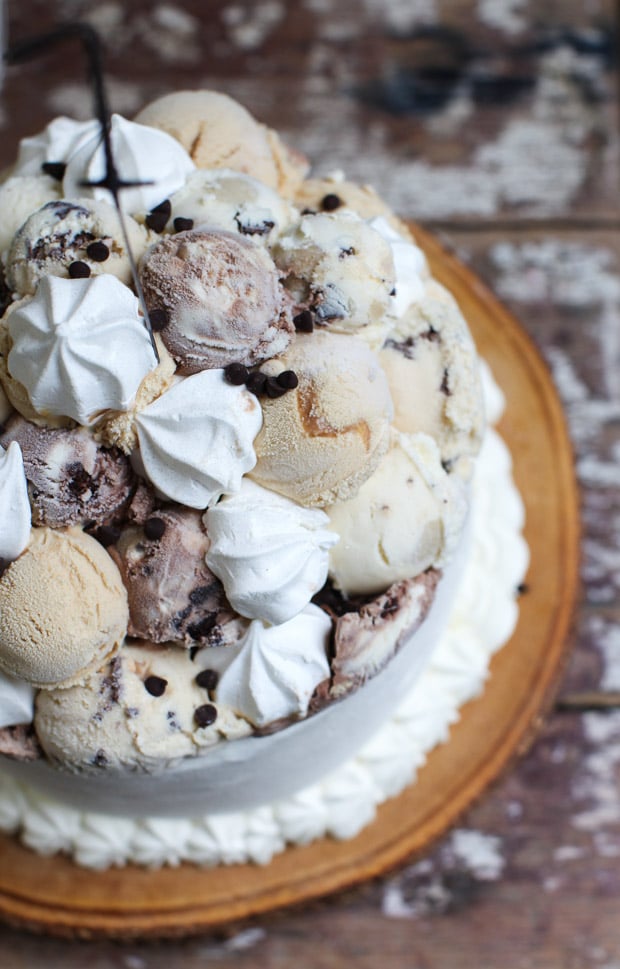 I was quite happy with the affect when the top and bottom layers came together – and with a hot chef's knife, it sliced up nicely into wedges. What do you think?
Just writing up this recipe has me salivating.  Good thing I have a few slices leftover in my freezer right now… Cheers!
Layered Ice Cream Birthday Cake
This meringue-topped ice cream cake is a favourite with young and old. It is great for big birthday parties and can be made several days in advance.
Print
Pin
Rate
Ingredients
1/2

cup

chocolate cookie crumbs

2

Tablespoons

unsalted butter

melted

1

quart

vanilla ice cream

1

quart

birthday cake ice cream

1

quart

chocolate ice cream

1

pan

brownies

(an 8-inch round pan's worth)

4

pints

Haagen Daaz ice cream

12

mini meringues

1

sheet

gelatine

or 1 teaspoon powdered

1

cup

whole cream

(35%)

2

Tablespoons

cane sugar

2

Tablespoons

mini chocolate chips
Instructions
Line four 8-inch round pans with plastic wrap and place them in the freezer to chill.

Mix together the cookie crumbs and the melted butter. Press into one of the pans and freeze for 15 minutes. Remove and press the vanilla ice cream down on top of the crust, smoothing out the top. Wrap and return to the freezer.

Working with one flavour at a time, press the 2 remaining quarts of ice cream into two more chilled 8-inch round pans. Cover with plastic and return them to the freezer. You should have three layers of ice cream, one with a cookie base. Freeze layers for at least 4 hours.

Working quickly, stack the layers together beginning with the crust/vanilla and then the chocolate. Add the 8-inch round pan of brownies, pressing firmly to adhere. Top with the final layer of birthday cake ice cream, then wrap the entire stack and return it to the freezer.
To make the topping:
Line an 8-inch springform pan with plastic and place it on ice. Open all the Haagen Daaz pints and keep them on ice as well. Scoop small balls of ice cream and press them into the pan, alternating with the mini meringues. Mound up the scoops into a little mountain, working as quickly as you can. Place the pan in the freezer and freeze for at least 4 hours or until it is one solid lump of ice cream.

Make the whipped cream frosting. Soften the sheet of gelatine in warm water. In a small bowl whisk together 1 tablespoon of water and the softened gelatine until smooth. Set aside. Combine the cream and the sugar in the chilled bowl of a stand mixer. Beat until medium speed for 30 seconds. With the mixer running, drizzle in the gelatine mixture. Increase the mixer speed to 'high' and whip the cream until it is stiff and holds its shape (but not grainy).Chill until ready to assemble the cake (up to 1 hour).
To assemble the cake:
Spread a little whipped frosting onto a cake stand. Unwrap the ice cream 'base' and center it on the cake stand. Frost top and sides generously with whipped cream frosting. Unwrap the ice cream cake 'topping' and place it on top of the frosted base like a crown. Immediately return the entire cake to the freezer for a few more hours.

Place the remaining whipped cream in a piping bag fitted with a large swirl or star tip. Pipe around the base of the cake. Sprinkle the top with a few mini chocolate chips and keep frozen until ready to serve.
Nutrition
Calories:
724
kcal
|
Carbohydrates:
83
g
|
Protein:
12
g
|
Fat:
41
g
|
Saturated Fat:
25
g
|
Cholesterol:
137
mg
|
Sodium:
253
mg
|
Potassium:
692
mg
|
Fiber:
3
g
|
Sugar:
73
g
|
Vitamin A:
1503
IU
|
Vitamin C:
2
mg
|
Calcium:
358
mg
|
Iron:
2
mg