Written by Shaina of Food for My Family.
This summer marks the fourth year in a house without air conditioning. We survive the 90- and sometimes even 100-degree heat year after year by living in tank tops and flip-flops. I also open the windows and blow hot air around, trying to create a breeze. Finally, I stock my freezer full of cool treats that will air condition my family from the inside out.
Having survived a late July due date with my fourth child in these weather conditions, I'd say I know a thing or two about midsummer frozen fare. I start with the obvious: popsicles and ice cubes, both perfect for plopping into water that can't get cold enough or running across your skin, and then I move on to things like frozen fruit for daily smoothies and ice cream treats aplenty.
Here are three of our favorite frozen summer treats.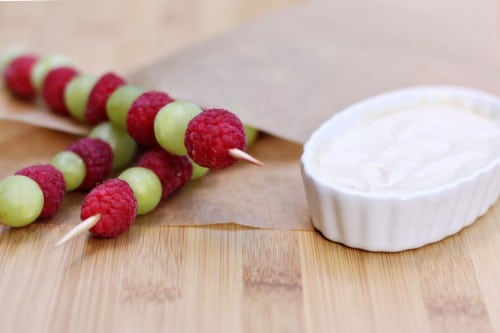 Photo by Shaina
Frozen Fruit Skewers with Honey-Yogurt Dipping Sauce
6 bamboo skewers
1 cup fresh fruit pieces (berries, grapes, pineapple chunks)
Honey-Yogurt Dipping Sauce
¼ cup plain yogurt
2 teaspoons honey
Have the kids place the fruit on the skewers. Encourage nibbling.
Freeze the skewers in an airtight container or a zip-top bag for at least 5 hours until frozen solid.
Just before serving, mix together yogurt and honey. Serve with frozen skewers.
Makes 6 skewers.
Photo by Shaina
Greek Yogurt Semifreddo
1 cup heavy cream
¼ cup confectioner's sugar
3 large egg yolks
1 egg
¾ cup sugar
1 teaspoon vanilla
1 cup Greek yogurt
Mix together cream and confectioner's sugar using a hand mixer until stiff peaks form. Chill in refrigerator.
In a double boiler over medium heat, whisk egg yolks, egg and sugar until doubled in size. Remove from heat.
Stir in vanilla and half of the Greek yogurt. Fold remaining Greek yogurt and the egg and sugar base into the chilled whipped cream.
Pour mixture into molds or into an airtight container and place in the fridge for 6-8 hours until hardened. Eat directly from molds, in slices or scoop and enjoy in a bowl. Top with seasonal berries and/or granola.
Photo by Shaina
Oatmeal Raisin Ice Cream Sandwiches
½ cup unsalted butter, softened
1 cup dark brown sugar
1 teaspoon vanilla
2 large eggs
1 ¾ cups whole wheat flour
1 teaspoon baking soda
1 teaspoon salt
1 teaspoon cinnamon
1 teaspoon ground nutmeg
½ cup milk
2 cups quick cooking rolled oats
½ cup raisins
Greek Yogurt Semifreddo (above) or your favorite vanilla or cinnamon ice cream.
Preheat the oven to 350º F. Cream together butter and sugar, then beat in eggs and vanilla. In a separate bowl, sift together whole wheat flour, baking soda, salt, cinnamon and nutmeg.
Alternately add flour and milk to the butter mixture, mixing after each addition. Stir in quick oats.
Using a medium cookie scoop, scoop dough onto a cookie sheet lined with parchment or a silicon mat. Bake for 10-12 minutes at 350º F or until edges turn brown but centers are soft. Remove from oven and allow to sit on baking sheet until set. Cool completely on wire racks.
When cookies are cool, place small scoops of ice cream or sliced semifreddo disks between two cookies. Individually wrap in parchment, place in airtight container and freeze for at least 5 hours until ice cream and cookie are both frozen. Remove from freezer when ready to serve.
Makes 16-18 ice cream sandwiches.
These are only few of the summertime snacks we try to have available at our house. When the heat seems unbearable and the children are cranky from being stuck in the house, I pull one of these out and head to the shade of a backyard tree. Suddenly, everything starts to slow down, and life seems a whole lot sweeter.
What are a few of your favorite ways to cool down on a hot summer day?