Last Friday we left the city behind and headed for the green rolling hills of Vermont for an impromptu camping trip.
A recent overhaul of our outdoor gear meant that everything I needed was relatively easy to find. Over the years, Danny and I have developed a system: I pack the kitchen gear/food while he takes care of the essential camping/sleeping gear. So if we're missing a corkscrew, it's on me; if the axe is nowhere to be found, that's all him.
By now the kids pack their own items – everything from warm socks to Frisbees, bathing suits and pocket knives. Together we get the van loaded and the canoe tied to the roof. Thankfully, camping with kids has become much more streamlined the older they get.
Over the weekend I received a lot of questions about our camping experience, so I thought I'd revisit the topic here on the blog. I've written extensively about camping over the years, as we've gone every summer with our kids since they were babies. I'll do a full round up at the bottom of the post, but before that, let's have some fun and imagine what the Ultimate Camping Food Day would look like.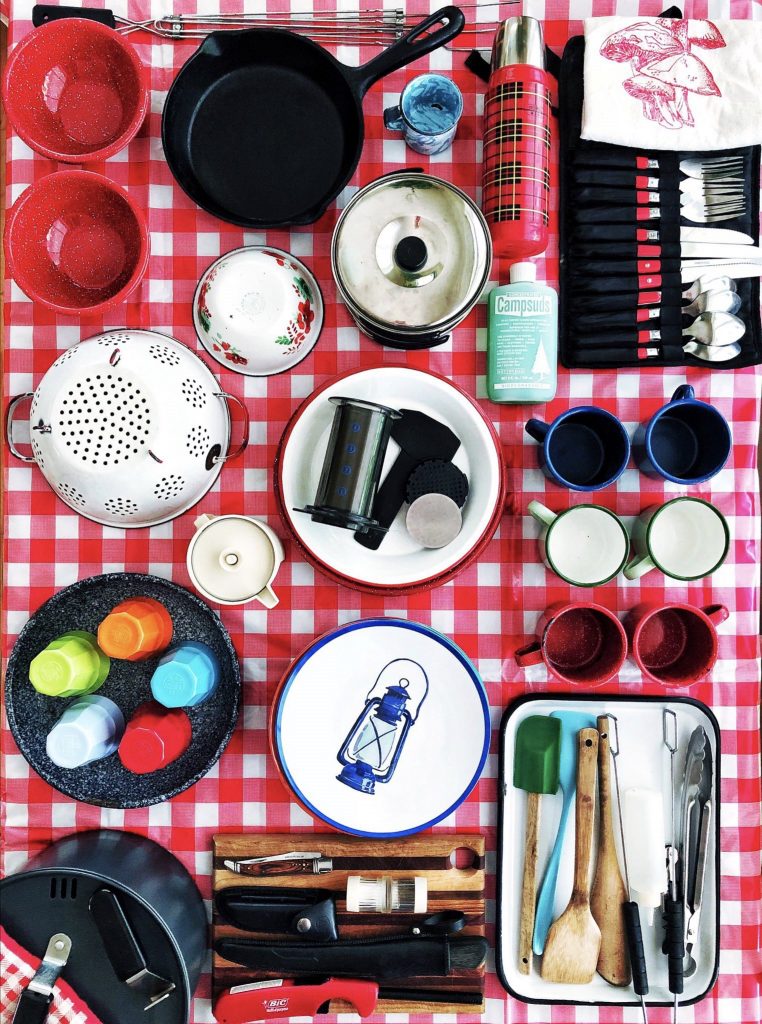 The Ultimate Camping Food Day
If you could have anything you wanted to eat, served up to you around a campfire: What would the ultimate camping food day look like? It has to be within reason, of course.  I won't pretend we can conjure up your late granny's tin of Christmas cookies or a slice from the famous Di Fara Pizza in Brooklyn.
But imagine you could create an epic food day, a feast by the fire…breakfast, lunch and dinner al fresco – what would you pick? Read on for my Ultimate Camping Food Day picks and then let me know yours in the comments.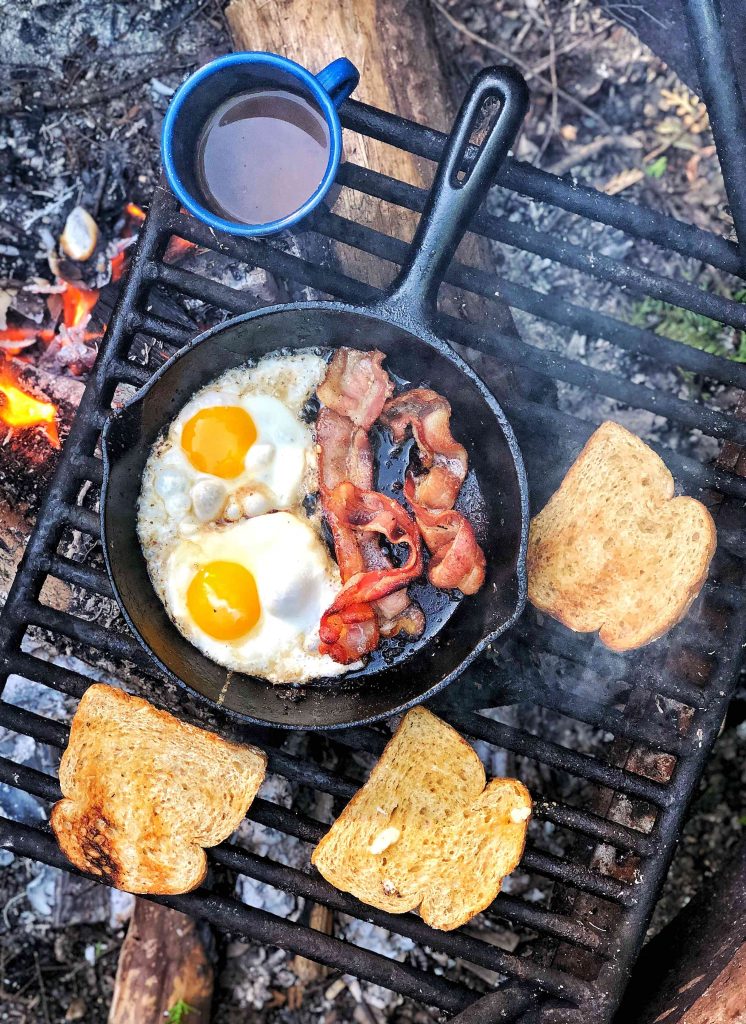 Campfire Breakfast
They say food tastes better when you are camping – and it truly does. Perhaps it's the delicious smoky infusion from the open fire cooking or the anticipation that builds as our foods sizzle on the coals. At any rate, this campfire breakfast is the best of the best.
Menu:
Camp Coffee
Making coffee out of doors has to be one of my favourite things to do in summer. I brew it strong and drink it black. That intoxicating smell of camp coffee is one of life's simple pleasures.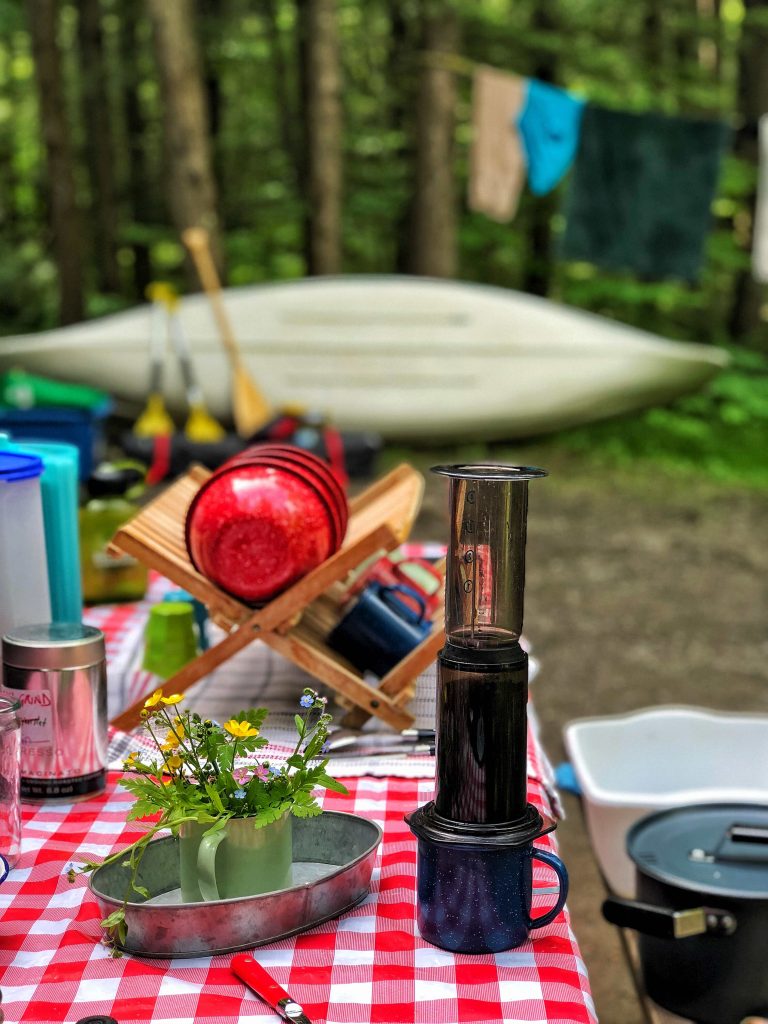 We love the AeroPress for a single serving of coffee, but for a two or more cups, I love the ease of the Coleman 9 Cup Percolator – and find that the rustic look of the double-coated enamel finish fits right into every campsite.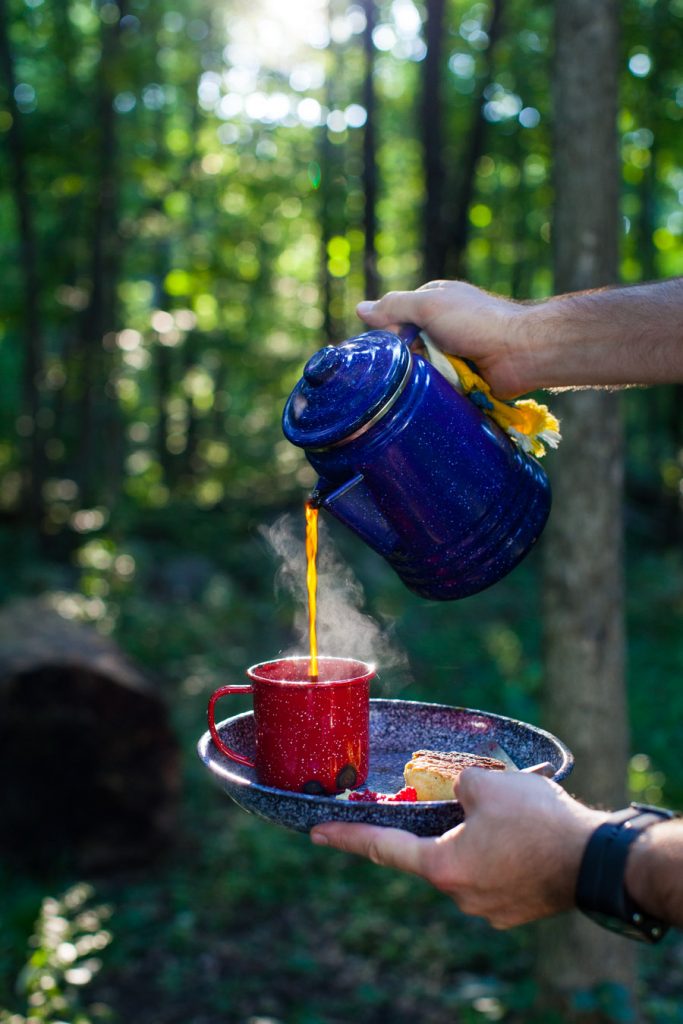 Campfire Bannock
If I have a plate of warm bannock and jam to accompany my morning joe, all the better. Camping breakfast must include carbs and butter – to keep us fuelled for the day of course!
I seldom feel more Canadian than I do when I am frying bannock over an open fire. Good times. I'm including my bannock recipe, adapted from the amazing FEAST cookbook.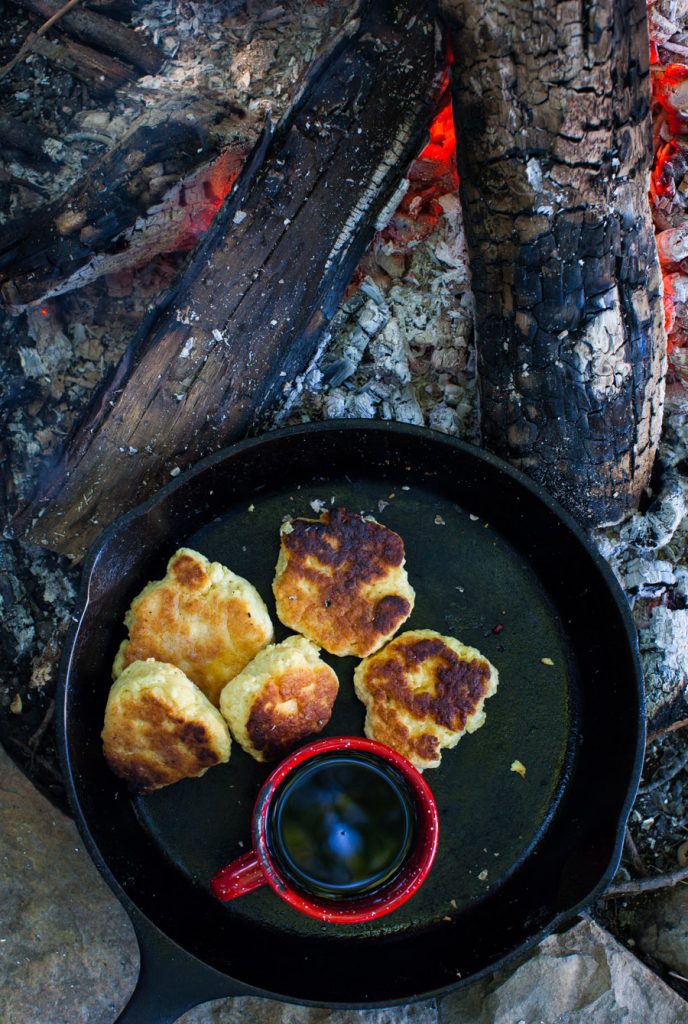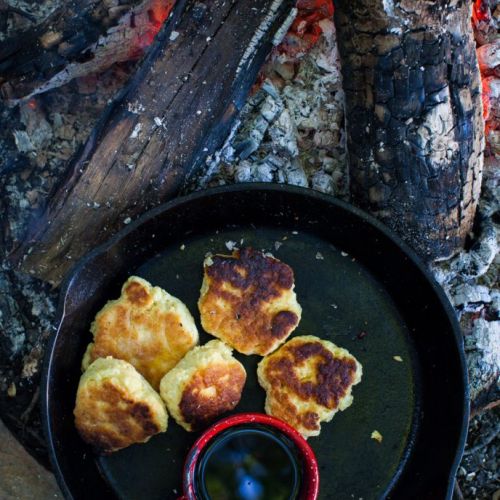 Do-Ahead Campfire Bannock
This just-add-milk mix (or water, in a pinch), is perfect for making ahead and bringing along to the campsite in a ziplock bag. I go ahead and mix up the dough right in the bag – why dirty a bowl?
Print
Pin
Rate
Ingredients
For the dry mix:
2

cups

all-purpose flour

1

Tablespoon

sugar

1

Tablespoon

baking powder

1/2

teaspoon

salt
For cooking:
1

cup

2% milk

(scant cup)

oil or butter

for frying
Instructions
To make the dry mix:
Dump the flour, sugar, baking powder and salt together in a sturdy resealable bag. Seal well and shake the mix together thoroughly.
To make the bannock:
Add almost a cup of milk to the bag of dry mix (water also works). Seal the bag and squish it around gently just to combine. Do not overmix.

Preheat a cast iron skillet over a campfire. Add a little butter or oil or both to the pan and wait until it begins to bubble a bit.

Using clean hands, floured if possible, scoop a golf-ball size of dough from the bag and flatten it slightly. Drop it into the pan and repeat with the bannock dough until the pan is full, but not overcrowded.

Cook bannock over medium-low heat until dark golden on one side, then flip and finish browning. Don't cook it over too high of heat or it will darken before the interior is cooked through.

Serve warm, with butter and jam, and coffee, of course.
Notes
Mix may be made up to two weeks in advance or stored in the freezer for up to three months.
Nutrition
This dish is buzz-worthy for many reasons. It's a one-pot, no-chop campfire power breakfast that is veggie-laden and contains bacon. Whether you are fueling up for a hike, wrangling small children or just tossing a Frisbee on the beach, this hearty breakfast will keep you fed up well through the morning.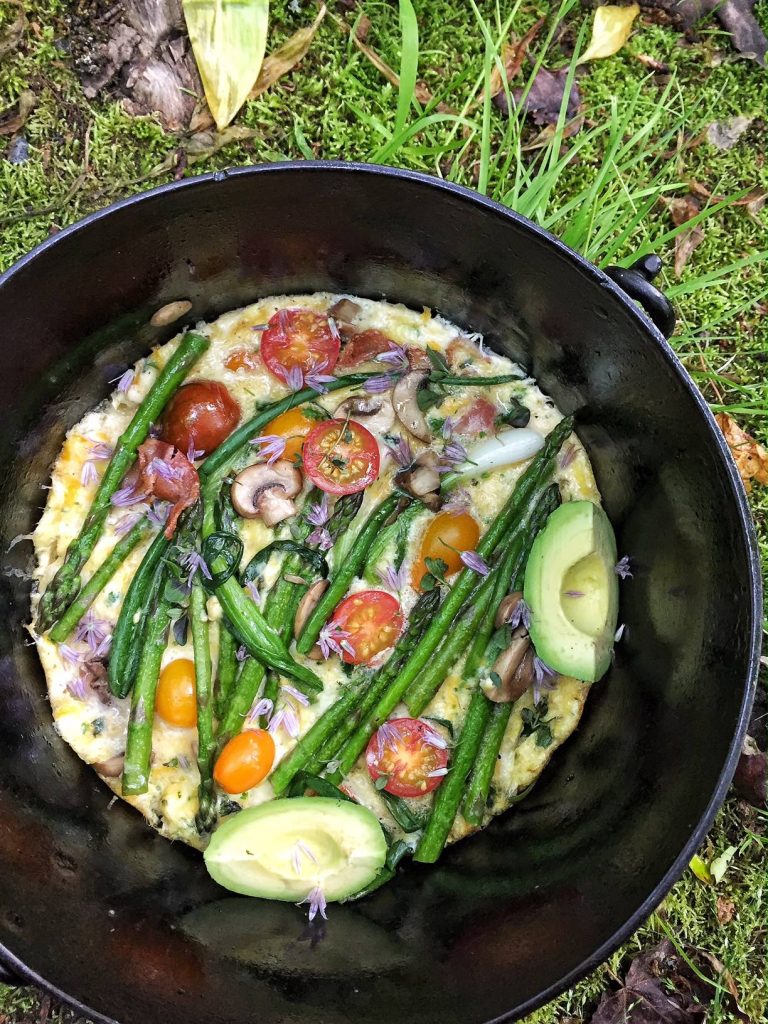 Skillet Triple Berry Crisp
This Triple Berry Crisp is a great way to enjoy summer berries when you are camping. I use granola for the crunchy topping which yields a similar result to an oven-baked fruit crisp.
It can be enjoyed for breakfast or dessert, depending on if you top it with yogurt or whipped cream. Today I'm serving it for breakfast because this is the ultimate camping food day, after all.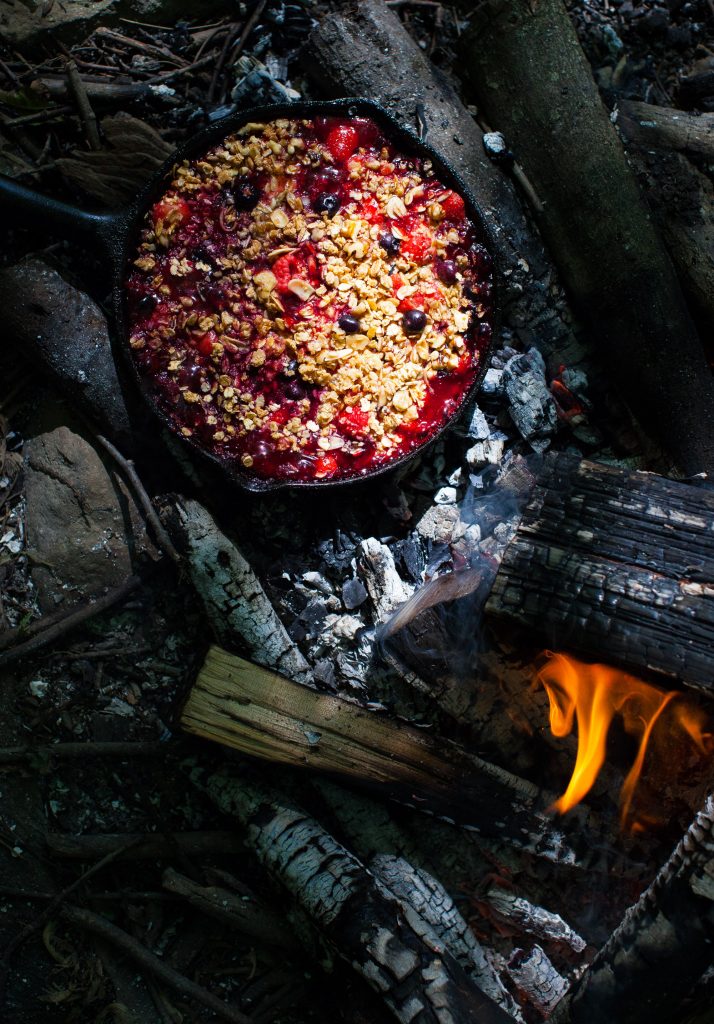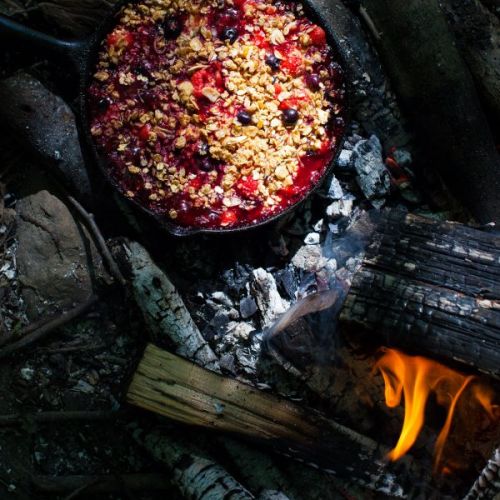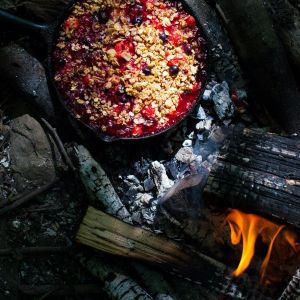 Triple Berry Campfire Crisp
This berry crisp is my favourite way to use late-summer berries around the campfire. It can be enjoyed for breakfast or desserts,depending on if you top it with yogurt or whipped cream.
Print
Pin
Rate
Ingredients
3

Tablespoons

salted butter

divided

4

cups

mixed fresh berries

3

Tablespoons

pure maple syrup

1

Tablespoon

cornstarch

1

Tablespoon

lemon juice

1 1/2

cups

granola
Instructions
In a medium bowl, toss the berries with the maple syrup, cornstarch and lemon juice. This can be prepared up to 12 hours ahead of time, if desired.

Light a campfire and let it burn down for about 30 minutes. You are aiming for medium heat. Grease an 8-inch cast iron skillet with 1 tablespoon of the butter.

Pour the berries and any juices into the skillet and level them in the pan. Sprinkle the granola on top of the berries. Dot with the remaining butter.

Cover the skillet with tin foil and place over the hot coals of a campfire. Alternately, cook over medium heat on a camp stove. Cook the skillet crisp for about 25-30 minutes until the fruit is bubbling in the center.

Carefully remove the foil and cool the berry crisp. Spoon into camping bowls and top with yogurt or whipped cream. Enjoy warm.
Notes
This recipe can be made gluten-free by using gluten-free granola. For a dairy-free version, use coconut oil in place of the butter.
Nutrition
Calories:
417
kcal
|
Carbohydrates:
62
g
|
Protein:
6
g
|
Fat:
18
g
|
Saturated Fat:
6
g
|
Polyunsaturated Fat:
2
g
|
Monounsaturated Fat:
5
g
|
Trans Fat:
1
g
|
Cholesterol:
23
mg
|
Sodium:
93
mg
|
Potassium:
301
mg
|
Fiber:
7
g
|
Sugar:
32
g
|
Vitamin A:
334
IU
|
Vitamin C:
5
mg
|
Calcium:
71
mg
|
Iron:
2
mg
Camping Lunch
There's something about getting out in the Great Outdoors that leaves me completely famished. I've learned to satiate hiking-induced hunger by packing one of the most satisfying sandwiches around – the Banh Mi. Together with a thermos of lemonade, a Tupperware of pasta salad and a bag of brownies for dessert, my family and I are all set to feast while taking in the mountain views.
Menu: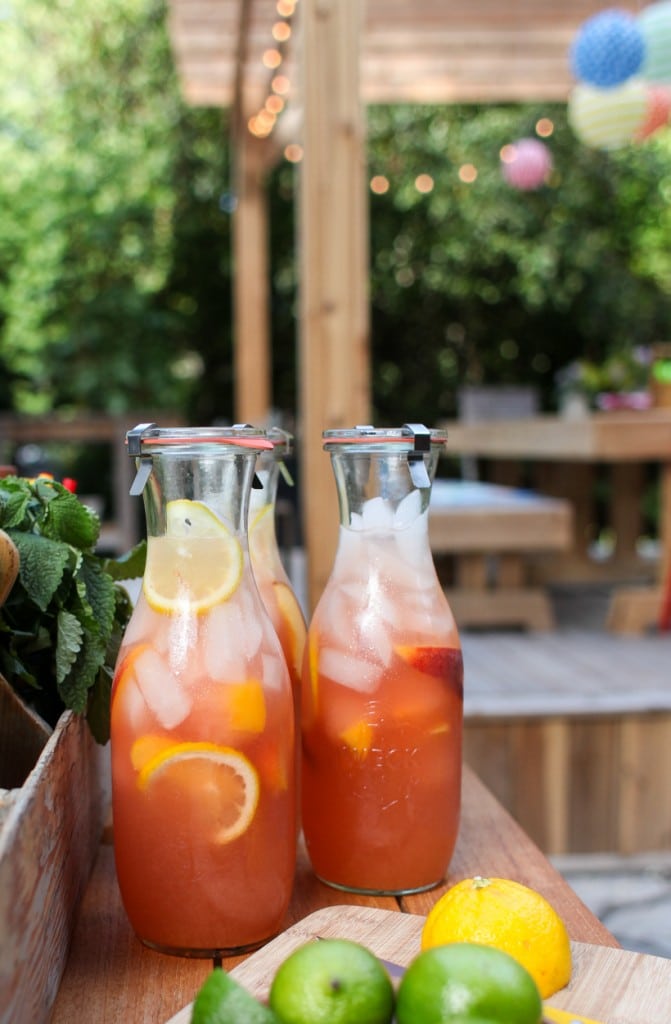 In this fruity version of a classic lemonade, a honey simple syrup is infused with sweet Ontario peaches, and then married with tart lemon zest and juice. Light and bright, thirst-quenching and completely delicious, this vibrant drink is the perfect summer sip.
Backpackers Banh Mi
This sandwich has crunch and crust, sauce and spice, and packs in enough protein to get you back down the mountain. Find the recipe in my cookbook, Brown Eggs and Jam Jars.
This vibrant salad is delicious as a main dish as well as a side accompaniment. It travels well, which is ideal for those beach outings or day hikes, and can be made in advance on busy weekends.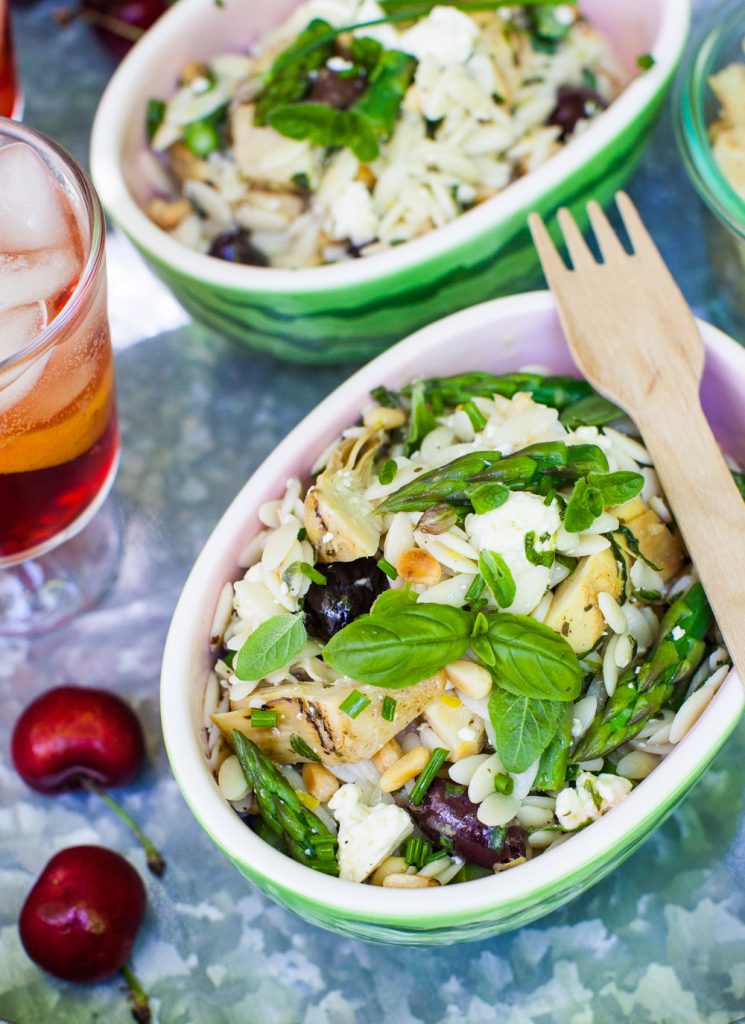 Soft and dense, moist and rich, these marbled, maple-sweetened pumpkin cheesecake brownies are such a treat. While they are my Ultimate Camping Food Day pick for lunch dessert, I'm not sure how they would hold up in a backpack! So I'm selecting my Vegan Pumpkin Seed Cocoa Brownies as a back-up. Also delicious, and much more durable.
UPDATE: my Fudgy Chocolate Two-Bite Brownies (GF, DF) are my new TOP pick for camping brownies! They hold up well during travel and just get better and better.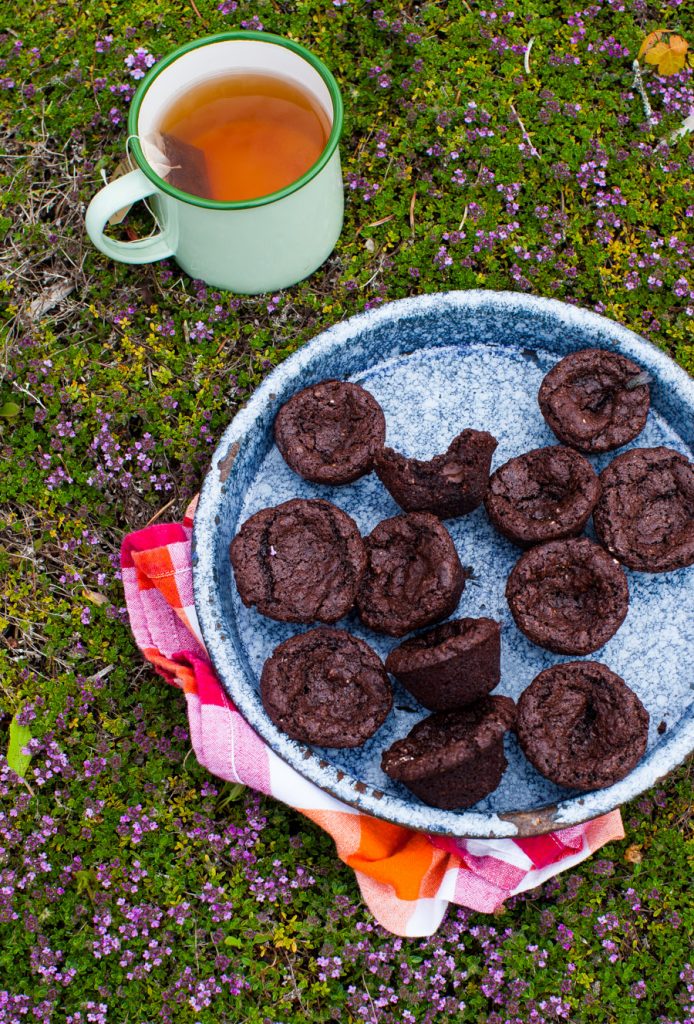 Campfire Dinner
No matter how much we have eaten during the day, everyone shows up to the campsite for dinner utterly starving. Perhaps it is the fresh air that stimulates the appetite or all the energy we have spent canoeing and hiking. This dinner is 100% guaranteed to satisfy the most hangry of them all.
Menu:
Aperol Spritz
An ice cold drink enjoyed on a sweltering campsite is the ultimate luxury when roughing it. Last weekend I mixed up Aperol Spritz with a bottle of rosé I had managed to keep chilled. The guys soon switched to beer, but we ladies were spritzing well past dinner hour.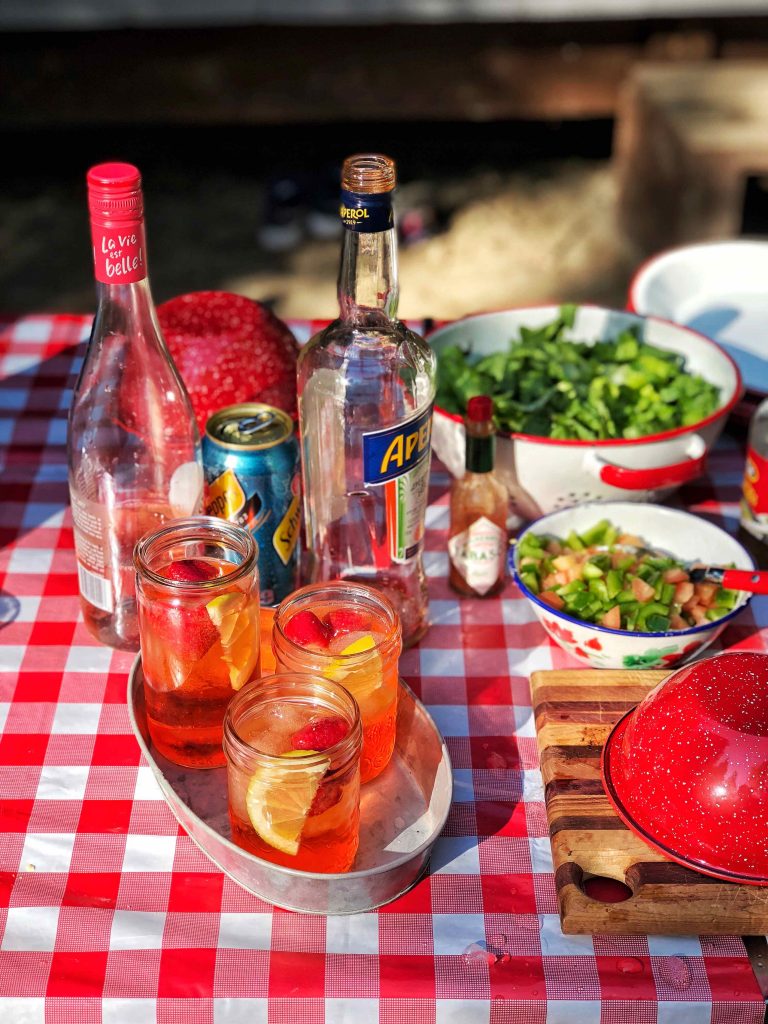 You have to include comfort food when camping, because you are forgoing so many other comforts from home, like mattresses and running water. This macaroni and cheese delivers in a big way. Loads of cheddar cheese, a generous pour of evaporated milk and a good dash of mustard all contribute to a cheesy pasta that is every bit as crave-worthy as your favourite packaged version.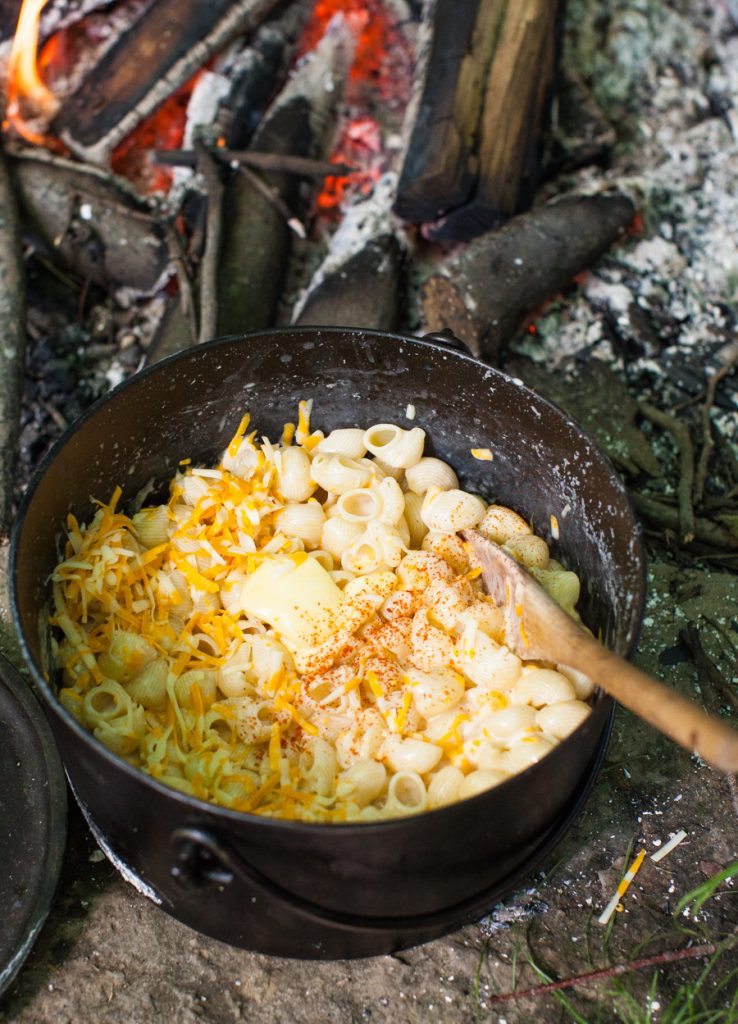 Cheeseburgers with Smoky Onions
There's nothing better than a classic burger cooked over an open wood fire. And when you've pack homemade buns, a jar of Zucchini-Pepper Sweet Relish and the rest of the necessary toppings…get ready, because your Ultimate Camping Food Day is about to be complete.
Find the recipe for my Cheeseburgers with Smoky Onions in my cookbook, Brown Eggs and Jam Jars.
S'mores with Homemade Maple Marshmallows
The ultimate camping dessert has got to be S'mores, a simple treat that has inspired hundreds of spinoffs and variations. My cookbook has my go-to homemade marshmallow recipe, a fluffy maple variation that is made from scratch many times over the summer. Paired with graham crackers and dark chocolate, it's the perfect sweet finish to the day.
Find the recipe for Maple Marshmallows in my cookbook, Brown Eggs and Jam Jars.
A few more camping resources:
Tell me, what is on the menu for your Ultimate Camping Food Day?