This topic is perfect timing for our family, as we're heading up to the Boundary Waters tomorrow for a much needed family vacation. This is the time of summer when the kids are restless and the parent's patience is wearing thin. We can only be cooped up for so long before we just need to spread our wings and shake our tail feathers a little bit.
So often I feel like people give up when it comes to camping food. All creativity is thrown out the window, and the hot dog and hot dog bun enter the picture, taking up residence as the only dinner able to be cooked over an open fire. But it's not.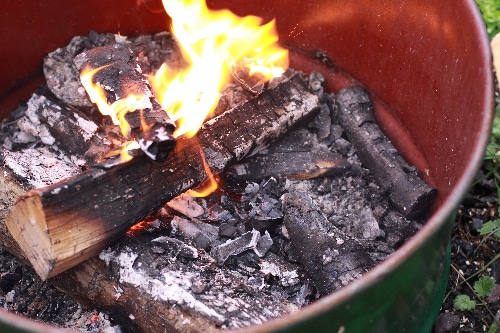 All photos by Shaina
Keys to Successful Campfire Cooking
Use dead, dry wood for clean burning.
Always use dry wood and not green wood that is cut from trees. If no dry wood is readily available, check about getting it from the campsite office or from a nearby retailer. Wood should never be brought in from different areas.
Start your fire in a fire pit.
Avoid unnecessary destruction and scorching of the camping area by using the provided fire pits. Make sure you're burning on rock or dirt and not on top of brush or foliage, which can easily catch fire and spread. Campsites will usually have fire pits already set up for you, so be sure to utilize these when available.
Most fire pits are dug into the ground to provide a natural barrier or have one built around them from a metal ring, rocks or brick. This will protect the area around the fire, but it will also protect the fire, causing it to burn slower, which is ideal for cooking.
Offset your fire so that you have coal levels where there is a burning area and a smoldering coal area. Use the black and white pieces of wood that have been burning as the cook surface, and move the still flaming logs and tinder to the back.
These are three of our regular campfire meals. They are easy to throw together, with very little preparation or clean up done on site. This means more time spent enjoying nature and less time dealing with a large dinner mess while still eating real food.
Beef Stew Packets
Growing up, my family called these "hobo packets" thanks to my Boy Scout brothers. The addition of dry bouillon and a bit of water make these more stew-like. (Have you tried homemade vegetable or chicken bouillon? Worth it.) Plus, it helps to cook the potatoes and carrots evenly. Not interested in using a bouillon? Add in a few tablespoons of your favorite marinade to season them.

1 pound ground beef
1 pound carrots, cut into bite-sized pieces
1 pound potatoes, cubed
1 large onion, quartered
1 tablespoon homemade bouillon or equivalent
1 cup hot water
Olive oil
Kosher salt
Pepper to taste
Dried herbs
4 Foil sheets
Dissolve bouillon in the water. Pour a small amount of oil on the bottom of a sheet of foil. Add in ¼ pound of beef, carrots and potatoes and ¼ of the onion. Sprinkle with salt and pepper and herbs of choice. Add in about ¼ cup broth. Bring the foil together and roll tightly to seal.
Put the packets on the smoldering white coals from the fire. Cook for 30-45 minutes until vegetables are tender. Allow to sit for 10 minutes before eating.

Makes 4 dinners.

Lemon Dill Grilled Fish Fillets
If you're fishing, you won't even need to carry the fish in to the campsite. These fish packets are light and flaky, and they're a perfect way to serve up the catch of the day.
4 fish fillets, cleaned
1 lemon
1 tablespoon kosher salt
1 tablespoon dry dill
Pepper to taste
Olive oil or butter
4 foil sheets
Lightly grease bottom of foil sheets with olive oil or butter. Place the fish fillet on top and sprinkle each with ¼ of the salt and dill and pepper as desired. Slice half the lemon into rings. Squeeze the juice from the other half of the lemon over the top of the fish. Place two rings over each fish and drizzle with olive oil or add a small pat of butter. Fold in sides and roll tightly to seal the packet.
Place the packet over smoldering white coals for 3 minutes. Flip and continue cooking for 3 more minutes. Remove from the fire and allow to sit for at least 5 minutes before eating.
Makes 4 servings.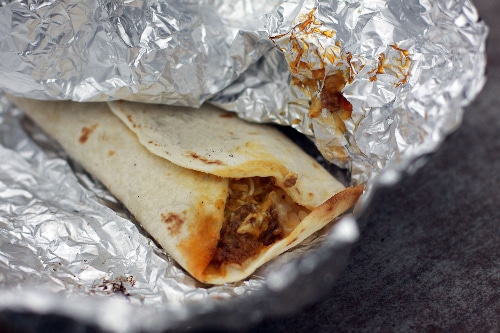 Campfire Toasted Burritos
This is probably my favorite campfire meal. We make our taco meat at home and freeze it. This way it acts as its own ice, and it's perfect for Day 2 of camping because it needs the extra time to thaw. These burritos assemble quite easily, and they are perfectly melted and just slightly crisp after cooking.
1 pound taco meat
1 cup cooked white rice
½ cup shredded cheese
¼ cup salsa verde
4 burrito-sized flour tortillas (10")
½ cup pico de gallo
4 foil sheets
Fill each flour tortilla with ¼ of the taco meat, rice, cheese and salsa. Roll halfway, fold over ends and continue rolling into burrito. Wrap the burrito in foil.
Cook the burrito over smoldering coals farther from the main flame for 3 minutes, flip and continue cooking for 3 additional minutes. Remove from heat. Allow to cool slightly and serve with pico de gallo.
Makes 4 burritos.
What do you cook when you're camping?