Written by Cheri of Kitchen Simplicity.
Eating breakfast around a campfire is one of my favorite ways to start a summer day. Nothing tastes quite as good as food cooked over an open flame. Any of your favorite breakfast meals can be made over a campfire; all you need is the right tools and a little innovation.
Campfire Tools and Breakfast Ideas
Pie Irons
These useful tools like this Coleman Camp Cooker are not just for hobo pies. Anything you can dream up to sandwich between bread can be cooked up and devoured. For breakfast try ham and grilled cheese sandwiches, french toast slices filled with cream cheese and jam or how about grilled peanut butter and banana sandwiches.
When cooking with pie irons it's important to heat them up before using to get that crispy skillet effect. You can even use them to fry eggs. Just open up a pie iron and cook one egg on each side.

Cast Iron Skillet
Cast iron skillets are one of my favorite camping tools because they're so versatile. Whatever you cook in a skillet at home you can make over the campfire with a cast iron skillet.
To use, simply place the skillet directly onto hot coals or on a rack placed above the fire and allow it to get good and hot. Add a dab of oil and you're good to go! Try cooking up some:
bacon
pancakes
scrambled eggs
french toast
hash browns
bannock
Caution! Be sure to have a hefty oven mitt handy, as the handle of the cast iron pan will get very hot.
Aluminum Foil
For those who don't have much for camping equipment consider aluminum foil your new best friend. Nearly anything can be wrapped up in a double thickness of foil, tossed on some hot coals and left to cook through. The food is cooked by the steam created from the food itself, so don't expect anything to get crispy.
Try the recipe for Campfire Hash Browns below to get things started.

Hot Dog Sticks
This is one tool that nearly every camper has on hand and if not, a sharpened stick is a great substitute.
For breakfast consider threading on breakfast sausages or wrapping biscuit dough around each tong and toasting until crisp and fluffy. Treat each stick like a kabob and thread on fruits, like pineapple, to heat over the fire.
Whatever is good on the grill is great on the fire.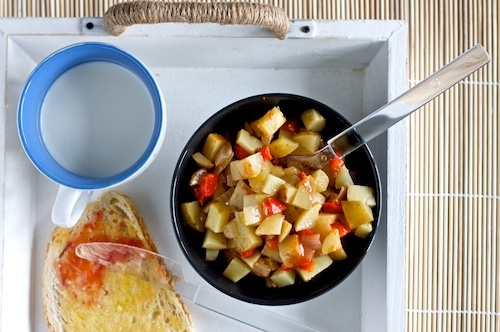 Recipe: Campfire Hash Browns
Take a double thickness of aluminum foil and fill it with diced potatoes and any other vegetables you like (I used onions and red pepper). Sprinkle with salt, pepper and desired spices. Dot with butter. Seal up foil to make a packet.
Place packet onto coals of campfire (making sure it does not touch direct flames). Cook for 40-50 minutes, depending on size of diced potatoes. Avoid opening packet until cooked through or steam will escape and lengthen the cooking time. Serve with ketchup or salsa and sour cream.
* Be careful of steam when opening foil.
* To round out the meal add some chopped sausage to the packet before cooking.
What is your favorite campfire breakfast?