We're about to kick-start our summer canning series on Simple Bites and I can't tell you how excited I am about it! I've actually been canning in my sleep, if that gives you any idea.
Coming up we have nine solid days of Canning 101 with recipes, how-to's, helpful links and discussions. I don't yet consider myself an 'expert' canner, so for this series I've enlisted the input of several canning-savvy and very capable ladies.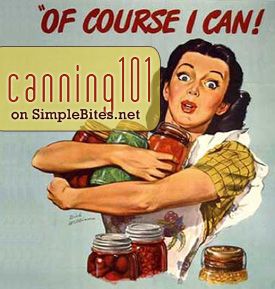 You'll see posts from experts such as this one — but I'm don't want to give too much away. It's going to be awesome!
Today, however, I want to do something a little different. I want to hear from YOU. Especially those of you who can, preserve and pickle all summer long with the enthusiasm of the lady in our 'Canning 101' button.

More specifically, I want to hear WHY you do what you do, year after year, for we don't all can for the same reasons. Agreed?
Here are just a few reasons one might find us sweating over the stove on an August afternoon:
Financial. Buying produce in season when it is cheap and plentiful for preserving can be an economical way to stock the pantry.
Preserve Personal Harvest. Overrun with cukes and tomatoes? Pack them into jars and avoid waste.
Sentimentality. I'll admit it, making my own jam is a huge boost to the 'Holly Homemaker' in me. I just love how much like a domestic goddess I feel when I hear those jars go POP as they seal.
Passion. You think knitters are passionate about their craft? People who are seriously into putting food in jars are a more than worthy rival.
Necessity. It is becoming a less common reason, but in remote areas some folks still can and preserve to provide for their family's basic needs.
Health. Concern for BPA in many commercial canned foods such as tomatoes is on the rise, and a huge incentive for home cooks to can their own. Plus, you're looking at healthy, preservative-free foods that contain no harmful additives or pesticides.
Eco-Friendly. When you can your own food,  it reduces the waste associated with pre-packed foods. Jars are reusable, for one thing.
My hope is to inspire potential first-time canners; to give them incentive to get started.
If you've never canned, take a minute to read the responses and perhaps you'll consider sitting in on our little series!
So, please speak up and share with us: Why do you can?