Inspiration for preserving in a Crock-Pot with recipes for fruit butter, tomato ketchup and more.
My home canning history began at my mother's side, just as she had learned, and as her Ukrainian mother before her.
My mother did things her own way, however, and in the world of preserving that usually meant reducing added sugar in recipes or eliminating it altogether.
We cooked over a wood stove and she kept a (now) vintage oval Le Creuset pot on the back of the stove, cooking fruit down for hours to concentrate the natural sugars.
The aroma from that flame-coloured pot would drive me wild: cinnamon, apples, plums and wild Saskatoon berries. Each ingredient preserved with as little intervention as possible into jams and butters, compotes and conserves.
Of course, I have also found my way of putting up the bounty of summer. I still reject the load of added sugar, but I wholeheartedly embrace technology, like preserving in a Crock-Pot.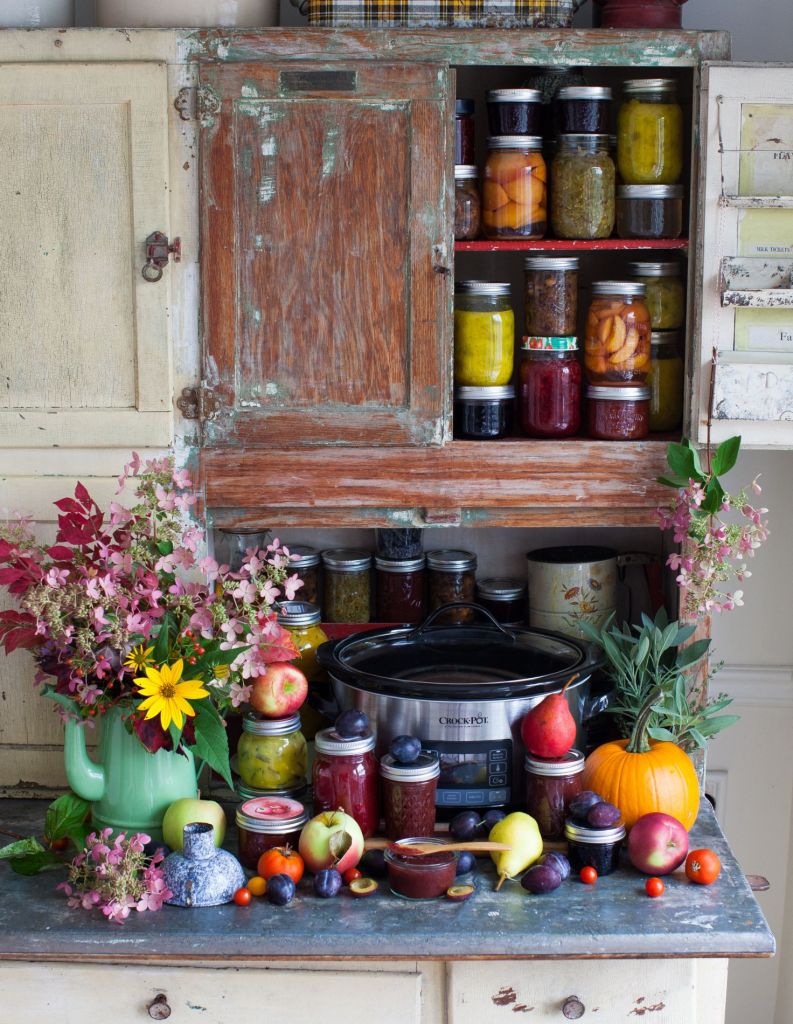 How to Make Preserves and Condiments in a Crock-Pot
Let's take fruit butter for example. Preserving in a Crock-Pot allows you to cook the water out of the fruit, concentrating the natural sweetness and preserving the fibres. This method yields a sweet, spreadable preserve with a deep, delicious flavour.
In addition, using the Crock-Pot for cooking down home preserves, as opposed to a heavy-bottomed pot on the back of the stove, means that you can step a little further away from the kitchen.
And believe me, when you're a parent, just trying to survive a pandemic, you don't want to have to worry about a bubbling pot on the stove.
But how does the water evaporate out of a Crock-Pot? A good question, to be sure.
I crack the lid open a touch, or you can use this hack from Kitchn and straddle two chopsticks over the crock with the lid rested on top of them. This allow the Crock-Pot to vent and release moisture while the fruit butter cooks, reduces, and thickens.
Recipes for Home Canning and Preserving in a Crock-Pot
Here are a handful of my favourite recipes for home canning and preserving in a Crock-Pot. My kids all give these recipes a hearty endorsement. We're seldom without a jar of blueberry butter in the fridge for their frequent snack-attacks.
Note that the Crock-Pot is for cooking down the fruits and vegetables. To make them shelf stable, you will still need a traditional hot water canning pot. Please review my article on Canning 101 for instructions for hot water bath canning.
Apple Butter
Tangy and sweet, apple butter is pure comfort food. We spread it on pancakes and layer it into sandwiches all winter long.
The Simple Bites method for apple butter was published 10 years ago (!) and is a basic tutorial that you can take and make your own.
Get the Recipe > Apple Butter
Blueberry Plum Butter
This incredibly simple Blueberry Plum Butter has an intense flavour. It's a spreadable consistency yet still thin enough to be stirred into yogurt or spooned over waffles.
Get the Recipe > Blueberry Plum Butter
Simple Applesauce
Smooth, spiced applesauce is an integral part of autumn in my home, with alternating flavorings such as vanilla bean, cinnamon, and cardamom jazzing up the sauce.
My freezer is currently half full of applesauce from a 50lb bag that I cooked down last week. The kiddos are happy about that stash!
Get the Recipe > Simple Applesauce
Maple-Sweetened Pumpkin Butter
Delicious on scones or stirred into oatmeal, this spread is the ultimate 'pumpkin spice' treat. Each fall I make sure to have a few jars in the freezer to grab for a quick hostess gift over the holidays.
Because pumpkin butter is both low in acid and quite dense, it cannot be canned in either a boiling water bath canner or a pressure canner. However, it keeps in the fridge for up to three weeks and can be frozen for up to a year before use.
Get the Recipe > Maple-Sweetened Pumpkin Butter
Homemade Ketchup
Ketchup is quite easy to make and it is perfect for the Crock-Pot because the process of making ketchup takes a long time.
Cooking away the excess liquid 'low and slow', rather than quickly on the stove, will help bring out a depth of flavour that lets the summer tomatoes shine and makes ketchup even more delicious.
Get the Recipe > Homemade Ketchup
Bonus: Cranberry Apple Butter
My recipe over on Eating Rules. It's perhaps the most festive of fruit butters and makes a great holiday gift.
Get the recipe > Cran-Apple Butter
Preserving & Storage
Once you become comfortable making preserves in your Crock-Pot, play around with your favourite recipes. Try cranberry sauce or barbecue sauce in the Crock-Pot.
I should mention, if you've never canned before, don't let that stop you from cooking up a batch of fruit butter or apple sauce. It will keep for up to two weeks in the refrigerator, or up to one year in the freezer.
If freezing, be sure to leave a good half-inch of head space at the top of your jars for expansion.
Post created in partnership with Crock-Pot Canada. All opinions are my own.