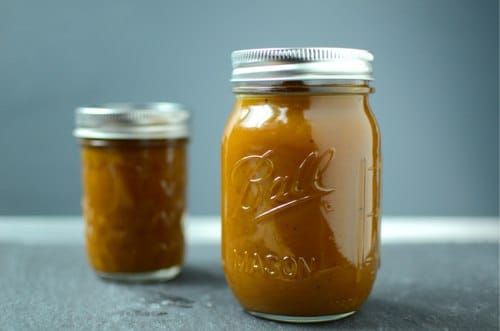 Written by Marisa of Food in Jars.
This time of year, it is only natural that a home cook's fancy turns to pumpkin. Between the jack-o-lanterns standing sentinel near your front door and the knobby whole pumpkins you picked up at the farmers' market over the weekend, your world is probably filled with all things orange and squashy right now.
Thing is, pumpkins are good for so much more than decoration. They can be steamed and pureed into pie filling. For a seasonal meatless main dish, there's nothing better than roasted pumpkin cubes stirred into sage-spiced risotto, or pumpkin mac & cheese for the little ones.
And then there's pumpkin butter. It's delicious on toast, tasty stirred into oatmeal and even good simply eaten by the spoonful out of the jar.
The best pumpkin butters are made from whole, fresh pumpkins (look for one with lots of warts on the outside, they're an indication of sweetness). Instead of trying to strong arm a knife through its dense flesh while the pumpkin is raw, I plop it down on a foil-covered baking sheet and roast it at 350°F until it has slumped slightly and yields to the tines of a fork.
When the pumpkin has cooled enough to handle, cut it in half (make sure it's at room temperature as the interior of the pumpkin can hold steam for at least an hour). Pull away the strings and seeds (make sure to save those seeds and roast them for a snack!) and use a spoon to scrape the tender flesh away from the skin.
Heap the pumpkin flesh into a blender or food processor and blend it until it is super smooth. I typically get between 5 and 6 cups of puree from a four-pound pumpkin, but your results will vary depending on the variety of pumpkin you start out with.
Finally, pour the pumpkin puree into a low, wide pan (I like a 12-inch skillet) and cook, stirring regularly, until all the water has been cooked out. Near the end of cooking, stir in spices, a splash of apple cider vinegar and enough maple syrup to make it taste good to you (for a batch this size, I find that 1/2 cup does the job nicely).
You'll know that your pumpkin butter is finished when a scoop sits high and tall in the bowl of a spoon (if it's not done, it will run to the edges of the spoon and will be no higher than the rim).
Because pumpkin butter is both low in acid and quite dense, it cannot be canned in either a boiling water bath canner or a pressure canner (commercially canned pumpkin butters and purees are done in facilities that can achieve higher temperatures than is possible in a home kitchen).
However, it keeps in the fridge for two to three weeks and can be frozen for up to a year before use.
Ingredients
1

small

pumpkin

4 to 5 pounds

1/4 - 1/2

cup

pure maple syrup

2

teaspoons

apple cider vinegar

1

teaspoon

cinnamon

1/2

teaspoon

freshly ground nutmeg

1/2

teaspoon

ground ginger

1/4

teaspoon

ground allspice

1/4

teaspoon

ground cloves
Instructions
Preheat your oven to 350°F. Line a rimmed baking sheet with foil. Wash your pumpkin and prick it with the tip of a knife three or four times. Place the pumpkin on the baking sheet and roast until it slumps and is fork tender.

Once pumpkin is cool, cut it open and remove the strings and seeds. Scrape the flesh from the skin and place it in the bowl of a food processor or blender. Puree until smooth.

Place puree in a low, wide skillet or frying pan and cook over medium heat, stirring regularly, until the puree has reduced by approximately half.

Add maple syrup, apple cider vinegar and spices and stir to combine.

Pumpkin butter is done when it sits high in the bowl of a spoon.

Funnel finished butter into fridge or freezer safe containers. It will keep two to three weeks in the fridge, up to a year in the freezer.
Nutrition
Calories:
123
kcal
|
Carbohydrates:
30
g
|
Protein:
4
g
|
Sodium:
5
mg
|
Potassium:
1541
mg
|
Fiber:
2
g
|
Sugar:
12
g
|
Vitamin A:
38590
IU
|
Vitamin C:
40.8
mg
|
Calcium:
102
mg
|
Iron:
3.7
mg
What's your favorite way to use pumpkin in your kitchen?