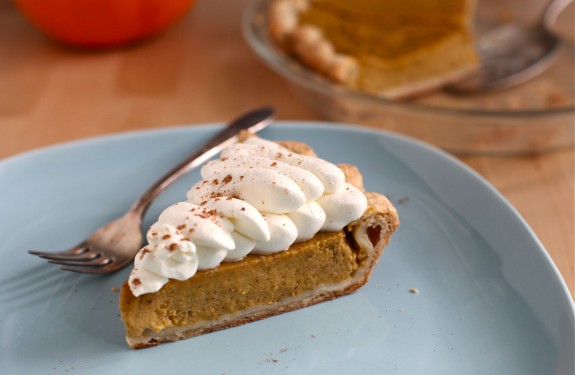 For as long as I have been making them, the feeling of satisfaction when pulling a pie from the oven never goes away.
Whether their all-butter crust is perfectly crimped or not or whether they are filled with seasonal fruit (my preference) or topped up with custard – any pie is reason to celebrate.
How long have I been making pie? It wouldn't be a stretch to reply, "as long as I can remember". I had been making them well before my dear parents bought me a pie cookbook for my twelfth birthday.
Perhaps they were trying to improve their chances of eventually getting a flaky crust (I tended to let my enthusiasm for baking get in the way of delicate pastry execution) or maybe they were gently encouraging me to expand my repertoire of apple pie, peach pie, and wild Saskatoon berry pie. Not that there's anything wrong with those options.
Regardless, branch out in my pie-making I did, as my stained and tattered cookbook bears witness. Let's see, there was the lattice-topped orange cranberry pie, which inspired one of our favorite Christmas-time desserts, Cranberry-Orange Pie with Cornmeal Streusel Topping.
And I remember plenty of orchard apple pies with cheddar crusts, a favorite still, only now I live in Quebec and sweeten my apple pies with maple syrup.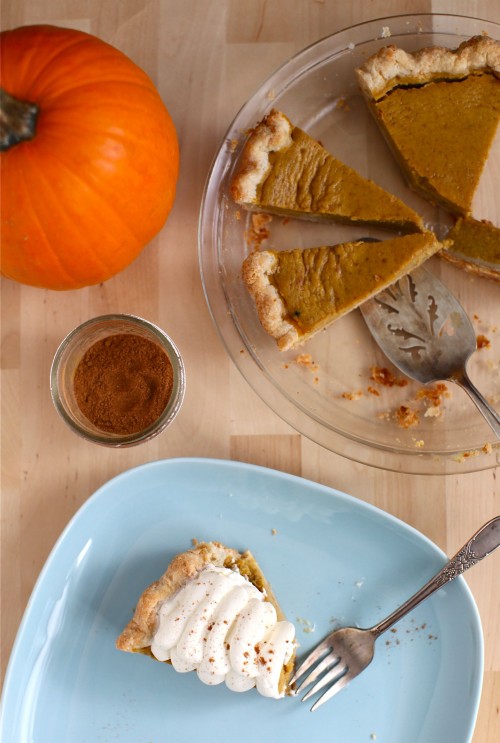 My teen years of angst were not helped by the occasional memorable pie-making disasters. I once saved my allowance just to buy high-quality chocolate for a three-tone chocolate mousse pie that ended up being a total flop. Suffice it to say, white chocolate and I are still at odds over that one.
Over time, I learned to make the perfect buttery pie crust, bake a meringue that doesn't weep, and serve up a slice of custard pie that holds its shape when transferred from pie pan to plate.
Perhaps one of my best takeaways from my cherished and well-worn pie cookbook, however, was learning to pair maple syrup with roasted pumpkin in a dreamy, creamy autumn pie.
Forget cups of sugar and cans of condensed milk; a really good pumpkin pie needs pure maple syrup and thick cream to stand out on the dessert table and I'm convinced I have found the best Maple Pumpkin Spice Pie recipe.
I recently recreated my childhood pumpkin pie with our own farm fresh eggs and an impossibly fragrant homemade pumpkin spice blend* that I grind every fall. It was sweetened with organic maple syrup that we get from friends of ours who own a sugar bush. The sugar pumpkins were slow-roasted, then the puree** drained for a few hours to remove some of the water and intensify the flavours.
Wow, just wow. I'm both completely biased and utterly honest when I say this was the best maple pumpkin spice pie recipe I've ever made (or, ahem, tasted). Texturally it is smooth and yielding; the perfect recipient for pillowy whipped cream. The fresh ground spices make all the difference, nicely complementing the dark maple syrup, and enhancing the mild pumpkin flavour.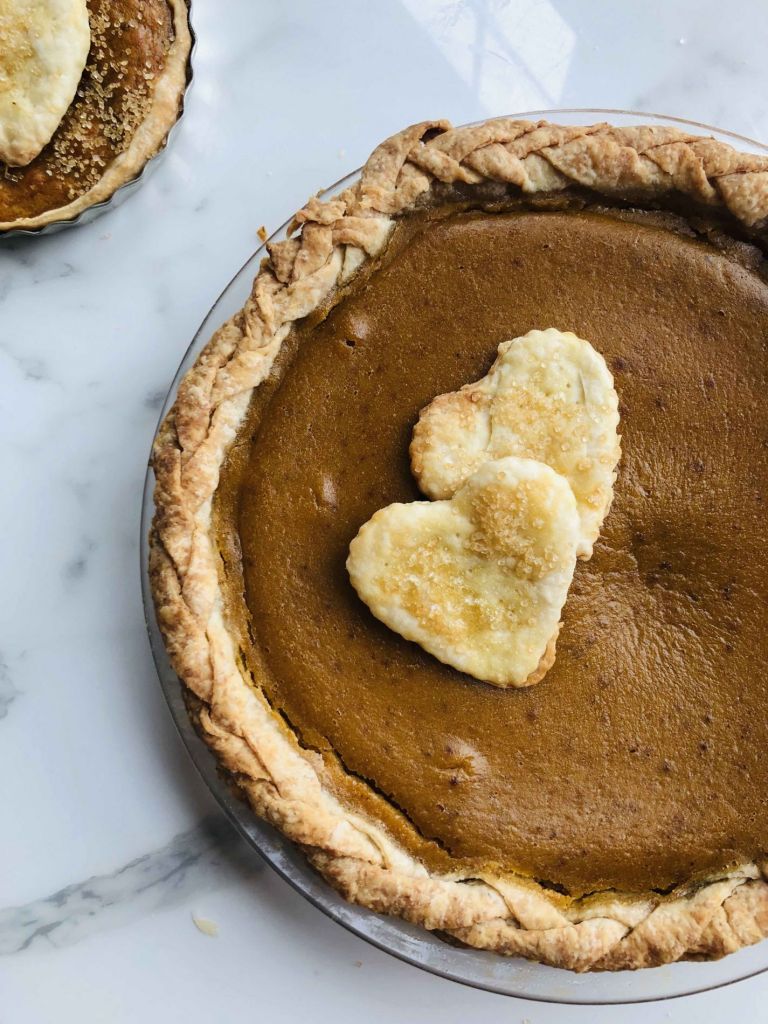 A few weekends ago, I brought two of the pies to our family Thanksgiving dinner, where my father-in-law carved up slice after slice and declared that it was the best pumpkin pie he'd had in 20 years. I didn't disagree!
A quick query on my Facebook page proved that people are still wild about pumpkin pie, especially at this time of the year when the leaves on the trees match the rusty orange colours in the pie.
If you need any encouragement at all, I beg you: please make this pie and share it with someone you love. And don't forget the whipped cream.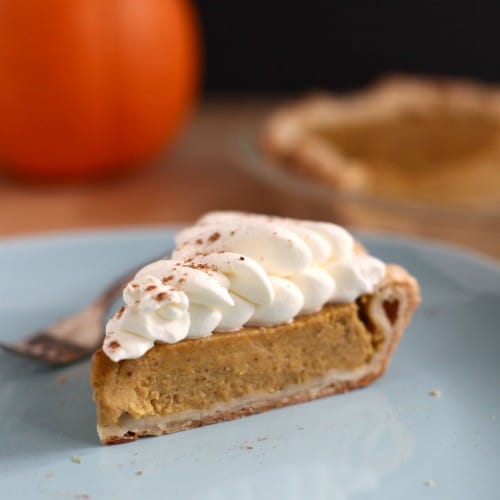 Now, here's the best Maple Pumpkin Spice Pie recipe, as promised, with a few notes.
*You need this spice blend. Grind it, then store the blend in a small jar in the freezer and add to your baked french toast, spice snaps, gingerbread, overnight oats, apple butter, pumpkin granola, and anything else that needs a little punch of flavor.
**You don't have to worry about making your own pumpkin puree, if that seems like work (really, it's not much).
Best Pumpkin Spice Pie with Maple Syrup
Forget the sugar and canned milk, this decadent pie brings together maple syrup, warm roasted pumpkin, thick cream and fresh spices for a fall dessert that is truly the best of its kind.
Print
Pin
Rate
Ingredients
1

9-inch

pie crust

prepared but not pre-baked

4

medium

eggs

1

cup

heavy whipping cream

1 1/4

cups

pumpkin puree

homemade if possible

2/3

cup

pure maple syrup

1

Seeds of 1 vanilla bean

scraped, or 2 teaspoons pure vanilla extract

1

teaspoon

sea salt

1

Tablespoon

pumpkin spice blend

1/2

cup

Sweetened whipped cream

for garnish
Instructions
Preheat the oven to 350F. Keep the pie crust chilled in the refrigerator while you mix up the pie filling.

In a large bowl, whisk the eggs and cream together until blended. Add the pumpkin puree and the maple syrup and again whisk well.

Finally, add the vanilla, salt and spice blend to the pie filling and combine.

Remove pie shell from the fridge and place on the middle rack of the oven. Slide the rack out carefully a couple of inches and pour the filling into the pie shell. Slowly, slide the oven rack back in place, taking care not to spill the contents of the pie shell onto the bottom of the oven.

If you find yourself with a little extra filling, simply pour it into a couple of ramekins and bake them alongside your pie until they are set. Chill, top with whipped cream and enjoy them as pumpkin custard.

Check pie after about 30 minutes and rotate, if necessary, to ensure even browning of the pie crust.

When the center of the pie has puffed up, and jiggles only slightly when the pan is moved, the pie is ready. This will take about one hour.

Remove pie from oven and cool on a wire rack. When the pie is room temperature, cover with plastic wrap and refrigerate until ready to serve.

Pie will keep, covered in the fridge, for up to three days, or well-wrapped and frozen for up to 8 weeks.
Nutrition
Calories:
350
kcal
|
Carbohydrates:
35
g
|
Protein:
5
g
|
Fat:
20
g
|
Saturated Fat:
10
g
|
Cholesterol:
135
mg
|
Sodium:
444
mg
|
Potassium:
230
mg
|
Fiber:
1
g
|
Sugar:
17
g
|
Vitamin A:
6555
IU
|
Vitamin C:
2
mg
|
Calcium:
86
mg
|
Iron:
1.8
mg
Have you made a pumpkin pie yet this fall?