The Easter long weekend just might be one of my favourite occasions to entertain and I've been hosting a brunch for well over a decade on the spring holiday.
Easter brunch is the perfect opportunity to invite friends and family over and set a pretty table. Clara and I always dye a few eggs for a centrepiece, playing around with real ingredients for natural dyes. I iron my grandmother's embroidered tablecloth and round up all my floral and pastel dishes. It's okay if they are mismatched; they still look elegant.
And then there is the menu, which is always so fun to plan, but whether you simply bake a tray of hot cross buns and brew a pot of coffee or go for an elaborate ham & eggs spread, it's the act of gathering that matters the most.
Brunch is really the ideal gathering for families with small children because our little ones are still fresh and chipper in the morning. We know kids never take their requisite nap on holidays – some sort of twisted unspoken pact among toddlers – and so why risk making dinner plans?
Also, all children adore brunch fare: warm scones, crispy bacon, all the fruit juice….it's easy to please a crowd of small customers. And if there is one lesson I have learned, you can never have too much coffee for the exhausted parents.
If brunch really isn't your thing, don't worry, this is only the first post in a three-part series on entertaining at Easter. I've got two lunch menus on the way (the finger food buffet and a sit-down affair), as well as suggestions for Easter dinner, so stay tuned!
An Easter Brunch Menu
Today I'm sharing an elaborate brunch menu with a decidedly Spring influence. Choose two, three, or all six recipes, depending on how ambitious you're feeling.
Strawberry and Preserved Lemon Lassi ~ A fresh and vibrant start to the morning, featuring Quebec strawberries, frozen in their prime, along with tangy preserved lemons. The two ingredients marry with kefir and a drizzle of honey in a sweet and salty lassi that is guaranteed to awaken your guest's palates.
Overnight Maple Hot Cross Buns ~ Soft, supple and maple-sweetened breakfast buns that are simple to make and can be prepped in advance. They are close enough to the traditional version, yet still unique. Guaranteed to make the house smell heavenly. After chocolate eggs, these are an Easter must-have.
Cheesy Leek and Lentil Rolled Omelet with Artichokes ~ If you're looking for an original savoury brunch dish, you and your guests will love this rolled omelet. Inspired by the best brunch book out there, this is my absolute go-to egg dish for each and every brunch.
You may want to try it with asparagus instead of artichokes, just don't leave out the sharp cheddar. This omelet also makes a pretty fabulous reheat, so go ahead and make it in advance.
Maple-Glazed Sweet Potatoes with Walnut-Bacon Crumble ~ Move over hash browns, sweet potatoes are a much more exciting (and healthy) addition to your brunch table. These roasted coins are topped with bacon and drizzled with maple syrup, making them the most decadent brunch dish.
Maple Sausage Patties ~ If you've got a few guests who always look around for the meat, they will not be disappointed to see these homemade sausage patties. Scented with sage and finished with maple syrup, these delicious morsels will quickly disappear from your brunch table.
Rhubarb & Orange Frangipane Galette ~ All meals should end with something sweet – and what better way to celebrate Spring than with a fruit tart. Shattering puff pastry crust, buttery, orange-scented frangipane filling, and maple-glazed roasted rhubarb – this rustic dessert has it all.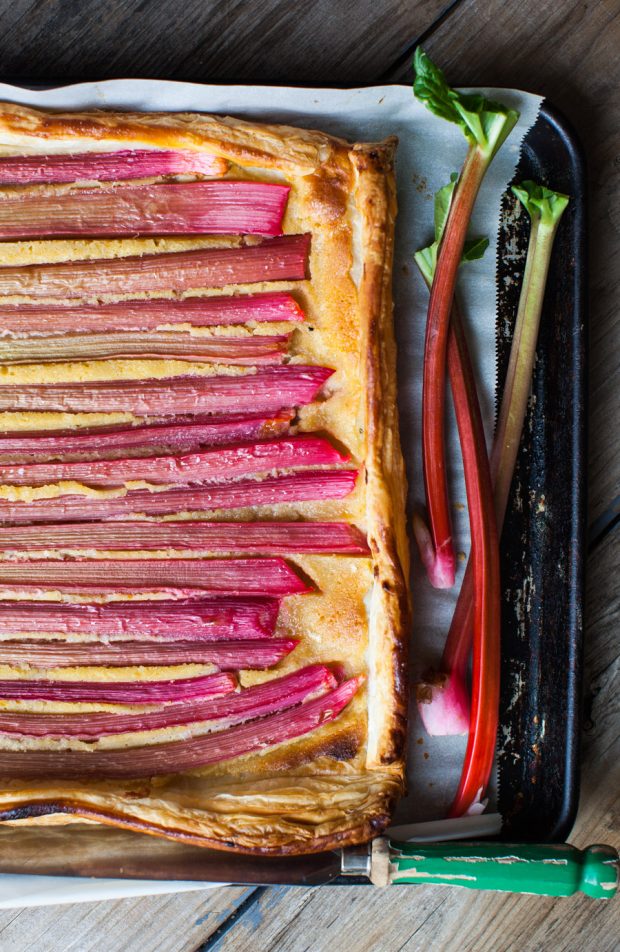 More ideas for Easter brunch
Here are s a few photos from the breakfasts of Easter past; maybe you'll find inspiration at a glance.
My daughter's absolute favourite: soft-boiled eggs in her bunny egg cup holder. She's happy with toast soldiers; I like mine with steamed asparagus for dipping.
Eggs Benedict with asparagus and Brie is decadent and totally worth the effort. This recipe was from my friend Dennis's cookbook, Eat Delicious.
Scones are always a nice touch, especially when paired with a creamy Orange Cardamom Curd. Citrus salad brightens up the table and new asparagus is perfection in mini goat cheese galettes.
What is your go-to brunch dish? Share a favourite recipe or restaurant menu item.