The boys had a few well-rehearsed pranks for us on April First, such as glue on the toilet handle (!), but the worst prank by far was played by Mother Nature: yet another snowstorm.
Snow in April isn't a big surprise, but was still disappointing; I'm really, really ready for the snowbanks to melt. Yesterday the sun shone brightly, daring us to escape outdoors and defy the snow. So we did.
The boys shovelled the snow off of the fire pit and Danny built a roaring campfire. I brought pots and pans out from the kitchen and simmered maple beans and a cider ham over the open flame. In the coals I roasted sweet potatoes, and we boiled maple syrup to pour in the snow for maple taffy.
The April sun glinted through the trees, illuminating the drifting campfire smoke. Birds sang in chorus all around us and the children and dogs ran in circles around the yard. We sipped hot spiced cider with friends, then beer, and then finally enjoyed coffee around the dying embers of the fire.
Snow or not, we made the most of the sunshine on a lazy Sunday afternoon.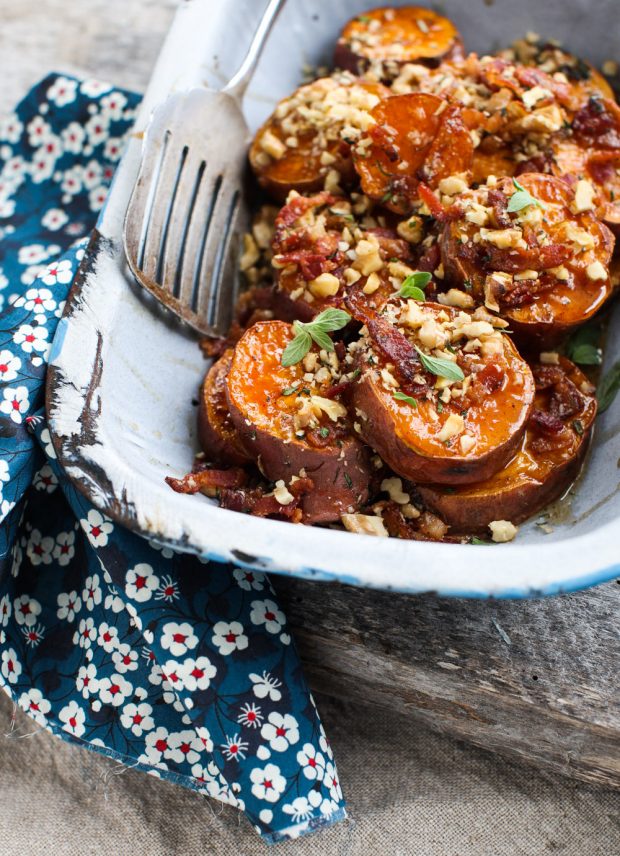 Maple-Glazed Sweet Potatoes with Walnut-Bacon Crumble were not on my spontaneous campfire menu, but they are an excellent way to celebrate sugaring off season all the same. We may not have berries or asparagus yet, but we have our own maple syrup in abundance and that is how we eat seasonally in April.
This recipe sounds fancier than it really is: roast sweet potato rounds, a quick sweet and sour glaze and a crunchy topping. It's a delightful combination of flavours and textures in a dish that feels ever so decadent, thanks to the bacon and maple syrup.
These roasted sweet potatoes also present beautifully as a side dish, so definitely keep them in mind for your upcoming Easter brunch or dinner. Pair them with my slow-cooker cider ham or roasted leg of lamb, add my favourite asparagus dish to the mix and you'll have a gorgeous menu.
Ingredients
3

medium sweet potatoes

about 1 1/2 lbs

2

teaspoons

extra virgin olive oil

3

Tablespoons

pure maple syrup

2

Tablespoons

white wine vinegar

1/2

teaspoon

freshly ground black pepper

1/4

teaspoon

ground cinnamon

1

Tablespoon

salted butter

or coconut oil

3

Tablespoons

cooked, crumbled bacon

3

Tablespoons

chopped walnuts

2

teaspoons

minced fresh oregano

or 1/2 teaspoon dried
Instructions
Preheat the oven to 425F. Lightly oil a rimmed baking sheet or roasting pan.

Slice the sweet potatoes into 3/4 inch rounds. Place on the baking sheet and lightly brush with olive oil. Roast, turning once, for about 15-17 minutes. They should be fork-tender but not mushy.

While the sweet potatoes are roasting, make the glaze. In a small saucepan, whisk together maple syrup, vinegar, pepper and cinnamon over medium heat. Bring to a boil, then remove from heat. Whisk in the butter until melted and the glaze is smooth.

Remove the roasted sweet potatoes from the oven and arange in an ovenproof serving dish. I like to use enamelware, but Pyrex or Corningware also works - as long as it is oven-to-table.

Drizzle the glaze generously over the sweet potatoes.

In a small bowl, mix together the bacon, walnuts and oregano. Sprinkle over the top of the sweet potatoes. Return to the oven for 5 minutes to toast the walnuts and re-crisp the bacon. Serve immediately with any additional maple glaze.
Eat Seasonal
It seems as though our group of bloggers are excited about April produce!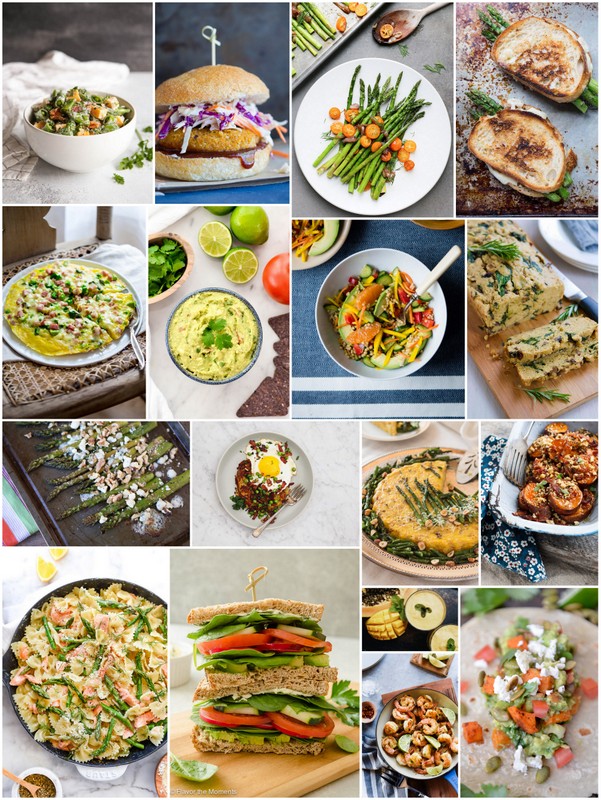 Seventeen of us worked on original recipes featuring everything from asparagus to sugar snap peas. This is a gorgeous round-up of recipes. Be sure to visit the links below and hop over to Vintage Mixer for the April produce guide.
Enjoy eating seasonally in April!