I've had one thing on my mind since I injured my back: get strong enough to go in search of local asparagus.
Thankfully, I'm on the mend and yesterday, during a particularly sunny patch of the morning, Clara and I strolled through our open air market. She was the first to spot them:
"Asparagus!" she shrieked, and darted toward the stall. I move a little slower, but inside I was just as excited about the discovery. At last!  They were all beautiful, but we selected three of the prettiest bundles.
We had the first bunch for lunch, simply steamed with butter and salt. Clara finished hers first, and then used her fingers to help herself to a few spears on my plate. Such is the enthusiasm we reserve for local asparagus around here.
While they last, we will eat asparagus every day: grilled, and tossed with strawberries and walnuts in a vibrant spring salad, roasted with bacon and eggs for breakfast, and pickled. Mid-week, asparagus will accompany roasted radishes and chicken drumsticks for a simple sheet pan supper, and on weekends, I'll pair it with a trio of cheeses and flaky pastry in a savoury galette worthy of Sunday brunch.
And when we tire of the green spears, I will make cream of asparagus soup with crème fraîche. However, that is unlikely to happen thanks to today's recipe: oven-roasted asparagus, drizzled with fresh lemon juice and garnished with a toasted harissa and brown butter breadcrumb topping.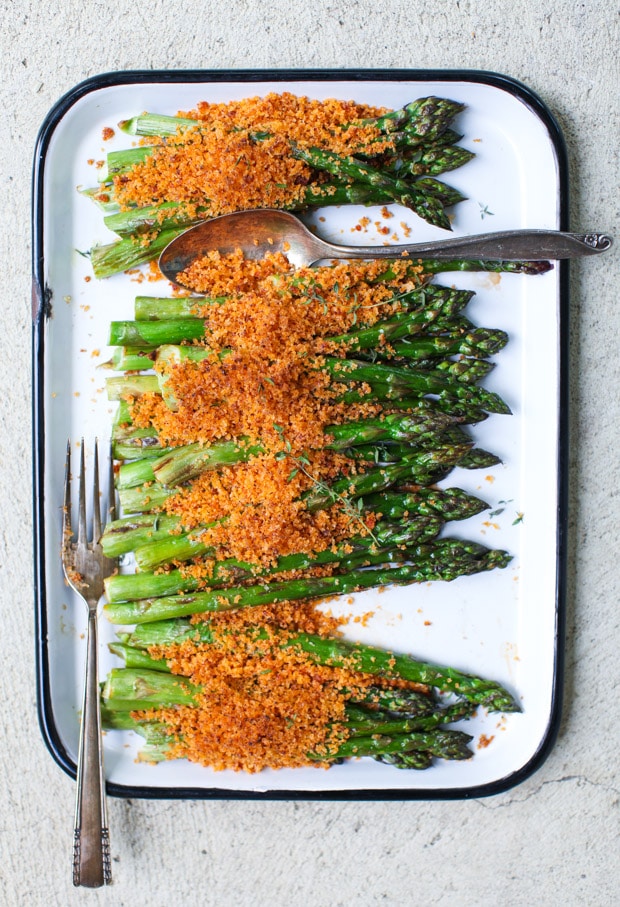 Admittedly, this dish is an updated version of a popular recipe in the archives, but the addition of homemade harissa to the panko (Japenese breadcrumbs) gives it a delicious extra punch.
I've been sprinkling these spicy red breadcrumbs on a lot of things these days: fried rice, scrambled eggs and light pasta dishes, to name a few. From my research, I've deduced that pungent, harissa-flavoured buttery breadcrumbs can improve pretty much any savoury dish. You'll just have to try them and see for yourself.
Harissa can be found in most any ethnic grocery store, and it is also super simple to make. I prepare a batch and then freeze it in ice cube trays. Once the harissa is frozen, I pop out the cubes and keep them in a freezer-quality resealable bag to use whenever I need a punch of heat.
Here's a tip for the asparagus: Be sure to wash it thoroughly before getting started; the only crunch in the dish should be from the crispy toasted panko! I fill a large bowl with cool water and soak the asparagus, tips down, for about five minutes. After swishing them around a bit, I drain them in a colander. Then I lay them in a single layer on a clean tea towel and pat them dry. Yes, it's nothing but the finest treatment for these seasonal greens.
The asparagus should be completely dry before going on the roasting sheet. I go the extra mile and brush each spear individually with a pastry brush dipped in olive oil; I find they roast evenly when well-coated with oil. I also add a generous sprinkling of salt, and spread them in a single layer on the pan.
The juice of half a lemon is squeezed over the asparagus the instant it comes out of the oven. The spears absorb the juice and it also helps the buttered breadcrumbs to stick to the asparagus.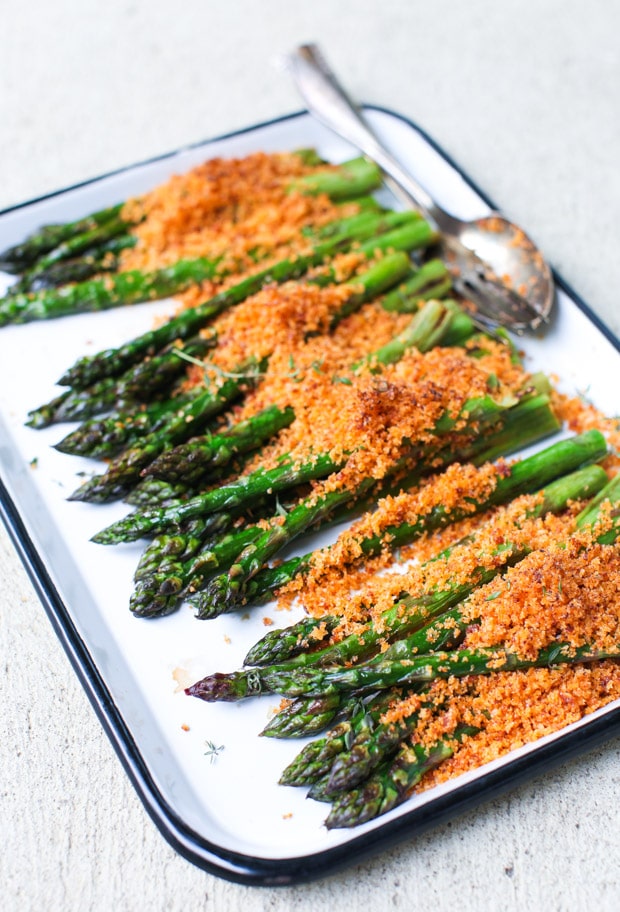 This dish is fast, simple and delicious. I think it's the perfect way to herald the arrival of local asparagus. Serve it as a side with dinner or as a brunch option, combined with a platter of poached eggs.
Roasted Asparagus with Harissa Brown Butter Breadcrumbs
This fast and easy side dish gets a punch of flavour from a spoonful of harissa and a good drizzle of brown butter.
Print
Pin
Rate
Ingredients
1 1/2

pounds

asparagus

about 1 large bundle, washed and dried

1

Tablespoon

olive oil

1/2

teaspoon

fine sea salt

divided

3

Tablespoons

unsalted butter

1

Tablespoon

harissa

homemade or store-bought

3/4

cup

panko

(Japanese breadcrumbs)

juice of half a lemon
Instructions
Preheat oven to 425F.

Spread asparagus in a single layer on a large rimmed baking sheet. Brush with olive oil until spears are completely coated.

Sprinkle asparagus with 1/4 teaspoon salt and place in the oven. Roast for 10 to 12 minutes, depending on the thickness of the asparagus.

Meanwhile, melt butter in a small sauce pan over medium heat. Continue cooking until the butter is golden brown and has a nutty aroma, about 3 to 4 minutes.

Remove the butter from the heat and cool slightly. Add the harissa and mix it into the butter using the back of a fork. Mix until there are no lumps left.

Tip the panko and 1/4 teaspoon of salt into the harissa butter and stir until the breadcrumbs are completely coated.

Remove asparagus from the oven and squeeze the lemon over the top. Toss gently with a pair of tongs.

Preheat the oven to broil. Arrange the asparagus with the tips together in an OVEN SAFE serving dish (i.e: Pyrex, enamelware or stoneware). Line the asparagus up and spoon the seasoned panko over the top, heaping it down the middle of the asparagus.

Place the oven safe dish under the broiler and watch for the breadcrumbs to turn slightly golden, about 1 minute.

Remove from oven and serve asparagus at once.
Notes
This dish needs to be enjoyed immediately, while the breadcrumbs are still crisp. One they grow cold, they are no more appealing than stale toast.
However, the dish can be assembled in advance, held and room temperature for up to 30 minutes and then broiled just before serving.
Eat Seasonal:
Here are some amazing recipes using June's seasonal ingredients from my friends around the web:
Strawberry, Raspberry and Rhubarb Crisp by Completely Delicious
Hoisin Buffalo Burgers with Spicy Slaw by Cookin' Canuck
Sweet and Spicy Cucumber Ginger Salad by Letty's Kitchen
Blueberry-Basil Swirled Ice Cream by Floating Kitchen
Strawberries and Cream Oat Bars by The Vintage Mixer
Cucumber Noodle Tzatziki Salad by Flavor the Moments
Rhubarb Almond Danishes by Food For My Family
Happy cooking in June!