On a recent morning ramble, Clara and I found the first wild strawberries, a handful of tiny sweet gems that signaled the start of our glorious berry season. And on a day-trip to the country last Saturday, we saw no less than seven farm stands boasting 'Fraises du Québec', and I spent the next hour balancing several quarts of berries on my lap. After all, it's not a legitimate weekend road trip until you hit up a roadside fruit stand, am I right?
Yes, mid-June is typically when local strawberries hit the markets here in Quebec, and we throw ourselves headlong into making the most of them. Soon the neighborhood U-pick will open its doors and we'll ride the wagon along the dusty track to fill our baskets and pails with berries.
It's a sweet season, and we savour the local strawberries in a multitude of ways from salads to ice cream. Even the hulls from the organic berries are rinsed and used to flavour water. Today's post is a round-up of my favourite strawberry recipes and really showcases the true versatility of this June berry.
Snacks with Strawberries
Whole Grain Strawberry Banana Bread
I currently have bananas ripening on my counter specifically for this bread. It's a great lunchbox treat to finish out the school year (we still have another week and a half) or a healthy afternoon snack for the kids and their friends. You can use any whole grain flour you have on hand and it is delicious even a few days after baking, just keep it well-wrapped in plastic.
Strawberry, Blackberry, and Goat Cheese Focaccia
Delicious for brunch, lunch or afternoon snack, this fruity focaccia is a fun recipe to bake with kids.
Chia pudding with sliced or slow-roasted strawberries is an absolute favourite combination. I have a full recipe in the Picnic chapter of my cookbook or you can wing it with this slow-roasted strawberry method.
Savoury Strawberries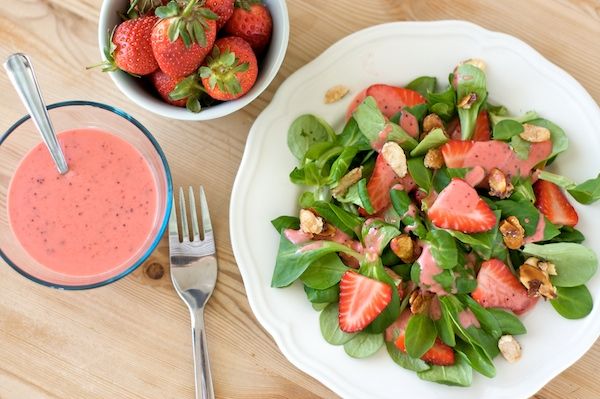 Strawberry Spinach Salad with Strawberry Poppy Seed Dressing
If you're looking for a fast weekday lunch, then this is your salad. Make the dressing ahead of time and the rest comes together in just a few minutes. Strawberries and spinach are a popular pairing, and for good reason: they come into season at the same time.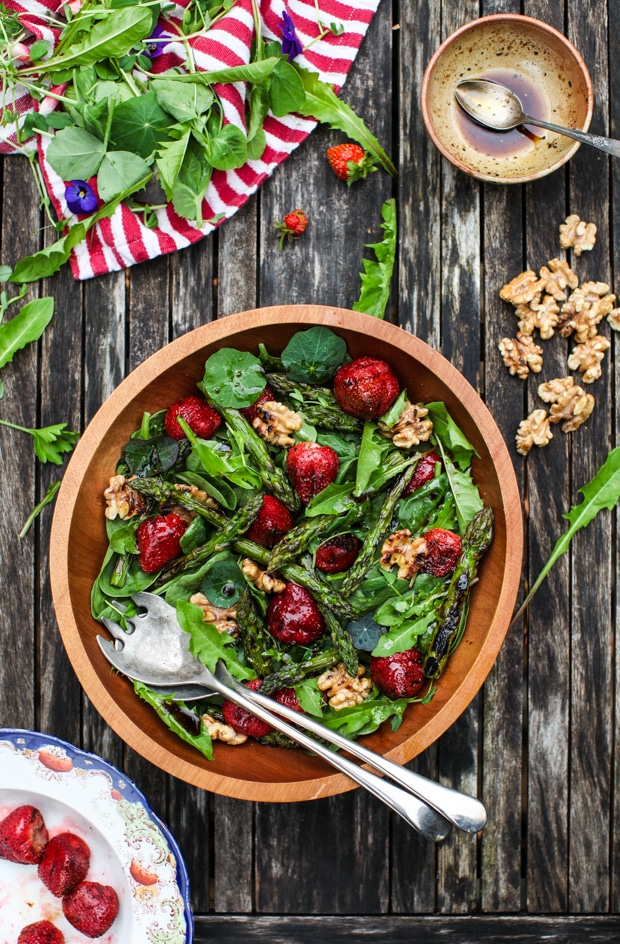 Garden Salad with Grilled Strawberries, Asparagus and Walnuts
Asparagus and strawberries can both be found at the market in June, also making them a likely pairing. Less obvious, however, is the advantages of grilling them both. Over slow burning coals, the strawberries transform into soft, juicy morsels that truly pop with flavour. Their sweetness intensifies, making them the star of our salad and perfect for pairing with young garden greens and a light dressing.
Strawberry-Glazed Grilled Chicken Breasts
This family-style platter of strawberry-glazed grilled chicken breasts and grilled asparagus is served up right off the grill and is unbeatable when it comes to ease.
Sweets with Strawberries
3-Ingredient Fresh Strawberry Pie
A blind-baked pie shell, a few pints of berries and a jar of jelly is all you need for this quintessential summer pie.
No ice cream maker, no problem. Here's an easy, four-ingredient granita to cool you down on a hot day.
Lighter Strawberry Jam Ice Cream Cake
To me, the perfect summer dessert should be fast to make and should also highlight seasonal produce. And if they are not full of sugar, that is another positive. This ice cream cake gets points in all three areas, with the addition of yogurt lightening up the dessert and adding a subtle tang that complements the sweet jam. A great make-ahead dessert for a hot day.
Strawberry Rhubarb Pie with a Whole-Wheat Crust
One of my favourite summer pies; a classic, reinvented with a whole wheat pie crust. Bookmark this pie recipe for any future sweet or savoury pie project.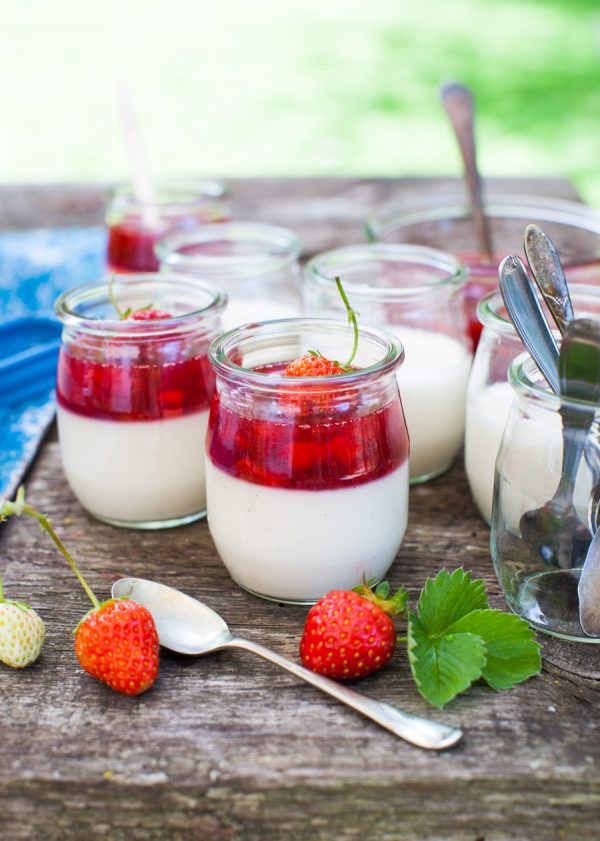 Sour Cream Panna Cotta with Strawberry Compote
Creamy, light-as-air-panna cotta is scrumptious on its own and even better when served with a seasonal fruit compote.
Coconut Cinnamon Tres Leches Cake
Here's a slab cake that feeds a crowd and is improved upon by a gigantic bowl of sliced strawberries served alongside. Bookmark this one for your next backyard barbecue; it's a great do-ahead dessert.
Perhaps the easiest treat of all…Slow-roasted berries take their time in the oven, but then keep in the fridge for a few days, waiting to top a bowl of Simple No-Cook Vanilla Bean Ice Cream. Whipped cream and sprinkles optional.
Honey Whole-Wheat Strawberry Shortcakes
Featuring fresh spring berries, whole-wheat flour, and no sugar to speak of, these extraordinary shortcakes are designed for your weekend brunch.
Preserving Strawberries
The strawberry season is short, but fortunately we can make it last all year long thanks to preserving. You can start by filling your freezer with these Four Simple Methods for Freezing Strawberries from the oooooold archives, then move onto canning.
Quick Pickled Strawberries with Black Pepper and Tarragon
What to do with pickled berries, you might ask? Aside from eating them straight from the jar, try them smashed onto avocado toast, paired with cheese (ideally a creamy Brie) or added to a green salad (like a spicy arugula). Use them to garnish a cocktail or simply drop one or two in sparkling water for an easy and refreshing summer sip.
This vibrant fruit spread is a good way to use up loads of berries and rhubarb. It cooks down slowly, requires very little sugar, and yields a tangy butter that sings of spring flavours.
Here's that classic Spring flavour combination again, married in a low-sugar jam. We consume a lot of jam around our table, in yogourt, on toast and pancakes and this recipe is a mainstay.
When it comes to edible homemade gifts, I believe a jar of strawberry caramel sauce tops the list. Or keep all the jars for yourself and try it drizzled over homemade waffles, vanilla ice cream or lemon ricotta pound cake.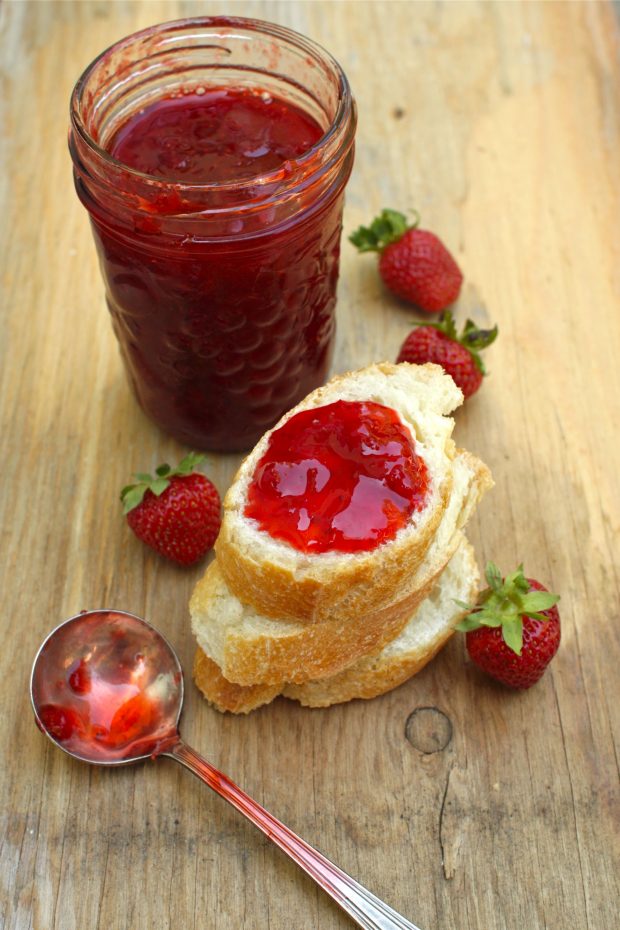 This spring jam is neither boring, common or inferior to other jazzier conserves. It's dead simple, with just four ingredients, and is made without the cups and cups of white sugar that round out most fruit jams. As with many sugar-free jams, it is a tad on the thin side, but don't let that deter you one bit.
Strawberry Meyer Lemon Marmalade
Just when I thought I couldn't love marmalade anymore, my contributor Marissa marries strawberries and Meyer lemons in an unforgettable breakfast spread.
Last but not least…a lassi
Strawberry and Preserved Lemon Lassi with honey and cardamom
I don't have to tell you that strawberries make an incredible smoothie or milkshake, but did you know they are also delicious in a thirst-quenching lassi? This honey-sweetened beverage is the perfect balance between salty and sweet, with just a bit of tang from the yogurt.
So what did you bookmark to make? Are you starting with savory or sweet?