I received a Father's Day pitch recently that made me chuckle: "Surprise him with something different," it encouraged, and went on to suggest that Dad would love the extra thought and effort of " – a home cooked meal".
I guess it struck me as humorous because I thought of Danny and the some 365 home cooked meals he enjoys in a year. It wouldn't be much of a 'surprise' to see the table set on this coming Sunday and dinner on its way. But I know this isn't the case for many dads out there, and a meal, enjoyed around the home table with family, is preferred over a crowded restaurant.
This family-style platter of strawberry-glazed grilled chicken breasts and grilled asparagus is served up right off the grill and is unbeatable when it comes to ease. It's also pretty up there with singing spring flavors too. Serve it with a side of boiled new potatoes and an ice-cold beer and the man of the house will have no complaints.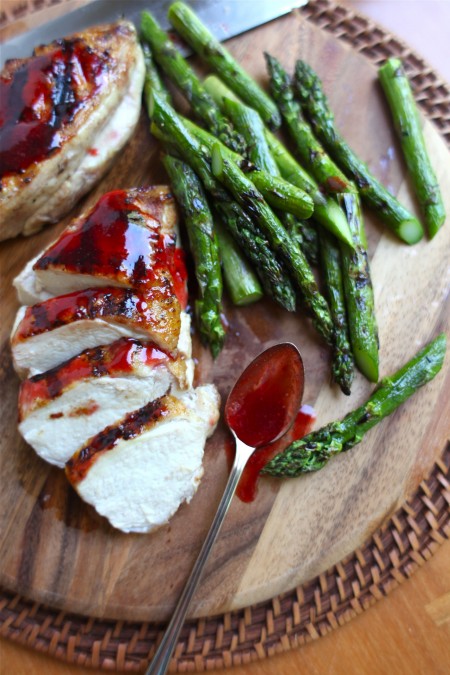 Remember the homemade strawberry vinegar we made last week? Well this week we're reducing it down into a sticky, tangy glaze for grilled chicken.
Reducing vinegar down to a thick glaze is an old restaurant trick; I have decorated many a plate with lines and dots of balsamic reduction. In the reduction process, the water evaporates and the vinegar is concentrated so much it actually becomes quite sweet. It should be used with a light hand though as it is quite potent!
For ease, and to save on pot-washing, I reduced the strawberry-infused vinegar in the microwave. In a few minutes it went from this
to this:
It becomes a vibrant glaze that is sweet and tangy, like a barbeque sauce, and most excellent when paired with the grilled chicken. Here's the recipe. Enjoy!
Ingredients
2

large

chicken breasts

boneless, skin on

1

teaspoon

olive oil

salt & pepper

1/2

cup

homemade strawberry vinegar
Instructions
Rinse chicken breasts under cold water and pat dry.

Rub chicken with olive oil and season all over with salt and fresh ground black pepper.

Preheat grill and prepare it for direct-heat grilling over medium heat.

Place strawberry vinegar in a wide microwavable bowl (I use a soup bowl) and microwave on high for 3 minutes. This reduces the vinegar.

Meanwhile, toss your chicken breasts on the grill, skin side down.

Scrape down the sides of the bowl with a spatula and microwave again for 3 minutes. Stir with the spatula. It should be thicker.

Microwave for one more minute, and the vinegar should be reduced into a glaze, about the consistency of honey.

Once the chicken has had about 5 minutes on the skin side, flip it, and continue cooking another few minutes (time will vary with portion size).

Remove chicken and brush strawberry glaze all over. Allow to rest for a few minutes, then slice diagonally and serve.
Notes
Tip: You can reduce many varieties of vinegar down to a simple sauce or glaze using this quick microwave method. Try it with balsamic, red wine, raspberry, or (my favourite) sherry vinegar.
Nutrition
Calories:
144
kcal
|
Carbohydrates:
1
g
|
Protein:
24
g
|
Fat:
4
g
|
Saturated Fat:
1
g
|
Cholesterol:
72
mg
|
Sodium:
133
mg
|
Potassium:
440
mg
|
Sugar:
1
g
|
Vitamin A:
35
IU
|
Vitamin C:
1.3
mg
|
Calcium:
6
mg
|
Iron:
0.5
mg
More great grilling recipes:
Are you grilling for Father's Day? What's on the menu?