One warm evening after dinner last week, we found the first wild strawberries ripening in our small patch out by the garden. Clara, barefoot and hatless as usual, parted the thick leaves with her small hands and there they were, as bright as rubies and as sweet as candy.
Earlier that same day, I picked up two baskets of the first locally cultivated strawberries, and henceforth there will be strawberries on our table for as long as the season flourishes. We really only eat them when they can be grown ourselves or bought locally, so the arrival of the red gems is much celebrated.
I've promised the children an upcoming dinner devoted entirely to strawberries, as soon as the fruit is at its peak. Today's scrumptious salad will definitely be on the menu, perhaps alongside strawberry-glazed grilled chicken, with fresh strawberry pie or roasted strawberry sundaes for dessert.
We've enjoyed this salad twice now, since I read about grilled strawberries in the most recent issue of Saveur magazine (one of the few food magazines I still subscribe to). It's the grilling issue obviously (June/July) and EIC Adam Sachs turns his editor's note into a nifty tutorial on grilled strawberries.
He sold them pretty well, because I couldn't stop thinking about grilling strawberries – only instead of pairing them with ice cream, as he suggested, I imagined them savoury, over spring greens with loads of black pepper and a brush of balsamic vinegar. It would have to be salad.
Asparagus seemed like a natural pairing for the berries and I dug out a jar of walnuts, too. Everything got tossed on the grill together.
Adam was right. Over slow burning coals, the strawberries transform into soft, juicy (even juicier than usual) morsels that truly pop with flavour. In the 30 minute grilling time, their sweetness intensifies, making them the absolute star of our salad and perfect for pairing with greens and a light dressing.
I foraged in the yard for dandelion leaves and lambs quarters, as well as raided the garden for the first pea shoots and nasturtium leaves (we love them in salads like this one). Together with a generous handful of baby spinach, they became the base of my spring salad.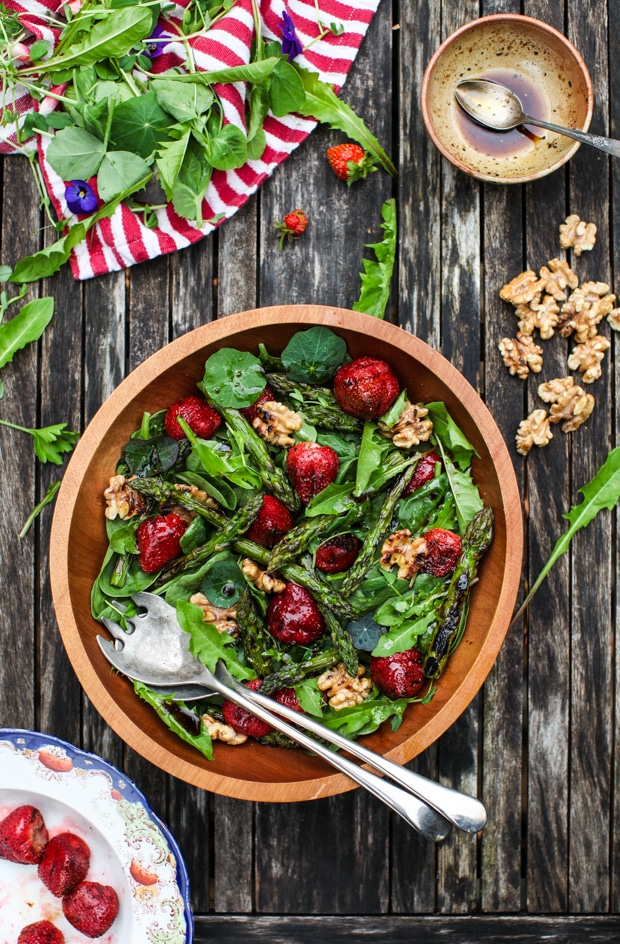 This Spinach Salad with Grilled Strawberries, Asparagus and Walnuts has it all – sweet warm berries, buttery toasted walnuts and crunchy, slightly charred asparagus, paired with just enough leafy greens to meet your salad cravings. Balsamic vinaigrette is a little predictable, but I was going for that classic pairing of strawberries, black pepper and balsamic that needs to be revisited each and every summer.
I didn't feel like the salad needed anything else at the time, but I could see how a crumbling of tangy feta or sharp blue cheese could make it really dinner-party worthy. Or perhaps even a spoonful of soft ricotta on top. Wait, let's grill even more strawberries and serve them with honeyed ricotta for dessert.
It goes without saying that this is the salad to pair with your grillables this summer. So add a few strawberries to the back of the grill the next time you are standing over cedar plank salmon, or bacon and blue cheese sliders,  cumin beef kebabs or the perfect steak.
Spinach Salad with Grilled Strawberries, Asparagus and Walnuts
A vibrant spring salad that will round out any barbecue. Perfect for backyard entertaining.
Print
Pin
Rate
Ingredients
1

lb

hulled strawberries

1

bunch

asparagus

1/2

cup

walnut halves

2

Tablespoons

olive oil

1

Tablespoon

balsamic vinegar

1/2

teaspoon

pure maple syrup

1/2

teaspoon

sea salt

1/2

teaspoon

freshly ground black pepper

fresh spinach or spring greens
Instructions
Preheat grill to 300F. If using charcoal, pile coals on two sides of the grill, leaving the middle for indirect heat cooking.

Place strawberries on indirect heat to begin the slow cooking. Turn them a few times, but mostly just let them slowly cook and transform over about 30 minutes.

Trim the asparagus, leaving 3 inch tips. Skewer the tips about halfway up the stalk with a bamboo or metal skewer. You can pile on about 8 or so. Brush lightly with olive oil.

Grill asparagus quickly over direct heat, about 3-5 minutes (grills will vary). You want to get a little charring on them, but not cook them completely. Set aside to cool to room temperature.

Throw walnuts into a pie pan or grill pan and toast them over the grill as well. Cool.

In a small bowl, whisk together olive oil, balsamic, maple syrup, salt and pepper until emulsified.

Pile spring greens high in a large salad bowl. Arrange grilled asparagus and toasted walnuts on top.

Just before serving, add grilled strawberries to the salad and drizzle with vinaigrette. Serve at once.
Notes
Pine nuts would be delicious in place of the walnuts. Slivers of red onion are also a great additional topping.
Nutrition
Eat Seasonal:
Headed up by Becky of The Vintage Mixer, our seasonal eating bloggers group is back with more inspiration for June produce.
What would be on your strawberry-themed dinner menu?