Step into any book shop these days and you will be greeted by a fresh array of new spring cookbooks. It's hard to know which ones are keepers amid the wide selection.
A large percentage of these books come across my desk, and I spend many evenings reading them cover to cover. In spring and in fall, the busiest times for publication, cookbooks are my novels. I binge on them like a cult Nexflix show. A few make it to my kitchen, a handful more remain on my shelf, and the rest go on a pile to give away.
Fellow Canadian food blogger Allison Day has a new cookbook, Whole Bowls, and it landed in my hands a few short days before my Noah was diagnosed with pneumonia. This was a few weeks ago, when I was sufficiently 'done' with winter produce, yet I became excited to cook while reading Whole Bowls – the first sign of a great cookbook.
That whole week I was tied up at home tending to my sick boy. I didn't get out to the market at all and yet I was able to cook every day from Whole Bowls, thanks to carefully curated recipes that draw from a well-stocked pantry and kitchen. For starters, I remembered a bag of frozen cherries at the bottom of my chest freezer and whipped up Allison's Yogurt Bowls with Cherry Pesto and Hazelnut Oil-Toasted Oats (pictured above). Simple, scrumptious and definitely something different.
Since I was playing nurse and slightly distracted during those days, I really appreciated how every recipe provided 'make ahead' tips and were broken down into manageable steps that could be done at any time of the day. Whenever a recipe seemed complicated at first glance, upon closer inspection I found it was presented in a way that was simple and doable.
I started by following Allison's recipes very closely, such as the Roasted Broccoli Orzo with Basil Dressing, and my boys gobbled it right up. Another night we dined on the Emerald Bowls with Mozzarella and Pea Hummus – a hearty bowl of roasted vegetables, fluffy quinoa and a punchy, bright green hummus. I added a drizzle of balsamic vinaigrette (it's shown in the photo but there is no mention of the dressing in the recipe) and a sprinkling of sunflower seeds for a bit of necessary crunch. Delicious!
After those dishes, however, I took my cues from Allison's 'Whole Bowls Formula' and cooked from my fridge and pantry, compiling my own 'whole bowls'. All in all, this worked out very well and is precisely what the author encourages with her main recipes composed of 'mini' recipes.
One evening I scrabbled together roasted sweet potatoes with lentils and topped them with avocado, Allison's Chickpea Croutons and her Tahini Dressing. It was a mishmash of several recipes and utterly satisfying (pictured below). It also helped me stay on track for my Pulse Pledge in 2016.
Now for the really exciting part: Allison's cookbook prompted me to make harissa from scratch for the first time. I already make a lot of my own condiments like relish, ketchup, salad dressing and pesto, but harissa was new territory. And how easy it was!
A recipe for Rainbow Vegetable Slaw with Harissa Dressing got me started. Boy that is one heck of a slaw, with loads of chopped mint, chickpeas, heaps of orange slices and toasted pistachios to finish. I made it for Danny for one of our 'date night's in' and presented it with a disclaimer: "Now it looks a little strange, but trust me, it's incredible." (The harissa dressing with a dollop of yogurt kinda turns the whole bowl a pale pink, but as far as pink slaw goes, it's the best I've had!)
You'll have to pick up a copy of Whole Bowls for that fantastic slaw recipe, but today I'll share with you the ever-so-easy homemade harissa paste. Keep reading!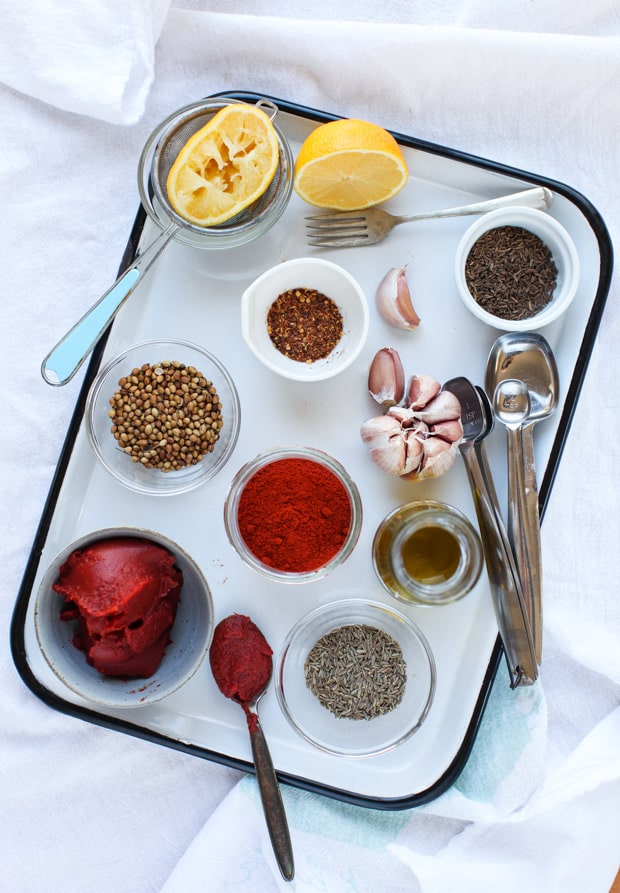 Quick Homemade Harissa
Harissa is a condiment that has deep roots in North African cuisine, but has slowly made international status in kitchens all over the world. It's a heavily spiced chili pepper and garlic paste, traditionally used for meats and fish and couscous dishes, but has found it's way into many, many more.
Nowadays if you type 'harissa' when searching Pinterest, you'll see it blended with chickpeas for an exotic dip and roasted with carrots and fennel (it's particularly delicious paired with carrots). You can find harissa in fusion dishes liked these chicken enchiladas and harissa lamb tacos. The more chili paste, the merrier, in my opinion.
In my kitchen, I love roasting a whole harissa-rubbed chicken and serving it over a mound of fluffy couscous. It's incredible on a grilled pork tenderloin, and delicious with maple-glazed carrots. I also adore harissa in a creamy salad dressing, as the yogourt or creme fraiche balances out the heat. I pour it on hearty grain salads, leafy greens and slaw-types too, as inspired by Whole Bowls.
Quick Harissa
Adapted from Whole Bowls by Allison Day. I love Allison's shortcut harissa recipe using tomato paste and dried chilis. I also added coriander seed to the mix and toast all the spices before grinding them.
Print
Pin
Rate
Ingredients
2

teaspoons

caraway seeds

1

teaspoon

coriander seeds

2 1/2

teaspoons

cumin seeds

2

large cloves

garlic

(or 3 small cloves), peeled

1

Tablespoon

crushed red chili flakes

1

Tablespoon

smoked paprika

1

Tablespoon

freshly squeezed lemon juice

6

Tablespoons

tomato paste

1/4

cup

extra virgin olive oil
Instructions
In a small sauce pan over medium heat, gently toast the caraway, coriander and cumin seeds until fragrant, about 3-4 minutes. Stir them occasionally and do not walk away, as they can quickly scorch.

Cool spices, then finely grind them together. Here's how I

grind spices

.

In a food processor fitted with the blade attachment, pulse the garlic until minced.

Stop the processor and add the ground spices, chili flakes, paprika, lemon juice, tomato paste and olive oil. Blend together, scrape sides of the processor and blend again until a smooth paste.

Transfer the harissa to a clean glass jar. Cover and store in the refrigerator.
Notes
Harissa will keep, refrigerated, for two weeks, or frozen, for up to 2 months.
When I don't want to dirty my food processor, I make the harissa in my mortar and pestle. It requires a little more effort, but works just as well.
Nutrition
Serving:
1
Tbsp
|
Calories:
3
kcal
|
Sodium:
5
mg
|
Potassium:
7
mg
|
Vitamin A:
40
IU
|
Vitamin C:
0.2
mg
|
Calcium:
1
mg
|
Iron:
0.1
mg
Freezing Harissa
Since I am dirtying the food processor, I make a double batch of harissa and freeze the rest for future recipes. You can use an ice cube tray, as I do in the photo above, or simply freeze tablespoon-sized portions on a parchment-lined baking sheet. Once they are sold, transfer the frozen portions into freezer quality zip-top bags and store in the freezer for a few months.
More from Whole Bowls
Whole Bowls is staying in my kitchen for a while yet. I still have to try Allison's Risalamande with Cardamom Cherries. I adore rice pudding and can't wait to sample this Danish version.
Please be sure to check my fellow food blogging friends and see what they have cooked up from Whole Bowls.
Jenny from The Brunette Baker
Charmian from The Messy Baker
Heather from The Tasty Gardener
Jan from Family Bites
Kelly from KellyNeil.com
Louisa from Living Lou
Mardi from eat. live. travel. write
Marilyn from MairlynSmith.com
Happy cooking this week, friends. I'd love to hear what is inspiring you in the kitchen lately. A new cookbook? Condiment?