If there is one fall tradition I uphold above all, it is making and freezing pesto. Pumpkin spice lattes we can take or leave, but we simply cannot be without multiple batches of homemade pesto as we head into winter.
I keep an eye on the frost warnings, but generally I harvest my herbs during the last week of September. All the basil is set aside for pesto – and a good bunch of the parsley and oregano, too. We like variety in our pesto; it makes up for the fact that we are decidedly unvaried in our use of the sauce. Yep, you guessed it: pasta. I am the mother of three children, after all.
Pizza closely follows pasta as a vehicle for enjoying homemade pesto. There's hardly a winter pizza we make that doesn't take a spoonful of the sauce, like this Brussels Sprout, Walnut & Pesto Pizza. Ohh, la la.
Here's how my autumn pesto blitz goes down, plus a recipe for a new favourite: Oregano Hazelnut Pesto.
On pesto-making day, the counters are overflowing with ingredients. The herbs are well washed and spun dry in a salad spinner. The block of parmesan cheese is shredded in the food processor, cutting down on prep time. A whole braid of new garlic is on hand, because we like our pesto to be pungent.
Occasionally I will use pine nuts, but for big batches of pesto, I swap in organic pepitas – shelled pumpkin seeds. They are kind of a super seed, downright delicious, and a lot less expensive than pine nuts.
Also, since my boys frequently take a thermos of penne with pesto to school, it has to be made with seeds instead of nuts. If you haven't tried swapping pepitas for pine nuts in your favourite pesto yet, you're in for a nice, nut-free surprise.
Shaina got me hooked on pesto with parsley, brightened up with a squeeze of lemon juice. It yields a vivid green pesto that is scrumptious with roast meats or spread on tomato sandwiches.
Below is a sampling of the pesto I recently froze for winter weeknight dinners. The parsley is at the top, the oregano at the bottom, and the basil is on the left of the image. They are all delicious. I dab a little olive oil on the top, then freeze them right in the jars.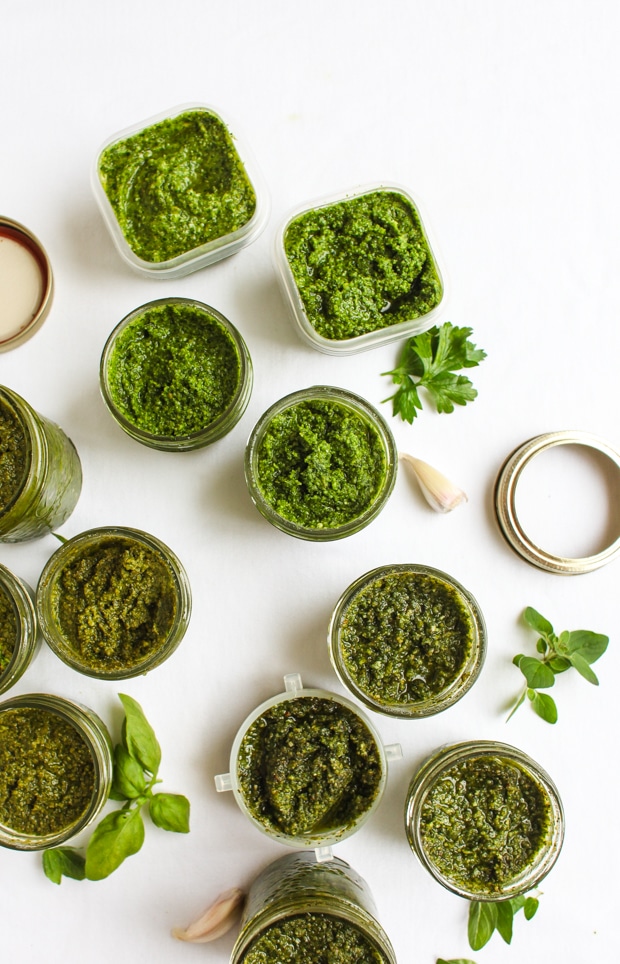 Try this oregano hazelnut pesto over my Lemon & Oregano Roast Chicken, or these Polenta Crusted Roast Potatoes. Or, you know, pasta all week long. Just don't send it to school.
Oregano-Hazelnut Pesto
Adapted from Saveur: The New Classics Cookbook, this spin on pesto utilizes a garden perennial that grows in abundance: oregano. Delicious on roast chicken or squash, and definitely a good match for light pasta dishes.
Print
Pin
Rate
Ingredients
1 1/2

cups

packed fresh oregano leaves

1/2

cup

fresh basil leaves

1/2

cup

grated Parmigiano-Reggiano

1/3

cup

toasted hazelnuts

2

cloves

garlic

3/4

cup

extra virgin olive oil

1/2

teaspoon

sea salt
Instructions
In a food processor fitted with the blade attachment, add herbs, cheese, hazelnuts and garlic.

Process for 15-20 seconds or until finely chopped. Stop the processor and scrape down the sides.

Pour in the olive oil and sprinkle the salt in as well. Cover and process again until smooth.

Transfer to a 250mL jar and store in the refrigerator for up to a week, or freeze for up to 6 months.
How do you like to use pesto for family meals?