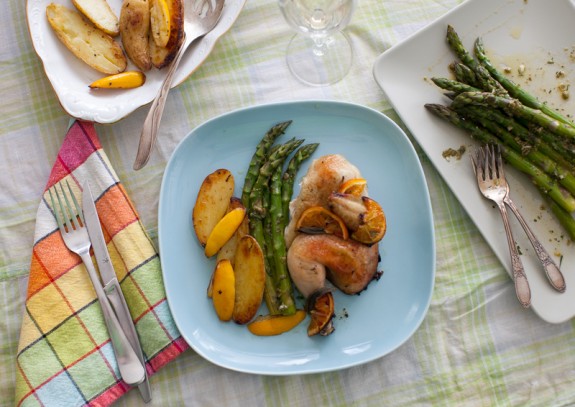 Buying potted yellow tulips, playing with bright flavors in the kitchen, and digging out my pair of summer Toms (even if only wearing them indoors) are a few of the motions I must go through during this time of the year to try and feign a feeling of spring.
It's late March and the snowbanks on either side of our driveway tower over my head like steady ramparts, as if barring spring from ushering in wildflowers and fresh clover. It's unfathomable to think that we will have a green Easter, although I can recall many an egg hunt in the past enjoyed in the grass, not to mention brunch on the patio. This year will be different and that's okay.
Since we are barreling toward the Easter long weekend, it's time to do a little menu planning. Mother Nature may not be on board, but perhaps that won't matter, as we'll be to busy tucking in to…this.
I made this menu for a recent Sunday dinner (remember, I'm bringing back the tradition for our family) and while I was setting the table and whisking together the mustard vinaigrette, it struck me that the meal would make a lovely, small scale Easter dinner.
The whole meal came together in just under an hour and featured Sunday dinner classics: roast poultry, young potatoes and fresh asparagus. Each component was simply prepared, but packed a punch of flavor thanks to vibrant pairings with ingredients such as Meyer lemons, capers, mustard and blood oranges.
Perhaps you'll only be joined by a friend or two for the holiday meal, or celebrating Easter with a few family members around the table. If you are, and don't wish to spend half a day in the kitchen, then this menu for you.
I would suggest beginning the celebration with a pretty plate of Guacamole Deviled Eggs, and finishing with these Easter Pavlovas with Lemon Whipped Cream and Vanilla-Rhubarb Compote. Of course there's always Mini Lemon Tea Cakes that are idea, too.
If you're not hosting on the upcoming holiday, bookmark this post for your next Sunday dinner. Better yet, forward it to your husband and drop a hint about Mother's Day. Either way, be sure to enjoy these recipes this spring.
Hit the jump for three recipes for a simpler, smaller Easter dinner menu.
Roasted Cornish Hens with Blood Oranges and Sage
Tender Cornish hens make for an elegant presentation on the dinner plate, plus they roast up much faster than a whole chicken. These ones are marinated in orange juice, garlic and fresh sage for a slightly sticky and utterly scrumptious glaze. Note that the recipe calls for an hour-long marinade for the birds, so be sure to factor that into your schedule.
Print
Pin
Rate
Ingredients
2

fresh Cornish Game hens

2

large cloves

garlic

2

blood oranges

1

small bunch

fresh sage

1

Tablespoon

olive oil

Salt and pepper
Instructions
Using poultry shears or a sharp knife, cut the backbone out of the hens, starting at the neck and working down toward the tail. Turn the hen skin-side-up and press down on the breast bone to flatten the hen.

Thinly slice the garlic, juice one blood orange, and pluck about 10 pieces of fresh sage from their stems. Prepare the marinade in a small bowl by combining sliced garlic, orange juice, sage leaves and olive oil together.

Place the hens in a casserole pan or other low shallow pan large enough to fit the two flattened hens. Pour the marinade over, coating the birds on both sides.

Slice the remaining blood orange in half-moons, and tuck those around and under the hens.

Allow to marinade at room temperature for an hour or up to 6 hours in the refrigerator.

Heat the oven to 425 degrees. Season hens with salt and pepper and place in the oven. Roast for 10 minutes, then reduce the temperature to 375F. Cook for another 40 minutes, then check for doneness. Remove from oven and allow to rest for 5-15 minutes.

Serve in the pan or on a platter. Cut Cornish game hens down the middle and serve a breast and a leg to each guest.
Nutrition
Calories:
489
kcal
|
Carbohydrates:
1
g
|
Protein:
38
g
|
Fat:
35
g
|
Saturated Fat:
9
g
|
Cholesterol:
227
mg
|
Sodium:
137
mg
|
Potassium:
553
mg
|
Vitamin A:
260
IU
|
Vitamin C:
5
mg
|
Calcium:
47
mg
|
Iron:
2
mg
Roasted Fingerling Potatoes with Lemon
Lemons caramelize and sweeten slightly when roasted, and these Meyer lemons pair beautifully with the young potatoes. You can use regular lemons as well, and small potatoes too, but the fluffy Fingerlings and Meyer lemons help to elevate the dish into something truly worthy of the holiday.
Print
Pin
Rate
Ingredients
1 1/2

lbs

fingerling potatoes

or small yellow potatoes

2

small

Meyer lemons

2

Tablespoons

olive oil

1/2

teaspoon

salt
Instructions
Preheat oven to 375F (it may already be on for your hens).

Slice Fingerling potatoes in half lengthwise and add to a shallow roasting pan.

Slice lemons into eight wedges, remove any seeds, and add to the potatoes.

Toss both potatoes and lemons with olive oil and salt, distribute evenly around the pan, and then place the pan in the oven.

Roast for about 15 minutes, then check to see if the potatoes are browning evenly. Stir everything around if needed. Cook for about another 15 minutes or until potatoes are crispy on the outside and tender in the center.

Remove from oven, taste for seasoning, and serve hot.
Nutrition
Calories:
193
kcal
|
Carbohydrates:
30
g
|
Protein:
3
g
|
Fat:
7
g
|
Saturated Fat:
1
g
|
Sodium:
301
mg
|
Potassium:
716
mg
|
Fiber:
4
g
|
Sugar:
1
g
|
Vitamin C:
33.7
mg
|
Calcium:
20
mg
|
Iron:
1.3
mg
Asparagus with Mustard Vinaigrette & Capers
Tangy mustard, salty capers and a sprinkling of parsley pair perfectly together to liven up an otherwise dull plate of asparagus. Both vinaigrette and cooked asparagus can be made up to a day in advance and gently reheated just before serving.
Print
Pin
Rate
Ingredients
2

bunches

asparagus

bottom third of the stems removed

1

Tablespoon

capers

drained

2

Tablespoons

fresh parsley leaves

1

Tablespoon

apple cider vinegar

1

teaspoon

Dijon mustard

3

Tablespoons

olive oil

1/2

teaspoon

salt

1/4

teaspoon

fresh cracked pepper
Instructions
Bring a large pot of salted water to a boil and drop the asparagus in to blanch. Cook for about 4-8 minutes depending on their thickness. They should be tender when pierced with a fork, but still retain their bright colour.

Using a slotted spoon or tongs, remove asparagus and allow to cool in one layer on a tray or baking sheet. (I don't immerse in cold water as I value flavor over color.)

Finely chop capers and parsley, then add them to a small bowl. Add in vinegar, Dijon, olive oil and seasonings and mix to combine. Your vinaigrette is ready to go.
To serve:
Arrange asparagus on a serving platter and drizzle the mustard vinaigrette over the top. Serve at once, with extra vinaigrette on the side.
Nutrition
Calories:
93
kcal
|
Carbohydrates:
6
g
|
Protein:
3
g
|
Fat:
7
g
|
Saturated Fat:
1
g
|
Sodium:
244
mg
|
Potassium:
310
mg
|
Fiber:
3
g
|
Sugar:
2
g
|
Vitamin A:
1245
IU
|
Vitamin C:
10.1
mg
|
Calcium:
38
mg
|
Iron:
3.3
mg
Are you hosting at all over the Easter long weekend? What's on your menu?