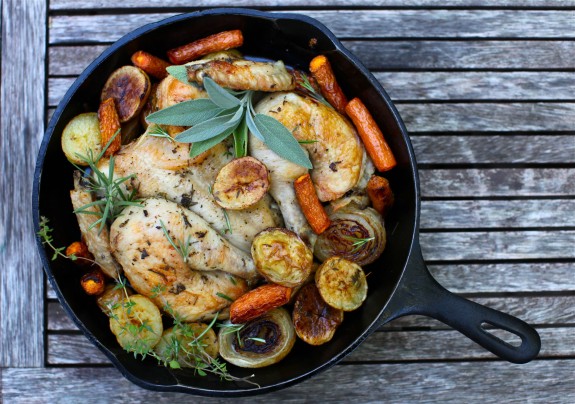 As much as I have been crushing on summer lately, it will be a relief to get into a fall routine. The last month has been deliciously scattered, with more waffle breakfasts than I can count, but I also can't match one. single. pair of socks. We need some order restored.
This week begins our entry back into school. I'm packing Noah off to Grade 2, Danny out the door to work, and dropping Mateo at French-immersion preschool three afternoons a week. What Clara and I are going to do with our girl time remains to be seen. Perhaps we'll whip this household into shape. Perhaps not.
At any rate, restoring order to our meals is my first priority. I kinda blew the food budget for my recent birthday dinner/harvest party (totally worth it) and am planning a lean September, which shouldn't be that hard, considering produce prices are at their lowest right now and I have a well-stocked pantry of dry staples.
Cracking down and spitting out a weekly menu plan is also part of my plan to save money this month, as well as help us stay organized for busy school days. I'm no stranger to the menu plan, but it kind of goes out the window over the summer weeks.
If you like, you can brush up on your meal planning basics with these 9 Tips to Successful Menu-Planning. And without further ado, here is my meal plan for the week:
Menu plan for August 27 – 31
Monday – I have a mound of peaches to preserve in syrup this day, so a fast dinner is best. We also like to go meatless on our Mondays, AND we have an excess of our own eggs. So the easy solution is Crustless Quiche, with basil, corn & Parmesan, because I have all of those ingredients on hand. Plus a huge tomato salad, as every tomato on my counter is ripening.
Tuesday – Basil is two feet high in the garden and a big batch of pesto for freezing is penciled in for today, so pasta is an obvious choice for dinner. Penne with Pesto, with some slow-roasted cherry tomatoes tossed in, plus a huge green salad.
Wednesday – Mid-week calls for a roast chicken, one that I can use for leftovers in lunches. I have a whole bird in my freezer and root vegetables dug up from the garden, so there's nothing coming out of the bank account for this meal.
Thursday – It's just me and the kids for dinner, as Danny has a charity golf tournament. We'll stop off at a roadside stand and pick up corn and watermelon for dinner. That's it. And no one will complain. I'll probably have mine with mint & feta butter, because I've got those ingredients on hand also.
Friday – I've been craving pizza, and tonight's the night. It may be grilled pizza, or more traditional, but will definitely use up any leftovers from the week, such as pesto, plus I've got my own garden peppers that are ready! Pizza dough is from this excellent recipe, and pizza sauce is in the freezer.
If you're looking for more help with menu planning, Jessica is running an excellent little series on Meal Planning 101 over on Good, Cheap Eats.
Baking –
Cookies must happen for school lunches, and these Honey-Oat Cookies with Chocolate Coated Sunflower Seeds are in the works. No nuts!
We'll need a few dozen of these best muffins ever for after-school snacks, which I'll make with grated zucchini and chocolate chips. Katie has a lot more creative ideas for homemade after school snacks.
Bread baking is on the back burner as I am focusing on canning & preserving this week (month!), but I have some in the freezer to help round our school lunches.
Week's Shopping List:
mozzarella or other pizza cheese
mushrooms (pizza must-have)
cherry tomatoes (unless enough ripen in the garden by then)
pine nuts (for pesto)
corn
watermelon
milk
That's it! I'd say $20 should cover it.
What's something you have planned for dinner this week?