Written by Danny Bourque.
This summer we will have eggs. This winter we will have soup. Mission Accomplished: we now have backyard chickens.
As with most home renovations I tackle, it seems it took a lot longer than anticipated – almost 5 months longer – but the coop is finally complete, and we got the chickens on Monday. I know I tend to be somewhat overly analytical, over prepare and plan before embarking on a venture, and this was no exception. Nevertheless, it's done.
Diana recently wrote about the benefits of farm fresh eggs, and we are looking forward to our own eggs and being a step closer to a sustainable lifestyle. This is the story, and some tips on what to consider if you want to get your own backyard chickens.
The experience and adventure has just begun…
The Seed:
My amazing in-laws got us a housewarming gift when we moved – Storey's Guide to Raising Chickens
; according to others, this is the book to go to if you have a question about chickens, but are not a vet.
We had upgraded to our 1/3 acre within city limits of a major metropolitan area, and had acquired the beginnings of our "family farm".
The seed was planted, and I added "backyard chickens" to my list of home projects,   In an attempt to be thorough, I tried to read the book cover-to-cover first in order to become an "expert" on all things chicken. This did not work out.
There is way too much information that was not relevant for my situation. For example, I don't live on acres and acres of farmland with a tractor to move my portable coop. I also don't have multiple animals to house together to promote the possible synergies of having, say, chickens in with my cows.
I had asked at city hall about the legality of getting chickens before buying our house (to a bemused smirk by the clerk), and was told that there was no law against having chickens, but if they received complaints, we would have to do something about them.  As I hadn't gone around the block asking permission of all my neighbors yet, and didn't want to invest too much if someone was cranky that morning, I was looking for minimal investment.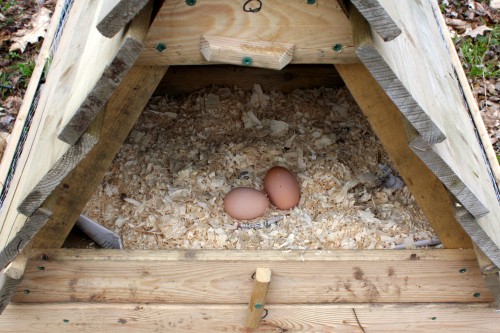 The Plan:
Storey's guide said that there are 12 elements to making a good chicken coop, namely:
is easy to clean;
has good drainage;
protects the flock from wind and sun;
keeps out rodents, wild birds, and predatory animals;
provides adequate space for the flock size;
has a place where birds can roost;
has nests that entice hens to lay indoors;
offers plenty of light – natural and artificial;
includes sanitary feed and water stations;
Three of them seem rather hard to use as a selection guide when looking at coop plans:
is well ventilated;
is free of drafts;
maintains a uniform temperature; (Seriously. How are you supposed to validate this when looking at a plan?)
The Research
I spent a lot of time on a lot of websites looking for something that was within my price range, but wasn't a huge structure.  Okay, truth be told, I spent way too much time online looking at chicken coop plans, whether the free ones or paid. I probably looked at between 30 and 40 before I found something that was to my scale and looked manageable.
I have to say, the ones from Horizon Structures are pretty stylish (i.e. Aimée thinks they are pretty), offer a lot of sizes and options, and seem to have all of the elements of a good coop as outlined in the book. If you're looking for a kit or pre-assembled coop, check them out.
However, after much pining, I decided I didn't want a fully assembled coop or even a kit – I wanted to "do it myself" and get my hands dirty. And that's how I stumbled upon the Catawba ConvertiCoop, whose ebook has both plans and a good pre-ambule about how to "market" and get approval for your chickens in your community.
Getting Started
Last fall, it seemed that we had so many projects on the go, and the coop building was low on the priority list. A few times, I'd get on fire and try to crank out as much as I could after work (I wanted to have everything pre-cut first before starting – but there are a lot of cuts!), but after getting the kids to bed, and the sun setting earlier and earlier each day, I'd find myself out in the dark at night with my power tools running and thinking: "Hmmm, this is probably a bad idea. I should have opted for a kit."
Finally, I decided to put all the cut pieces and lengths away under a tarp for the winter, crossed my fingers that the wood wouldn't warp and waited for snow. One week later, the whole thing was covered in a thick blanket of white.
Fast forward to this spring, where I eagerly shoveled off the deck with one sole mission in mind – get the coop finished. This past Easter weekend, my weekend-carpenter dad offered to come up and help me get it done. Extra help and motivation!
I (admittedly) shirked my responsibilities in helping Aimee get set up for our Earth Day Picnic and used the extra set of experienced hands to do about 80% of the work in just 2 hours. The coop was completed later that evening with Noah helping.
The Birds:
Our neighbor tipped me off on the place to go to get some local laying hens.  I'd like to say that we got some heritage specialty birds with pretty blue eggs, but when I asked our local farmer what breed of chickens he had available, he looked at me quizzically, paused, scratched his head, and then declared emphatically, "Brun!" Hmmm, does this guy really know his stuff or what?
More research revealed another local source who have Ameraucana's, but are available only by the end of June, which is too late for us.  Oh well, maybe we'll get the fancy ones next year.
The kids were excited as all heck when we were getting them, fancy or not.  Noah practically held the guy's hand as we walked to where the chickens were, and as the door was opened, Noah's eyes opened even wider, and he clucked a boy's hello to all the chickens.  On the way back to the car, he continued to cluck, this time with thumbs in armpits and flapping his arms.
Mateo was also entranced with the birds – but in a different way, it seems.  As we were heading home with our 5 "brown" chickens in their boxes, Mateo chirped from the backseat with a silly look on his face: "What are we having for supper tonight, Mama?  Chicken?"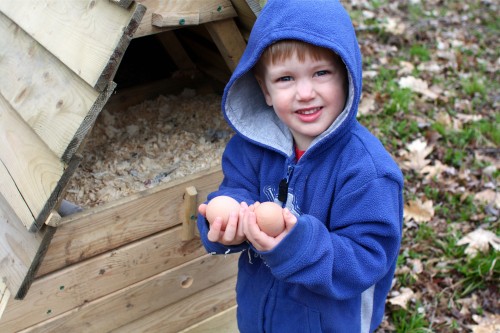 Yesterday morning we awoke to 3 eggs. How cool is that!
I hope to not spend all my weekends staring at the chickens like Leah, but now that we actually have some, I can see how that could totally happen.
We don't have the climate or the coop to keep the birds over the winter, so they'll probably end up in our freezer in the fall.  If planning on keeping the chickens over the winter, I'd need a different coop, and based on how long it took to get this one together, I should have started a month ago.
This post is brought to you by Horizon Structures, which offer a complete line of chicken coops that are shipped fully assembled and ready for use. Take a look at all their simple, functional and handsome designs.

Would you like to raise chickens? How important are farm fresh eggs to you?