Written by Marisa of Food in Jars.
In 1988, my family packed up our station wagon and migrated north from Los Angeles to Portland, Oregon. I went from being a kid who'd never seen snow to one who was intimately familiar with mittens, scarves and moisture-wicking rain jackets.
Since then, I've always made the choice to live in climates that feature four distinct seasons (my younger sister went the opposite way and fled to Austin, Texas as soon as she was able). While I continue to be entirely pleased with my chosen city and its weather, I do find that come January, I need a little help dealing with the short, dark days.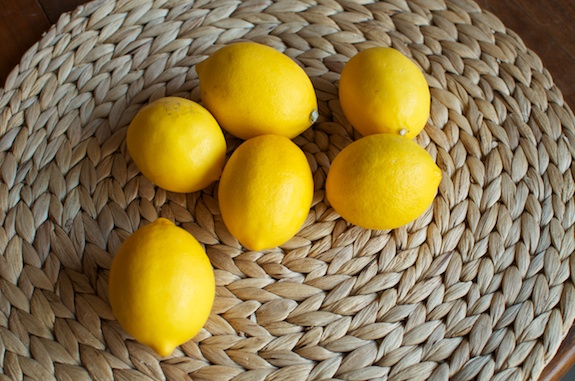 Where most people might choose sun lamps or strategically timed visits to points south, I ward off the effects of the winter blahs with prodigious doses of citrus. I buy clementines by the box, fill cellophane bags with navel oranges and once a season, splurge on a ten pound shipment of Meyer lemons from the Bay Area.
I make marmalade, curd, jelly, caramel sauce, infused sea salt, flavored olive oil, dried slices and salt preserved lemons. All told, I spend nearly two full weeks celebrating the fragrance and flavor of these sweet, thin-skinned lemons.
Of all the things I make during my yearly Meyer lemon binge, the preparation I find that I value most in my year-round cooking is those salt preserved lemons. Traditionally a staple in Moroccan cooking, I use them in salad dressings, braises and grain salads. They do good work in any dish that needs a little acidic funkiness and they last forever.
Preserving lemons in salt is dead simple. If you search the internet, you'll find a variety of techniques on how to do it. Some will recommend that you slice the lemon into quarters, leaving the fruit barely attached at the base. Others will have you slice or chop the fruit into bits. I've found that it's most expeditious to cut small lemons into sixths. They pack well into mason jars at that size and the pieces are easy to work with once they're ready to use.
Once the lemons are sliced, you drop a few spices into the jar, and then layer the lemons with kosher salt. Apply a tight-fitting lid and shake the jar once or twice a day, to encourage the juices to flow. Let them sit for two to three weeks at room temperature, until the lemon rinds have gone soft and glossy. At that point, you can pop the jar into the fridge. When you're ready to use them, simple give the segments a quick rinse and chop. Some people prefer to only use the peel, but I like the flavor that the flesh lends as well.
How do you use citrus in your kitchens during the winter months?
Ingredients
1

pound

Meyer lemons

preferably unsprayed

1/2

cup

kosher salt

I like Diamond Crystal

1

stick

cinnamon

1/2

teaspoon

black pepper corns

1/2

teaspoon

whole cloves

1/2

teaspoon

allspice berries
Instructions
Wash the lemons well. Trim away the stem end and slice the lemons into six segments per piece of fruit.

Place the spices into a large, wide mouth jar (choose one that can hold at least 24 ounces).

Pour one tablespoon of kosher salt into the bottom of the jar and pack in the first six slices of lemon. Top lemon with salt and then more lemon and continue to alternate until the jar is filled and you're out of lemons and salt.

Place a tight-fitting lid on to the jar and shake.

Let the jar sit in a cool, dark place for 2-3 weeks.

Shake the jar daily to help distribute the salt, spices and liquid.

Open the lid every few days, to allow the lemons to breathe and to release any fermentation pressure.

Once the lemon skins look soft and the liquid has taken on a pleasantly funky, tangy taste, put the jar in the fridge. They will keep up to a year.
Nutrition
Calories:
154
kcal
|
Carbohydrates:
49
g
|
Protein:
6
g
|
Fat:
2
g
|
Saturated Fat:
1
g
|
Sodium:
56600
mg
|
Potassium:
626
mg
|
Fiber:
16
g
|
Sugar:
11
g
|
Vitamin A:
100
IU
|
Vitamin C:
241.4
mg
|
Calcium:
204
mg
|
Iron:
3.7
mg