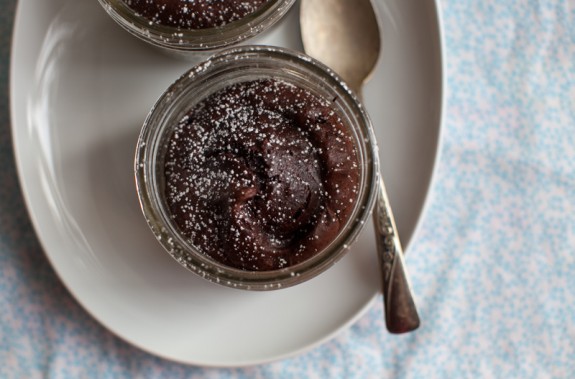 This week I'm continuing to make memories with my children and explore the local food culture in sunny Mexico, but I had to take a bit of time away to share about a recent Sunday dinner  we enjoyed with company before we left.
It wasn't a fancy spread, but it was almost entirely prepared a day in advance, and came together in just a few minutes on Sunday at midday.
When I first wrote about bringing back Sunday dinner, many of you expressed concerns about timing and asked for tips on preparing a midday main meal on what is supposed to be a relaxing day. Others had sporting events or church on Sunday morning, but still wished to embrace the family tradition of Sunday dinner.
Today's do-ahead menu is a prime example of how a little planning can go a long way.
A Sunday Dinner do-ahead menu
I tend to visit the market on a Saturday morning and do a portion of my cooking in the afternoon, when my children are having their down time. For this menu, I prepared the main dish, side vegetable, salad dressing and dessert during this kitchen time. On Sunday I only needed to prep the salad, warm the chicken and sweet potatoes and slice the bread and dinner was served.
Chicken with 40 Garlic Cloves: a braise can be a beautiful reheat, especially when perfumed with slow-cooked garlic & white wine.
Whole Miche bread, butter (purchased)
Chocolate Beet Molten Cakes (recipe below)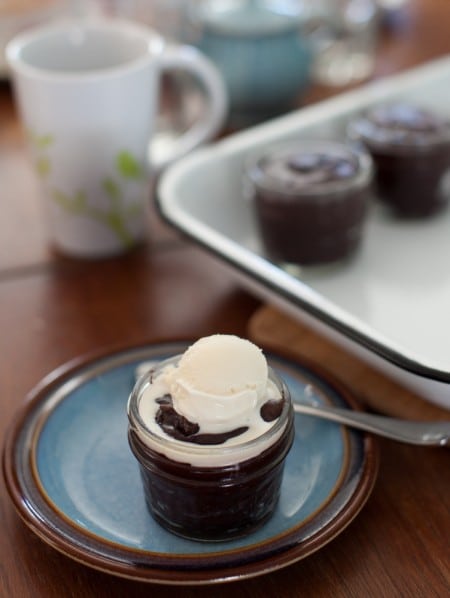 I mixed up my Sunday dinner dessert in advance – chocolate beet molten cakes – and spooned the batter into 125ml glass canning jars (regular ramekins work also). They were covered with plastic wrap and refrigerated overnight, which abetted, I think, that dynamic flavor combination.
Ten minutes before it was time to serve dessert, I popped a tray of cakes into the oven and they baked in the time it took to make and serve coffee. It's hard to imagine a better decadent do-ahead dessert.
This recipe hails from the cookbook, Small Plates and Sweet Treats, by Aran Goyoaga, and is the prefect do-ahead dessert for Sunday dinner – or any meal that you wish to round out with a dark chocolate finish. The soft individual cakes are naturally gluten free and are served up in ramekins or jars.
The addition of roasted, pureed beets to the batter brings a mild earthy flavor that most guests won't detect, and helps to balance out the richness of the other luxurious ingredients.
Whether you try these molten cakes for Valentine's Day or your next Sunday dinner, you're about to discover that they are a real crowd-pleaser, secret ingredient and all.
Chocolate, Almond & Beet Molten Cakes
These molten chocolate cakes are rich and gooey. The beet puree adds a touch of earthiness and a red tint that I love. A little goes a long way with these cakes. Serve them warm with a dollop of whipped cream or vanilla ice cream
Print
Pin
Rate
Ingredients
1

medium-size

red beet

leaves and stem removed.

6

ounces

bittersweet chocolate

(170g), chopped

1/4

cup

smooth almond butter

(60g)

2

eggs

2

egg yolks

1/3

cup

dark muscovado sugar

50g

2

Tablespoons

superfine brown rice flour

1/4

teaspoon

fleur de sel
Instructions
Fill a small pot with water. Bring the water to a boil over high heat. Add the beet and cook until tender, 30 to 45 minutes. Insert a knife in the center to see if it is cooked all the way through. Drain the water and let the beet cool enough to handle. Peel the beet and cut it into chunks. Puree it to a smooth paste in a food processor or blender. Measure out 1/4 cup (60g) of the puree and reserve. The rest can be refrigerated or frozen for another use.

Preheat the oven to 425°F (220°C). In a medium bowl, combine the chocolate and almond butter. Place the bowl over a pot of simmering water and let the chocolate melt slowly over medium-low heat. Stir occasionally to ensure that the chocolate doesn't burn on the bottom. Transfer the bowl to a rack and let cool slightly.

Meanwhile, combine the eggs, egg yolks and muscovado sugar in the bowl of a stand mixer. Whip on high speed for 5 minutes or until thick and pale. Add the chocolate mixture, beet puree, superfine brown rice flour, and fleur de sel. Whip over medium speed until it comes together into a smooth batter. Make sure to scrape the sides and bottom of the bowl.

Divide the batter among 4 (4-ounce) greased ramekins. Bake for 8 to 10 minutes, until the edges are set but the center is still soft. Serve warm.
Notes
If you are craving molten chocolate cake but have no beets or almond butter at home, you can still make this recipe. Simply omit the beets and use unsalted butter in place of the almond butter. It works every time.
Nutrition
Calories:
499
kcal
|
Carbohydrates:
49
g
|
Protein:
10
g
|
Fat:
29
g
|
Saturated Fat:
11
g
|
Cholesterol:
182
mg
|
Sodium:
207
mg
|
Potassium:
503
mg
|
Fiber:
5
g
|
Sugar:
35
g
|
Vitamin A:
270
IU
|
Vitamin C:
1
mg
|
Calcium:
123
mg
|
Iron:
4.2
mg
Yes, around here we're big fans of pairing chocolate with beets, like this dark bundt cake, and these cream-cheese frosted cupcakes. They've both passed the kid taste-test, and personally, I can't think of a better way to incorporate this abundant root vegetable into our diet this winter. Happy baking!
What's your favorite do-ahead dessert?