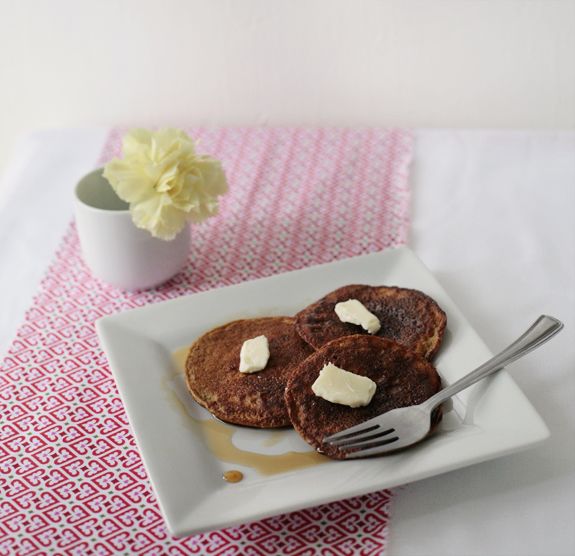 The following is a guest post from Hanna of Honey & Huckleberries. Welcome, Hanna!
I've always tried to eat well.  Whole foods, lots of veggies, dark chocolate (because it's healthy then, right?), all that good stuff.  So when my best friend told me that she had started to eat paleo, and then explained what that entailed, I have to admit I thought it was a bit crazy.
The Paleo diet cuts out processed foods, sugar, all grains, legumes, and usually dairy.  I was very excited that she was trying to feed her family less take-out, but not eating whole wheat?  Brown rice?  Cheese!?  Even if it was helping her lose weight, I couldn't see how it could be healthy to cut out entire food groups and replace them with bacon.
It didn't help that I was pregnant with my second little girl at the time, and horribly sick.  Bread was one of the only things I could keep down, no one was taking away my bread.
Then Sunny was born, my sweet wonderful baby girl.  She ended up with terrible eczema and I went on an elimination diet that was ironically very close to the paleo diet.  Her skin cleared up and I lost five pounds in a month.
It turned out that her issue was with dairy so I added wheat back in, only to find that it made me feel really weird.  My lovely, homemade, whole grain bread made my stomach hurt if I ate it for breakfast and gave me heartburn whenever I had some.  This had always been the case, but I hadn't noticed until I cut it out completely.  I was pretty annoyed.
I didn't want to believe it, but clearly the wheat was not my friend.  I did some serious reading and came to the conclusion that our family was going paleo.  I convinced my husband, tossed the toddler's crackers and started our journey towards healthier eating.
It is, however, a journey.  We aren't super strict as we don't have any real health issues, so we still eat white rice and dairy (full fat, organic, and raw if we can find it).  I don't focus as much on the restrictions as I do on feeding my family the most nutritionally dense foods that I can.
Even by sticking to it about 85% of the time (because I still love pizza!), my kids are eating better and I am slowly losing the baby weight.  I have more energy and I get hungry less.
7 Easy Steps towards a Paleo Diet
So, if going paleo sounds interesting to you, but the idea of a Whole 30 (go Tsh!) is a bit overwhelming, here's some little steps you can take to improve your diet.
You can just choose one and try it for a week or a month and then start another one.  Every little step you take helps you (and your family) eat healthier than you were before!
Switch your fats.  Try cooking with butter, coconut oil, bacon grease (for real!) or grass fed lard.
Choose one meal a day to eat paleo, then another.
Stop buying (or making) bread and force yourself to figure out other things to eat.
Switch to rice pasta (while not strictly paleo, rice pasta is a much better choice than wheat)
When you get a sweet tooth, try out some paleo treats, like almond butter cookies.
Replace your starch at dinner with another vegetable side.
Look through your favourite recipes and see if any of them are already paleo, or easy to adapt.
We started by making breakfast a grain-free meal.  Gone are the days of toast, cereal, or even oatmeal for breakfast.  We eat a lot of bacon and eggs, as well as omelets loaded with veggies.  I usually make everyone a fruit and yogurt smoothie on the side.
I feel so much more ready to face a day of chasing toddlers around the house with a solid protein for breakfast, it's fantastic.
Paleo Pumpkin Pancakes
These pumpkin pancakes are a breakfast favourite around here, and a welcome change from bacon and eggs (apparently there can be too much bacon?).  I usually have mine with some butter and maple syrup, but the girls love to eat them with apple sauce.
Paleo Pumpkin Pancakes
This recipe is adapted from Practical Paleo, which is a wonderful resource if you're interested in learning more about paleo eating.
Print
Pin
Rate
Ingredients
6

eggs

1

cup

plain Greek yogurt

1

cup

pumpkin puree

canned or homemade

2

teaspoons

vanilla

2

teaspoons

cinnamon

1

teaspoon

salt

1/2

teaspoon

baking soda

1/4

teaspoon

cloves

1/4

teaspoon

ground ginger

¼

cup

coconut flour

optional, add it if your pancakes aren't holding together well

Butter for frying
Instructions
Whisk eggs, yogurt, pumpkin, and vanilla together in a medium mixing bowl.

Add in the baking soda and spices, stirring until everything looks evenly mixed.

Heat a large skillet (I prefer my cast iron) over medium heat. Melt a teaspoon or so of butter, enough to coat the bottom of your pan.

Spoon batter into the pan (I like to use an ice cream scoop) making fairly small pancakes, they're fragile so it's easier to flip them if they aren't too big.

Let the pancakes sizzle until bubbles appear and they start to dry around the edges. Flip and continue frying until both sides are golden.
Nutrition
Calories:
185
kcal
|
Carbohydrates:
12
g
|
Protein:
15
g
|
Fat:
7
g
|
Saturated Fat:
3
g
|
Cholesterol:
248
mg
|
Sodium:
849
mg
|
Potassium:
287
mg
|
Fiber:
4
g
|
Sugar:
4
g
|
Vitamin A:
9890
IU
|
Vitamin C:
2.6
mg
|
Calcium:
118
mg
|
Iron:
2.3
mg
Are you interested in introducing more paleo foods into your diet?