When we were growing up in rural Northern Canada, my sister Haidi worked at The Alpine Bakery, the town's top bakery. Wednesday was the best day of the week because she invariably brought home my favorite loaf: the hefty Yukon Sourdough. It stood apart from the German Rye, the Ciabatta, and even the fluffy Potato bread; none of them came close to that crusty sourdough loaf with its soft interior, authentic taste and telltale holes.
The owner of the bakery always arrived earlier than everyone else to tend to his sourdough starter and get a few batches of bread mixed up and onto their first risings. No one knew the classified recipe, least of all my sister, and all attempts she and I made to duplicate the loaf at home were unsuccessful.
True sourdough is one of those things you can't fake in the kitchen. You can substitute, as I do in this post, but the result pales in comparison to the real deal. The good news is, however, that anyone can learn to make a starter and, over time, produce genuine sourdough bread worthy of the bakery 'round the corner.
In a recent post, Tsh encouraged us to pursue a lifetime of learning, a motto my husband and I also embrace. In the culinary world, one never stops learning, and sourdough is just one technique that I am intrigued by and interested in developing.
If you're serious about mastering sourdough, I recommended you find a mentor or someone who is already experienced in that area, and use them as a sounding board as you discover the intricacies of this craft. Another great option is to sign up for the Sourdough e-Course offered by the knowledgeable ladies over at GNOWFGLINS. Lately, you can find me unwinding in the evenings to one of their easy-to-understand video tutorials thinking,  "Someday, I'll be able to recreate that memorable loaf of my youth…"
True sourdough begins with just whole-grain flour. When moistened, kept warm, and oxygenated, the naturally present wild yeast and beneficial bacteria feast on the sugars in flour. That batter of flour and water, containing wild yeast and bacteria in large numbers, is a sourdough starter. When we add sourdough starter to a dough, the wild organisms continue to consume simple sugars and release carbon dioxide. This simple fermentation causes breads or baked goods to rise – and it prepares grains for better digestion and nutrition!
While I'm waiting for bubbles to form on my legitimate sourdough starter, let me show you a quick way to get some of that coveted sour taste into your everyday baking. My substitute for natural bacteria is a package of yeast, which is a bit quicker, and hence the moniker "lazy" sourdough. While not authentic, it does come together fast for a sourdough – the traditional method can take up to a week to sour!
Lazy Sourdough Starter
Begin by making this lazy sourdough starter in the evening, and the next morning, enjoy Sourdough Apple Pancakes with the kids (below).
1 cup all-purpose flour
1 cup whole-wheat flour
1 tablespoon active dry yeast
2 cups warm water
1. In a plastic bowl, dissolve yeast in warm water, whisking with a wooden spoon.
2. Add flour and beat well.
3. Transfer to a large container such as a gallon bucket or jar. Cover loosely with a towel and let sit overnight at room temperature. Starter should triple in size.
4. In the morning, beat again with a wooden spoon. Starter is now ready to use.
Lazy Sourdough Apple Pancakes
1 1/2 cups lazy sourdough starter
1/2 cup all-purpose flour
3/4 teaspoon salt
1/2 teaspoon baking soda
2 Tablespoons sugar
2 eggs
2 Tablespoons butter, melted
1 apple, washed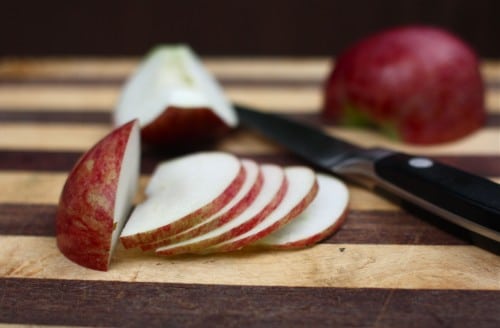 1. Quarter and core the apple, then lay one piece on its side. Slice thinly.
2. In a large bowl combine sourdough starter and all remaining ingredients. Beat well.
3. Add sliced apples and stir to coat.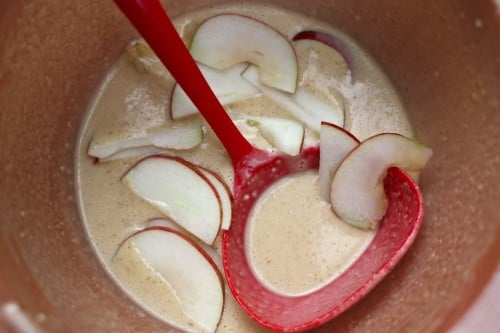 4. Heat a cast-iron skillet or non-stick pan over medium-high heat. When hot, add a few drops of oil and use a spatula to coat the bottom of the pan.
5. Ladle pancake batter into the middle of the pan, making sure to include a few apple slices in the mix.
6. Cook until small bubbles form on the top of the pancake and the underside is golden. Flip pancake and continue to cook.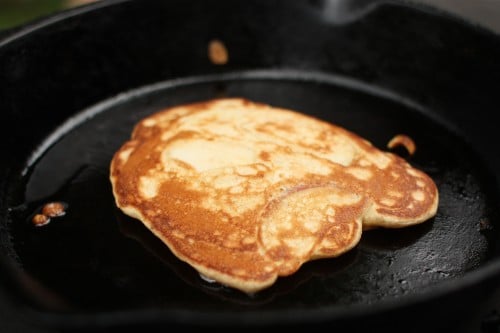 7. Transfer to a pate or holding platter. Serve with maple syrup, apple sauce or apple butter, and cinnamon-spiced whipped cream.
This post on "Sourdough for Starters" is both inspired and sponsored by the GNOWFGLINS Sourdough eCourse, where you can learn the art of mastering traditional cooking methods and sourdough from the comforts of your own kitchen. A collaborative effort of five bloggers/cooks, the 'pay as you can' Sourdough eCourse features easy, delicious recipes using whole-grains. I'll see you there!
Would you like to learn how to make your own sourdough?