I almost didn't post this muffin recipe because they turned out a little flatter and uglier than I had hoped, certainly not ideal food styling material.
I was experimenting with a new recipe, inspired by my thriving rhubarb patch and spurred on by a craving for a snacking muffin with a tender crumb. Of course I was out of muffin tin liners, and so instead of pretty little round tops, the batter spread across the pan and fused together in the oven.
The taste and texture were there, though. Light and airy, spiced and moist, with tangy pockets of rhubarb, and crunchy addicting edges. What could be seen as a mishap could also be interpreted as a triumph.
Ah, these rhubarb muffins were a beautiful mess – and a perfect example of my life these days. With that analogy, I am bringing them to you, along with far more story than most of you probably care to read. If that's the case, just skip to the recipe at the bottom of the post, because these muffins are worthy of your fresh rhubarb stash.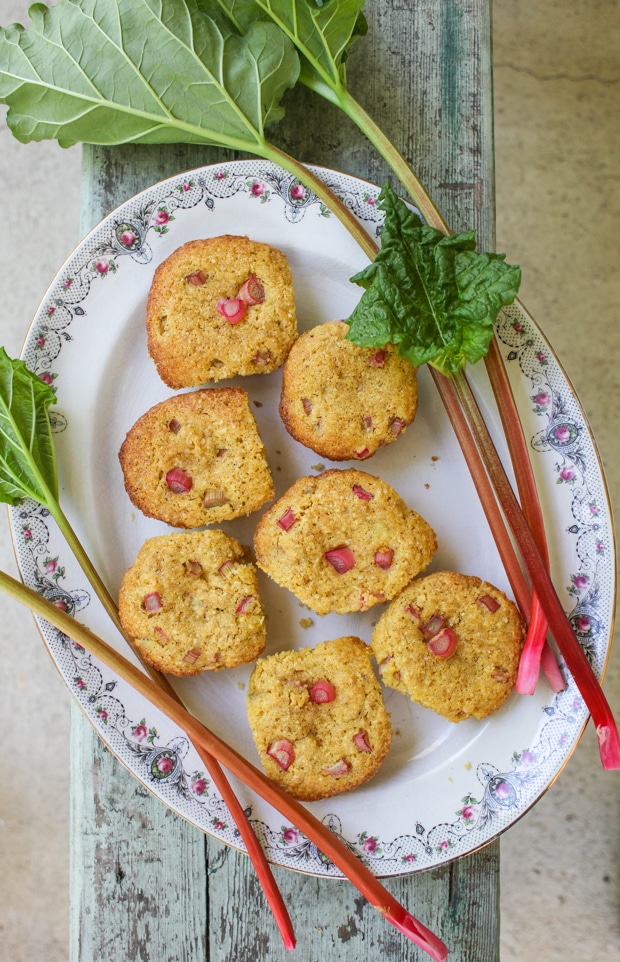 This past week I have been wrestling with perspective, circling subjects that leave me feeling helpless and trying to gain an outlook where I have peace, no matter what. It feels impossible, especially as my mind runs every scenario imaginable. Endless clichés comes to mind – just go with the flow, take life as it comes, find the silver lining – and they are maddeningly unhelpful in a world that demands concrete answers and continues to spin furiously fast no matter how we feel.
Three very different, very personal, and decidedly grown-up circumstances collided in my life last week and sent me into such a tailspin, I think I came the closest to a panic attack as I have ever experienced. I like to think that on a normal day, I would have received these situations with calm clarity, but nothing is really ever 'normal' around here with three small children, a bustling homestead and another cookbook manuscript taking shape.
So these circumstances. Not entirely mine to share, though they all impact me directly. My feelings on each situation are split down the middle, each part equally terrified and thrilled, conflicted and resolved.
I realize this is all hugely vague. And I am sorry. But I have to share something, because life has shifted slightly for us. My husband and I spent our 13th wedding anniversary fielding calls and texts, and making lists. Then we skipped dessert at the restaurant, hit the pavement and walked in quiet conversation for two solid hours around the streets of Mile End, trying to gain perspective and reach a place of peace. I wish I could say we arrived.
The boys watched some Star Wars movie this past week with Danny, and since then, a quote from the flick has come up more than once, as he reminded them about homework, chores and general productivity:
"Your focus determines your reality." *
I must have heard Danny say it ten times before I realized it was relevant to me too, somehow. I'm still thinking on that one, and how I can apply it to my various situations.
In the meantime, I'm going to keep on keepin' on, give one-hundred percent support to those close to me, and be thankful for everything that crosses my path. Here's hoping I can gain a little more perspective along the way.
Rhubarb Cornmeal Muffins
Light and airy, spiced and moist, with tangy pockets of rhubarb and crunchy addicting edges, these muffins are a spring delicacy. Use only fresh rhubarb and enjoy them the same day they are made.
Print
Pin
Rate
Ingredients
3/4

cup

fine cornmeal

1/4

cup

ground almonds

1/3

cup

whole wheat pastry flour

2

teaspoons

baking powder

½

teaspoon

baking soda

½

teaspoon

sea salt

1/2

teaspoon

ground cardamom

1/2

cup

raw cane sugar

2

medium eggs

1/3

cup

coconut oil

melted slightly

1/2

cup

plain yogurt

1 1/4

cups

chopped rhubarb

small dice
Instructions
Preheat oven to 350F. Line a muffin tin with 8 large baking papers.

In a medium bowl, whisk together cornmeal, ground almonds, flour, baking powder, baking soda, salt and cardamom.

In a larger bowl, beat cane sugar, eggs and coconut oil together until smooth.

Add in the yogurt, followed by the dry ingredients.

Sprinkle in the chopped rhubarb and fold together very lightly until just combined. It's okay if there are a few streaks of flour remaining.

Divide between the muffin liners and place on the middle rack in the oven.

Bake for about 17-20 minutes, or until the tops no longer feel spongy. Cool for 5 minutes in the pan, then slide a butter knife around the edges and pop them out to enjoy warm.
* It was Liam Neeson's character, Qui-Gon, who said this, for you movie buffs.
What are you making with rhubarb this spring?