When we bought an open concept house with no basement and no garage, we gave up a lot of storage space. Now everything from bike helmets to painting equipment has to be stashed somewhere under our roof, tucked out of sight.
It's helped us to frequently reassess our material possessions and keeps us in check at garage sales. Maybe we can buy it, but can we realistically store our purchase? Most everything in our house has multipurpose uses and if it doesn't get used in a season or two, it is given away.
Because of our storage limitations, I don't own a lot of holiday decorations that only make an appearance once a year. I tend to decorate with customizable objects such as jars and candles, cloth and elements of nature. They can be switched up to suit the season, are easy to come by, and can be re-used throughout the rest of the year.
Today's simple Easter tablescape is another example of the same.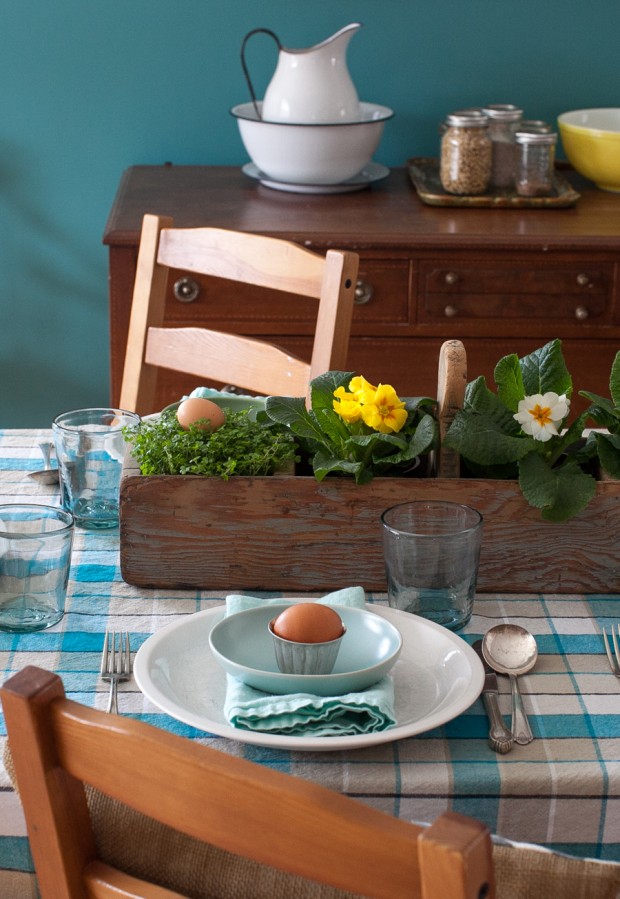 Spring has been taking her sweet time this year and on one recent snowy (yes, that is right) day, I paid a visit to a local nursery, more for my own sanity than anything else. I left with a few small potted plants, as a promise of the blooms to come, and they became the centerpiece for my Easter table. I won't have to worry about storing them later, because they will go directly in the ground.
Tip 1: Buy a flowering centerpiece you can plant later or grow on a windowsill.
I could have clustered the plants on a pretty tea tray or tucked them into jars, but I slotted them into a vintage tool box that still boasted a little pale blue paint. It was a recent find at a little neighbourhood shop and has already been put to good use several times over.
The toolbox is one of those aforementioned purchases of versatile items. We use it as an art caddy, for jar storage, and in summer it will hold our backyard barbecue condiments.
Tip 2: Vintage doesn't mean delicate; wooden boxes and crates are generally built to last and are useful for household storage.
The plates, glasses, linen and utensils on the table all came from my own collection. They see plenty of daily use.
The last touch was the easiest of all: a fresh brown egg nestled in a mini vintage jelly mold at each place setting. I probably could have made them more 'nest-like' (suggestions?) but I kept it simple.
Tip 3: Hand paint the names of guests on the eggs and use them as place cards.
I picked up a whole tin of the jelly molds for pocket change at another junk shop thinking they would make cute sand toys for Clara. Now I am seeing they have potential in the kitchen and around the home. Score!
Please, if you have a creative use for the molds, would you be so kind as to leave a comment? They are quite small, as you can see.
Hosting guests for Easter this year? Bookmark these posts to read:
How are you decorating for Easter?