Easter brunch around my table usually means warm madeleines or scones, freshly-made fruit juice, and platters of eggs, potatoes and new asparagus. Young tulips are a must for dressing up the table, and if we can afford to splurge on a bottle of Prosecco to splash in the juice, we do.
It is my one chance to entertain on the long weekend, as we always head to the in-laws for the official Easter dinner, and I relish the opportunity to serve up a casual meal that gives a nod to spring. If I'm lucky, it will be warm enough this year to eat al fresco and the children can run around the yard while we kick back after the meal with coffees.
My brunch menu typically leans more toward breakfast fare than lunch simply because I'm a mother to young children – and they'll eat anything doused in maple syrup. Okay, I'm kidding a bit, but if you're a mother, you'll probably agree that it is a lot easier to get a table of picky palates revved up over pancakes and scrambled eggs than a mushroom tart or asparagus soufflé.
These menu ideas are a mixture of dead simple and slightly more elaborate recipes. Hopefully you'll find inspiration to take a risk and plan your own Easter (or spring) brunch.
Baking
What is brunch without something baked fresh in your kitchen? Muffins, scones, and sweet breads are all lovely choices, but should you want something a little more festive, try one of these recipes.
Fruit
It's April. The summer produce is still months away and the winter fruit is looking tired, but that doesn't mean you have to omit the fruit on your Easter brunch table. Spruce up a citrus salad with a splash of rose water, or roast pears with a drizzle of maple syrup and serve with fresh whipped cream.
Eggs
Eggs are fast to cook and easy to dress up, which make them a great staple for a brunch table. Plus, my children enjoy eggs in every way possible, so they must make an appearance.
Potatoes
The tired and greasy hash browns at your local diner can't hold a candle to homemade breakfast potatoes. Add a sprinkling of cornmeal or polenta for the perfect crunchy texture.
Drinks
Fresh fruit juice with a splash of sparkling water and a French Press full of coffee are all you really need to serve, but here are a few more suggestions should you wish to round things out in the beverage department.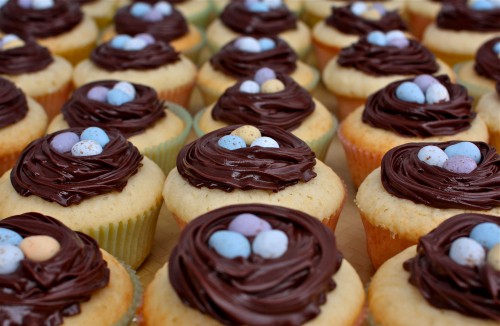 Sweets
If there's still room for dessert after the Easter egg hunt, may I suggest a sweet treat featuring spring fruits rhubarb and strawberries. And for the chocolate lovers? A classic cupcake guaranteed to please people of all ages.
As always, you can find plenty more inspiration on my Pinterest boards: My Easter Brunch and group board Easter Season. Happy cooking!
Are you entertaining on Easter?