This post is Part 2 of How to Cook for a Family Reunion. Read Part 1 here.

What is hosting a family reunion like? Well, think of the biggest, most elaborate birthday party you've every thrown for your kids. Think of the planning, the prep, and the big day. Then string ten of those birthday parties in a row – with all the guests sleeping over. That describes the work that goes into planning and executing a family reunion pretty accurately.
Not to worry, however! With proper planning, communication among family members, and following the suggestions from our first post, you, the host can enjoy the reunion just as much as your guests. Yep, that's right, you're not going to be chained to the stove the whole time, so you'd better bite the bullet and go swimsuit shopping–you'll be poolside along with everyone else!
This post will highlight tips for success to feed a large group of people from your own kitchen. I think that if the kitchen is running in a smooth and orderly fashion, the family reunion is sure to be a triumph!
So grab a pen and paper and take notes for your own reunion… or even as preparation for hosting those out-of-town guests next weekend.
Take it outdoors
It's no secret that keeping the dining room mess to a minimum is best done by feeding folks outside. Why allow for a parade of dirty feet through the house, when most children would rather eat outside anyway?!
Weather permitting, plan to eat outdoors as much as possible.
Have a well-stocked picnic basket assembled at all times so that you are not always running back and forth to fetch a few more napkins… another round of straws…
It should include:
Plastic cutlery
Napkins, cloth or paper
Plastic straws
Salt & Pepper
Bug Spray
Sunscreen
Swiss Army Knife
Tips:
Keep a large, sturdy garbage bin close by for quick clean-up.
Set up an outdoor hand washing station complete with basin, soap and towel for pre-meal wash up without having to go indoors.
Invest in a sturdy tray for carrying dishes and food back and forth from the kitchen to the picnic table.
Don't forget a quilt or blanket if a picnic table is not available!
Have at least one D.I.Y meal per day
No one person needs to be stationed in the kitchen all morning long making sandwiches for the family lunch. Instead, provide adequate fixings for simple meals and allow each person to assemble their own.
Sandwich Bar Suggestions
Bread, buns, wraps, bagels, etc
cold cuts, smoked salmon, tuna or egg salad
cheese
leafy greens
condiments
Set out a platter of cut vegetables and dip, open a bottle of lemonade and lunch is served! Cookies optional.
Salad Bar Suggestions
Had enough sandwiches? Lay out salad fixings instead in true salad bar fashion and let folks dress their own.
Mixed greens, spinach, shredded iceberg, or other favorite salad greens
tomatoes
cucumbers
peppers
boiled eggs
diced ham
shredded cheese
olives & other pickled favorites
chopped nuts
dried fruit
various vinaigrettes (here are Three Homemade Salad Dressings)
D.I.Y Dinner Suggestion
Provide pizza dough (previously made and frozen, of course) and toppings and invite families to make their own.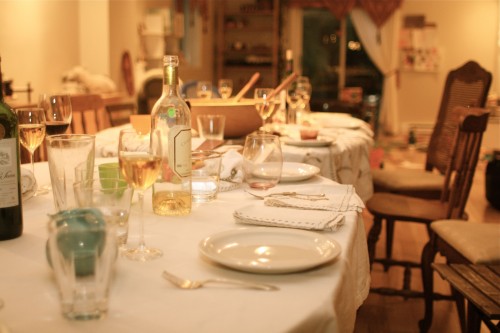 Stay on top of clean-up
Keeping up with dishes and general clean-up after meals is essential to maintain order in the heart of the home. Here are my 8 Steps to a Quick Clean-Up including tips on dealing with leftovers, dirty linens, and the mountain of dishes.
Of course, if meals are served outdoors on paper plates, clean up is going to be minimized. Still there are usually odds and ends to wash – like the coffee pot.
Since no one likes to wake up to a crusty coffee pot, make sure the kitchen is clean before you fall into bed!
Don't sweat the small stuff
Let's face it, something is going to get trashed, so consider yourself warned.
It might be a stained tablecloth, a broken dish, or your favorite gadget that just doesn't work the same. However, when you look at the big picture, it's just stuff. Think of it as a small price to pay for the tremendous blessing of being surrounded by loved ones for days.
If you're really concerned about heirlooms, consider wrapping them up in tissue paper and storing them for the duration of the reunion. Or perhaps you'll adopt the motto that we embraced: "If it's not a life-threatening situation, it's no biggie."
What's on your entertaining radar? Any hosting duties this summer?