Happy Easter! I'm hosting a brunch today and I'm sure many of you are preparing to welcome friends and family around the table too. Cooking and baking are definitely my favorite parts of entertaining. My least preferred? That's right, dishes.
Do you love opening your home to guests, but don't love the kitchen cleanup quite as much?
The post-party mess can be daunting to face especially when all you really want to do after the guests leave is retire to the sofa with another slice of cake.
Still, since no bald, muscular Mr.Clean is going to show up and scour the counter tops for you, here are a few simple steps I've developed to break down the cleanup into manageable tasks and get the job done quickly.
Don't attempt a full cleanup, after all, you've already had a full day. Do enlist an assistant, however, then roll up your sleeves, and begin with these suggestions:
8 Steps to a Quick Cleanup
1. Put Away Leftovers
Leftover food should be attended to first so food doesn't spoil or dry out and so servings platters can be cleaned. If you set aside Tupperware containers and their respective lids before the event, you can point a family member or friend in their direction and they can help put food away.

Photo by armigeress
2. Remove Table Linens
Shake excess crumbs from the tablecloths and napkins before sending them to the laundry hamper. Add stain remover and soak any serious spills right away. Wipe dining room table thoroughly.
3. Get Rid of Recycling and Garbage
Enlist the help of a pre-teen to scour the house, collecting both recycling and garbage items. Sort cans, bottles & paper from the garbage and eliminate all clutter and leftover trash from all surfaces, inside and out!
4. Soak Utensils
Fill a small basin (or one side of a double sink) with hot, soapy water and drop in all eating and serving utensils to soften caked-on food. DO NOT add kitchen knives, scissors or other sharp kitchen tools.
These utensils can be left for washing the next day, or later in the evening, if desired.
5. Run Dishwasher
Load dishwasher (if you have one) with dinner plates, dessert plates, and coffee cups. Run at least one load.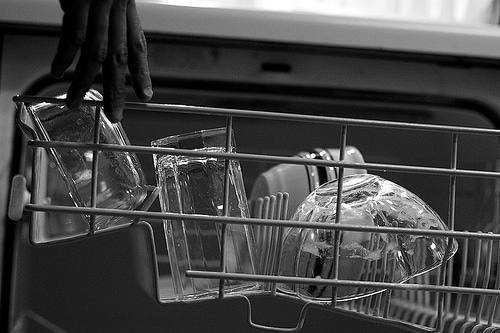 Photo by zenobia_joy
6. Wash Serving Platters
This step doesn't take long and frees up a lot of counter space. Wash large serving platters, punch bowls, and other large items that won't fit in the dishwasher by hand EXCEPT for pots and pans.
I usually instruct whoever is drying these items to place them on the newly cleared and washed dining room table. I prefer to put items away myself and generally save that task for the morning after.
7. Pre-wash or Soak Pots & Pans
In hot, soapy water, quickly pre-wash any pots or pans. If needed, soak the stubborn ones overnight, otherwise, stack in a washtub and stash somewhere out of the way.
If you have the time and energy (or have extra willing hands available), certainly wash and dry the pots, but by this time, you are probably ready to put your feet up. We're almost finished!
8. Rinse Stemware
Collect all the stemware or punch glasses on the counter and pour a little soapy warm water into the bottom of each; this will help lift dried red wine or sticky punch residue, and make for a much faster cleanup when it comes time to wash and polish the glasses.
That's all!
NOW how about that slice of cake? You've taken care of the tasks that require immediate attention. The rest of the work, such as polishing wine glasses and washing table linens can easily hold for a new day.
Relax. You deserve it!
Are there any hosting duties on your horizon? What's your favorite event to dirty the kitchen for?