Potato Strudel. I know, I know, it sounds weird, but can you please forget about the Swedish apple dessert momentarily, because I'm really excited to share this gussied up potato side dish with you.
Potato strudel was one of the first dishes I learned to make back in my early days in the professional kitchen. I was seventeen, and every evening, my chef and mentor, George (of the focaccia fame) served up slice after slice alongside expertly grilled New York steaks. After I watched him make the strudel a few times, I started recreating it at home for my family and it quickly became our go-to potato dish for holiday meals.
Thinly sliced potatoes, flavored with fresh rosemary and tossed with sour cream, are wrapped in puff pastry and baked until the potatoes are creamy and the pastry crisp. As trite as the expression is – what's not to love?
Don't let this sophisticated potato presentation lead you to believe that this strudel is a lot of work. I've purposely created a vlog to show you how easily it comes together. Just watch and learn!
Potato Strudel Tips & Tricks
I purchase my puff pastry at a local baker, where it is made fresh every day. You can also find it in the freezer section of most grocery stores.
You can substitute the fresh rosemary with most any herb: sage, dill, thyme, parsley and chives would all be lovely.
Roll the pastry out and let it chill for at least a half an hour before proceeding with the recipe. This resting period will help it to rise even further during baking.
Substitute a few sweet potatoes for the usual filling for a pretty orange and white filling.
The garlic may be omitted if necessary.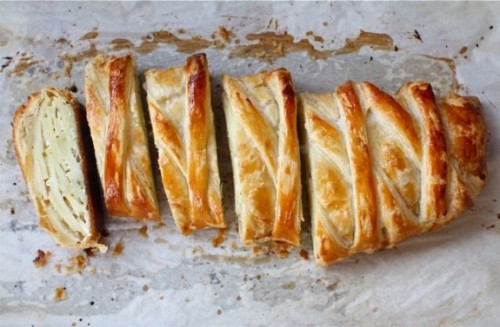 Recipe: Potato Rosemary Strudel
This strudel is best enjoyed straight out of the oven, with the puff pastry shattering into buttery crumbs as it is sliced. However, it also reheats beautifully (oven, 350°F) and can be made a day in advance if necessary.
Serves 8-12
ingredients:
1 lb puff pastry
2 lbs potatoes
1 cup sour cream
1 teaspoon sea salt
1 teaspoon fresh rosemary, chopped
fresh cracked pepper
1/2 teaspoon minced garlic
glaze:
1 egg yolk
1 tablespoon milk
method:
Preheat oven to 350°F.
Roll puff pastry on a sheet of parchment paper until it is a 16×16 square. Transfer parchment and puff to a large baking sheet. Cover and chill while you prep your potatoes.
Peel, rinse and thinly slice potatoes. Toss with sour cream, salt & pepper, rosemary and garlic.
As demonstrated in the video, place potatoes in the middle of the puff pastry and wrap up.
Beat egg yolk and milk together to make an egg wash. Brush over the top of the strudel and sprinkle with sea salt.
Transfer to the oven and bake for 45 minutes, rotating the pan a few times to ensure even browning. Serve warm.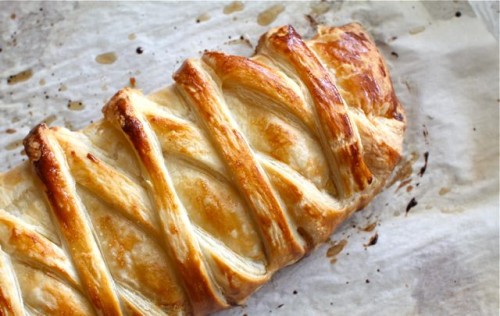 A Virtual Easter Dinner
If you're looking for inspiration for more than just potatoes, I've teamed up with a few experts to bring you a virtual Easter Dinner. Join us!
Do you have a special potato dish that your family serves up every holiday?