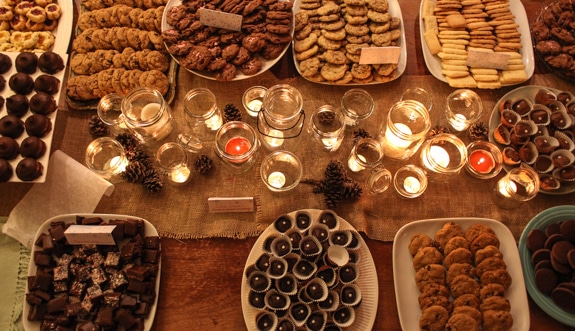 Last weekend I hosted my annual holiday cookie swap where ten of my friends descended into my kitchen laden with over a thousand cookies. There's a reason they call it the most wonderful time of the year – cookie parties, right?
Anyway, I'm not planning to share the details of the event as I have in the past,  however, I wanted to quickly show you my simple centerpiece for the table. I'm all about natural decorating for the holidays, using items already around the house or found in nature, and this centerpiece fit the bill perfectly.
I raided my jar cupboard and set out nearly every empty jar I had on a (homemade) burlap runner. I set tea light into the jars, tossed a few pine cones around them, and in a few minutes, my centerpiece was finished.
Hit the jump for more images and a short list of items needed to make your own warm, festive centerpiece.
I wasn't that excited about how it turned out until I saw the photo snapped by Melissa (@lostbumblebee on Instagram and Twitter). Sometimes seeing your handiwork through another persons eyes makes you appreciate it more. I loved Melissa's perspective of the table of cookies – and my candles in jars.
They really gave off a warm glow that set a cozy feel for the evening. We first dined around the flickering lights before heaping the table with cookies and swapping.
I think I'll leave my candles in jars as is for a few more weeks. I'm thinking the centerpiece would even work beautifully for New Year's Eve.
From the kitchen: a simple centerpiece of tea lights in jam jars
You will need:
At least 12 tea lights, your color choice
At least 12 jars, assorted sizes
Table runner, or cloth napkins, unfolded
Candle lighter, a wand is best
(optional) decoration for around the candles such as pine cones, crab apples, clementines or ornaments
Wipe your table and spread the runner down the center, draping it evenly on either end.
Check the jars for cracks or food particles, then arrange them on the runner, tallest in the center and tapering down to the smallest jars.
Place a tea light in the center of each jar. Arrange decoration such as ornaments or pine cones around the jars on the table runner.
Light candles a few minutes prior to guests arrive. Enjoy your warm and festive holiday centerpiece!
Do you make or buy a holiday centerpiece for your table? Any favorites?